Company Profile: ConocoPhillips Co.
ConocoPhillips Co. (NYSE:COP) is an American multinational that most likely needs no introduction: head-quartered in Houston, Texas, ConocoPhillips is nevertheless internationally renowned as the world's largest independent oil and gas exploration and production company, generating more than $56.185 billion in revenue annually, according to the most recent data. As could almost be expected given its financial results, ConocoPhillips has also built a sizable relationship with investors; in assessing its utility and approachability as an investment, some analysts have compared ConocoPhillips to such global oil giants as ExxonMobil (NYSE:XOM) and Chevron (NYSE:CVX), citing ConocoPhillips's balance sheet, participation in the Dow Jones Industrial Average, dividend, growth potentially, and - almost matrimonially - "reputation for quality, reliability, and profitability, in good times and in bad" as reasons that ConocoPhillips "perfectly fits" their definition of a blue chip stock. Specifically, it is not simply the past and the present of ConocoPhillips that most analysts are intrigued by; rather, many observers call the company's upcoming projects innovative, labeling them business developments that will "move the needle into future profitability" for ConocoPhillips.
Current Events: Q3 2014, Q4 Guidance, 2015 Plans
Although ConocoPhillips is, then, generally well-regarded, the oil giant's immediate outlook is not singularly impressive: though third-quarter 2014 results were satisfactory, certain updates that ConocoPhillips issued just this past week have engendered slight investor disappointment. To assess the relevance of ConocoPhillips's current situation to the investor, however, we need to ensure that we get a sufficiently broad understanding of the company's recent progress as a whole. In the spirit of this, let's take a look at Q3 2014 (and, perhaps, some highlights from Q1 and Q2) prior to discussing ConocoPhillips's December eighth fall.
The third quarter of 2014 - and, indeed, this year in general - was satisfactory for ConocoPhillips in a range of ways. Firstly, in Q3, earnings grew, relatively speaking: third-quarter earnings of approximately $2.7 billion (or $2.17 per share): an increase from last year, in other words, when earnings were loosely $2.5 billion (or $2.00 per share). Secondly, third-quarter production also increased: production as a whole saw four percent growth year-over-year when adjusted for downtime, with the Eagle Ford and Bakken shales (that is, two very large rock pieces from which shale oil can be extracted) alone producing 33 percent more than they did in Q3 2013. ConocoPhillips also achieved first production (i.e., began extracting oil for the first time) at several sites, including Foster Creek Phase F, the Britannia Long-Term Compression Project, and the Gumusut floating production system. Several major turnarounds (i.e., unit revamps) were also orchestrated in Alaska, Canada, Europe, the Asia Pacific, and the Middle East. New projects are also in the midst of being prepared for start-up; a notable one is Kebabangan, which will be discussed further later in this article. These developments aside, 2014 also saw ConocoPhillips make an oil discovery near Senegal, continue exploration in seven regions, complete its Nigerian business sale for proceeds of $1.4 billion, and increase the quarterly dividend by 5.8 percent. Cumulatively, then, at the end of this year's third quarter, CEO Ryan Lance was confident that the company is "meeting [its] growth milestones" for both volume and margin growth.
All that remained to be determined was a 2015 capital budget - something that ConocoPhillips said would be announced in early December. By the time early December rolled around, however, oil had hit its lowest prices in five years. In response, ConocoPhillips slashed its 2015 capital budget. Previously sitting at approximately $13.5 billion USD for 2015, the budget was sliced down by approximately twenty percent to $3 billion USD: the biggest spending cut by a U.S. oil and gas producer in quite some time.
As might be expected, share prices suffered as a result. Certainly, ConocoPhillips made clear that it would not cut itself short: while operating on this lowered budget, it would hold off on less developed projects, focusing on the Eagle Ford and Bakken shales and on projects nearing completion so as to minimize expenses while maximizing production (which, in fact, it still intends to grow in 2015). And it's also true that ConocoPhillips isn't the only producer to lower its 2015 expectations: Denbury Resources Inc. (NYSE:DNR) and Halcon Resources Corp. (NYSE:HK), among others, have already set smaller budgets for the new year.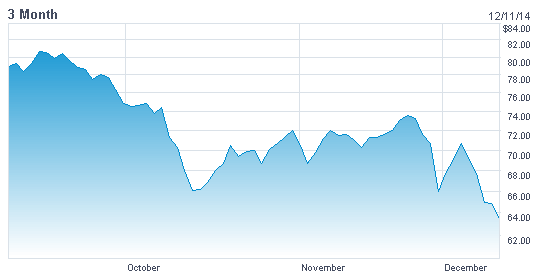 Figure 1. A three-month chart, showing ConocoPhillips's share price fluctuating between $80.75 (at highest) and $66.20 (at lowest) September through November: on December 8th, however, share prices dropped more so than they had in the last three months.
All this noted, however, the announced budget was just too low for some analysts - Simmons & Co. noted that it fell "well below" their expectations. It would seem reasonable to conclude that at least some investors agreed: after the lowered budget was announced, shares of the company fell as much as 3.5 percent to $65.50 USD on December 8th. As of December 10th, 2014, ConocoPhillips closed at $63.54 (Figure 1).
A Few Negatives
While it may seem that a miniscule drop like this should be of little relevance when we're discussing an oil and gas producer the size of ConocoPhillips, a few negatives have come to light as a result of ConocoPhillips's revised December guidance.
For one thing, Axiom Capital analyst Gordon Johnson thinks the company's spending cut is "just the beginning for the oil majors" where bad news is concerned. Johnson cites ConocoPhillips's decline as alarming for other companies - according to him, ConocoPhillips will probably display "among the least aggressive reductions in 2015 CAPEX among the oil majors", mostly because of its "balance sheet flexibility". As such, if this company is already reducing its budget by twenty percent, the oil industry as a whole will follow, and will likely suffer to a greater extent than ConocoPhillips. And indeed, the industry has tagged along - as I have already noted above, Denbury Resources Inc. and Halcon Resources Corp. have set lower budgets for 2015; other companies plan to deploy fewer rigs; others still, like Schlumberger Ltd. (NYSE:SLB) (the world's number-one oilfield services provider) and Hercules Offshore Inc. (NASDAQ:HERO) (a driller), say that they will cut jobs. In brief, then, ConocoPhillips's cutting back is just another reminder that oversupply is going to persist for some time: a situation that cannot be good for oil prices. While this negative has nothing explicitly to do with ConocoPhillips in itself, it is worth mentioning in discussions concerning the oil and gas industry.
Despite the December 8th drop, not much can be said in terms of negatives where ConocoPhillips is concerned. Its lowered 2015 budget may be undesirable, but in a climate of "tepid demand growth and global oversupply", such a plan is to be expected. One development that could, perhaps, be considered detrimental for ConocoPhillips is a recent law suit involving 21 Chinese firms, which are suing China National Offshore Oil Corporation (NYSE:CEO) and ConocoPhillips for losses suffered due to 2011 oil spills. Until this incident, ConocoPhillips was famous for having a clean track record where spills are concerned; now, the plaintiffs, asking for over 141 million yuan ($22.8 million USD) in compensation, are claiming that ConocoPhillips and CNOOC failed to raise public awareness about the spills, and polluted over 6200 square kilometers of water (including some sea cucumber farms). While most major oil companies have previously been involved in at least some form of leak-related incident, a company's being held accountable for environmental damage in this respect also tends to result in its being less favorably regarded by the public (and, subsequently, investors), so this may be a negative in the making for ConocoPhillips.
The Positive Attributes
Though someone will indubitably have cried "Sell!" when ConocoPhillips' share price dropped even slightly on December 8th, it appears that the company currently has far more positive than negative attributes. Broadly, the company's reputation (as created in part by its dividend, balance sheet, and growth) and novel projects make it a stock worth considering.
Firstly, ConocoPhillips has a well-established reputation. It has, for example, long been praised for its generous dividend and "rock-solid" balance sheet. These two attributes - as well as the company's being large, well-established, and financially sound - are frequently cited as reasons that ConocoPhillips could be considered a blue chip stock; the fact that ConocoPhillips is a market leader, is well-known, has a spill-free reputation (unlike Exxon and Chevron, with Ecuador and Valdez to their names, respectively), is a member of the Dow Jones Industrial Average, and has "a reputation for quality, reliability, and profitability in good times and in bad" is also regarded as positive. More recently, too, the company has implemented debt reduction and stock buy-back options to increase investor returns. Cumulatively, all these
Secondly, there is the fact that, while the company may be impressive at present, it is by no means comprehensively defined: put another way, as a certain analyst says, "…what is most appealing about ConocoPhillips isn't where it is today, or its solid past, but where the company is going in the future." If ConocoPhillips is correct, it is headed for increased oil production, gas production, and margin production.
How does it intend to achieve similar growth? It appears that ConocoPhillips is primarily dedicated to advancing itself through several interesting business developments in both the short-term and the long-term; these include a floating liquefied natural gas facility (the design has successfully undergone quantitative risk analysis, and should be ready by 2016-2019), new production at sites like Kebabangan, oil discoveries, and drilling programs in new locales (e.g., West Africa). Its Kebabangan program, for example, has just begun production in Malaysia; Matt Fox, executive vice president of Exploration and Production, says that this will "contribute to the company's organic growth over the coming years". At the same time, a second oil discovery - offshore of Senegal, this time - was made in the SNE-1 well, which will now continue drilling to a new planned depth; if the project succeeds, ConocoPhillips could once again succeed by becoming its operator. Finally, ConocoPhillips is digging deeper and deeper into West Africa, so to speak: while a recent probing of the Kamoxi well was "disappointing", Larry Archibald, senior vice president of Exploration, suggests that the company "continue[s] to see potential" in related regions, and will be exploring them in the immediate future.
All these business developments connote something positive for ConocoPhillips; this appears to be reflected in analyst opinion, which is decidedly bullish at present (Figure 2).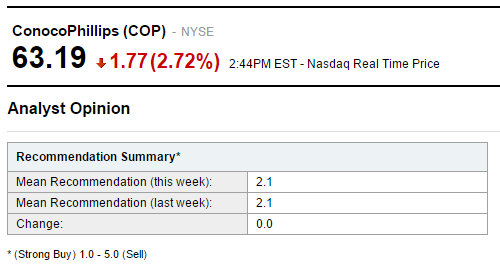 Figure 2. Yahoo! Finance analyst opinion concerning ConocoPhillips. The mean recommendation for the company this week is a 2.1 (buy), where a 1.0 is a strong buy and a 5.0 is a strong sell.
Algorithmic Perspective
While algorithmic analysis is not to be considered conclusive, it is useful when combined with traditional techniques.
I Know First is just one investment firm that uses an advanced self-learning algorithm based on artificial intelligence, machine learning, and artificial neural networks to supplement its fundamental analyses. In doing so, it predicts the flow of money in almost 2000 markets across a range of time frames (e.g., 3-days, 1-month, 1-year). It should be noted that the algorithm's predictability (i.e., its accuracy) becomes stronger in 1-month, 3-month, and 1-year forecasts; as such, it can - when coupled with traditional analysis and careful reasoning - most effectively be used to analyze both short-term and long-term trends, but is not as convenient where intraday trading is concerned. The algorithm has seen a high degree of accuracy; as such, while it may seem tempting to disregard its predictions, cross-checking with its suggestions can be helpful in deciding where to place your money.
I Know First has, at times, been useful to predicting ConocoPhillips's performance.
Firstly, a 1-month forecast, lasted updated on October 12th, 2014, forecasted strongly bullish activity for ConocoPhillips in the 1-month time frame, with a signal of 49.73 and a predictability of 0.57 (Figure 3). This prediction showed itself to be accurate: as of November 12th, the return was +1.19%.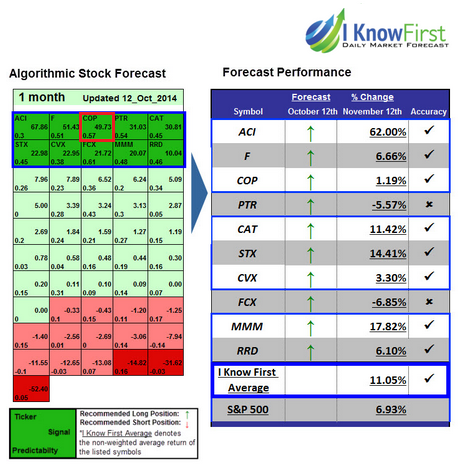 Figure 3. 1-month forecast lasted updated on October 12th, 2014. ConocoPhillips was one of the ten top-most stocks, classified as strongly bullish (boxed in red here for emphasis). As predicted, it returned +1.19%.
Secondly, another 1-month forecast, last updated October 21st, 2014, also forecasted highly bullish activity for ConocoPhillips in the 1-month time frame (Figure 4). ConocoPhillips was again expected to be one of the ten best stocks of the below forecast from October 21st, 2014 through November 21st, 2014; it held true to this prediction once more, for a return of +6.99%.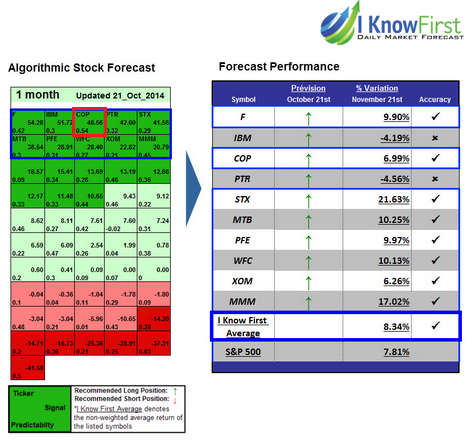 Figure 4. 1-month forecast lasted updated on October 21st, 2014. ConocoPhillips is shown to be strongly bullish, and is boxed in red for emphasis. Prediction is on the left, stock performance is on the right - note that COP performance coincided with forecasted behavior.
The new forecast generated by the I Know First algorithm, updated on December 12, is shown below (Figure 5). Bright green signifies a highly bullish signal; light green also indicates that the forecast is bullish, but not as strongly so. Bright red, in turn, signifies a bearish forecast; correspondingly, light red indicates a bearish forecast as well, but not as negative a forecast. Each compartment contains two numbers: the strength of the signal itself (represented by the number in the middle of each box, to the right), and its predictability (found in the bottom left corner, this is the approximate level of confidence the algorithm has in the forecast).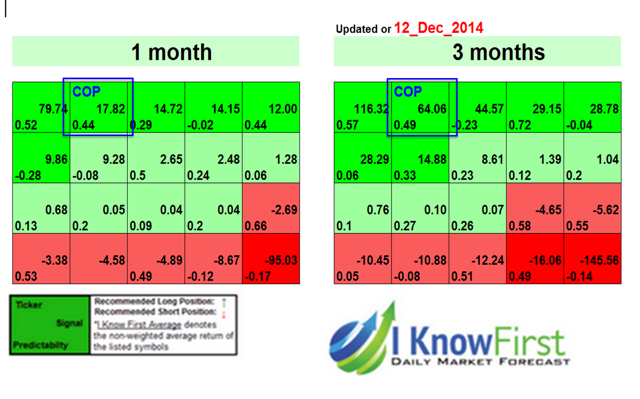 Figure 5. Updated forecast for ConocoPhillips . COP is boxed in purple for emphasis; in the 1-month time frame, it appears bullish; in the 3-month time frame, it appears even more so, with elevated signal strength.
ConocoPhillips's position on the algorithmic chart indicates a strongly bullish prediction for the stock. This seems reflective of the company's recent business developments as well as holistic analyst sentiment.
Conclusion
While ConocoPhillips may have experienced a miniscule drop in share prices on December 8th, it is still a more-than well-oiled machine. Though its 2015 guidance reflects an oil climate wrought with global oversupply, and though it has recently encountered a law suit implicating it in a spill incident, ConocoPhillips is still going strong: it is regarded as a blue chip stock with a steady balance sheet, generous dividend, and elevated growth potential. Further, ConocoPhillips is acting to realize that potential via new projects, including expanded activity in West Africa, elevated production in Malaysia, and novel discoveries in Senegal. These business developments, analysts' bullish mean opinion, and I Know First Research's algorithmic forecast appear to cumulatively indicate, then, that ConocoPhillips may be a stock worth considering.
Disclosure: The author has no positions in any stocks mentioned, and no plans to initiate any positions within the next 72 hours.
The author wrote this article themselves, and it expresses their own opinions. The author is not receiving compensation for it (other than from Seeking Alpha). The author has no business relationship with any company whose stock is mentioned in this article.