Gerdau S.A. (NYSE:GGB)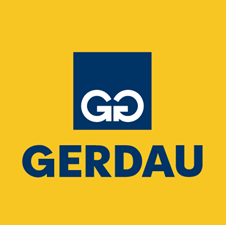 Gerdau is a Brazilian firm that produces steel, which it then sells onto the broader market. Its main customers are located in Brazil and adjacent South American countries and, as an addition, GGB has its own iron ore activities as well. Steel production is a straightforward business and could be thought of as a cyclical industry, relying on the global demand and supply of steel, which is mainly fuelled by heavy construction (infrastructure, factories and such, visible in the pie chart below). Steel production itself relies on iron as well, as steel is produced partially by iron, although recycling used steel is now beginning to play a major role in the process. Alongside normal operations, there are many ways to hedge a steel business and GGB is doing it through their own iron ore activities, avoiding having to rely on other sources.
The contribution of US steel production to each sector can be seen in this chart: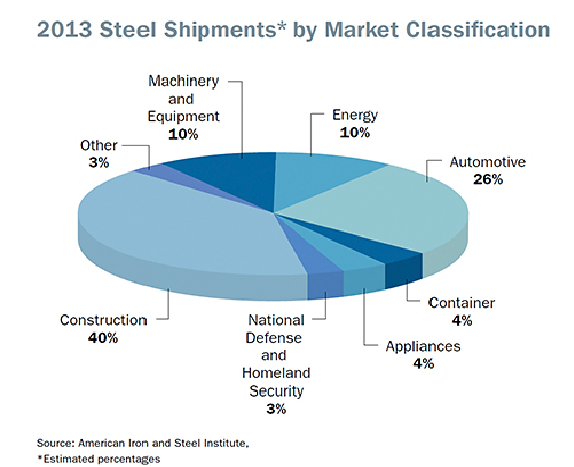 Where does GGB stand now?
As can be seen in the charts below, Gerdau has been flirting with the technical support since the bottom of the crisis in 2009; the one year chart shows us the pressure of the political environment when Dilma Rouseff won the elections in September. Bleak prospects for the Brazilian GDP have definitely increased the downturn, as well as the general sell-off of iron commodity.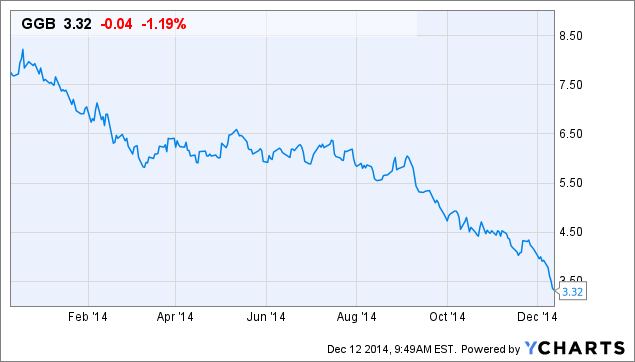 Investment thesis
Although the global economy definitely is not running smoothly thereby hindering the growth outlook for the steel companies, we have to scrutinize the cycle in which steel is now trapped. The oversupply and its under-utilized capacity have definitely been drivers of the industry broad downturn, as shown in this very useful EY report: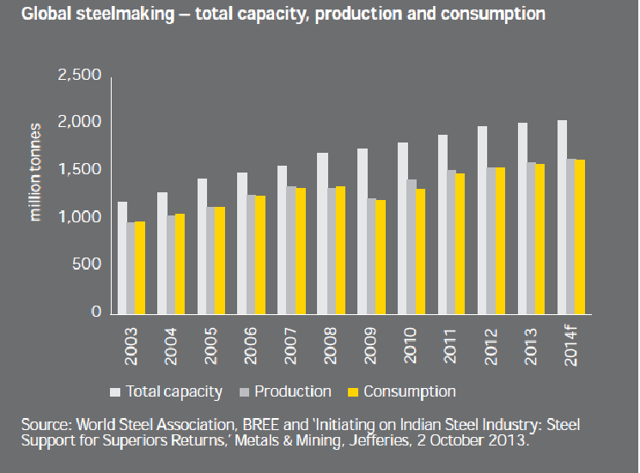 But this is on track to change, as China has been signaling a cut in production by 100 MTPA, whilst current production weighs in at 779 MTPA and global production at 1602 MTPA. Given every company in this industry has a very small margin, and nobody is likely to step forward and fill in for China, the supply should fall lower.
Demand, on the other hand, should definitely remain stable and could see potential revision in an upward trajectory, if the global outlook brightens up. The biggest driver of stable demand should be the US automotive industry and, in the EY report, I have found a very interesting graph suggesting possible future demand from other countries. This research is, of course, very forward-looking but it still shows us that demand won't stop growing, even if it happens at a meager pace. The line indicates a hypothetical average trajectory of a country's demand through different stages its economy, the two upward lines signaling the three stages of an economy.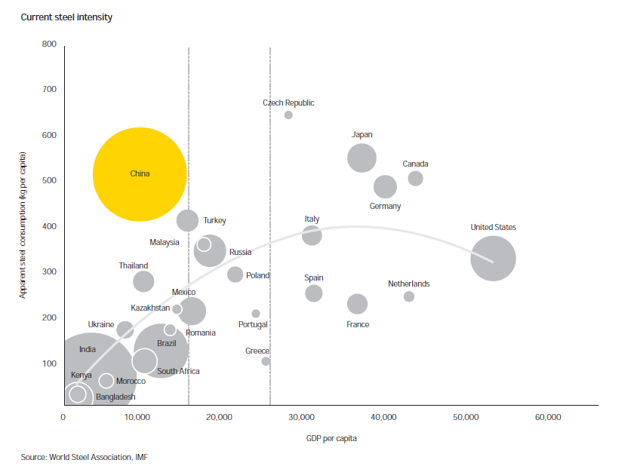 The industry outlook is not as bleak as suggested and, on its own, GGB remains heavily overlooked because of the political risk that exists in Brazil.
Although the election of Ms. Rouseff does not make for a great outlook for the country, this is an exaggerated perception and I believe that the cynicism surrounding the risk faced by GGB should change as well. As one of the world's main emerging markets, Brazil now understands that it needs to create a new path to prosperity and growth, as its old strategy of social spending has failed to prove itself efficient.
Brazilian environment
One of the main obstacles to steady GDP growth for Brazil has undoubtedly been the incumbent president, Dilma Rouseff, who has been navigating Brazil in the muddy waters of the global economy in a way, which for example Sweden could and to some certain extent is doing. Polices such as social spending and inefficient attempts to help small businesses grow have proven to only have a worsening effect, taking place against a background of declining commodity prices. Her left-wing policies were contested in the presidential elections by Ms. Rouseff's main opponent, Mr. Neves, who has not only been an electoral opponent but an ideological one too. We have seen that, as Mr. Neves has became a viable option for Brazilians, the markets found their footing, his pro-market policy would have undoubtedly been welcomed, at least by urbanized Brazilians as the polls have shown. Unfortunately, this positive volatility disappeared as quickly as it emerged; following Mr. Neves' loss in the elections, the market went on a selling spree.
Recently, Rouseff has stopped taking a blind stance to the opposition, trying instead to adhere to the voices that call for a more market-based approach; this can be seen in Rouseff's election of a well-trained Chicago economics as her new finance minister. Although, this development may have been forced by allegations of Rouseff being involved in a corruption scandal that could have potentially resulted in her impeachment (as suggested here), involving Petrobras, the biggest oil company in Brazil. Whatever the reason, we can see that things are changing and thus could free GGB shareholders from worry.
Specifics of Gerdau
Now we understand why GGB has been oversold, the following ratios showing us that it is a favorable time to enter the position. Price to book ratio, which is very important in these heavy industries, is under one and stands at impressive 0.55. Price to sales, again important for a huge industry, is at even lower ratio of 0.40. Further undervaluation can be supported by the fact that, at these price levels and market cap, the company should be expecting growth as the forward P/E is only slightly below the actual P/E.
In terms of debt, the company is reasonably liquid, with a very solid ratio of 2.7. Moreover, margins for GGB have been solid and the company managed to maintain same levels and, in some cases, even increase margins as you can see from the diagram, which has been taken from this presentation. The only real outlier (Brazilian margins are suppressed by the bleak outlook) are iron ore margins which are, of course, falling as a result of iron prices, but not only we could see a potential bottom in the fall, iron used by GGB itself, therefore there is no additional worry.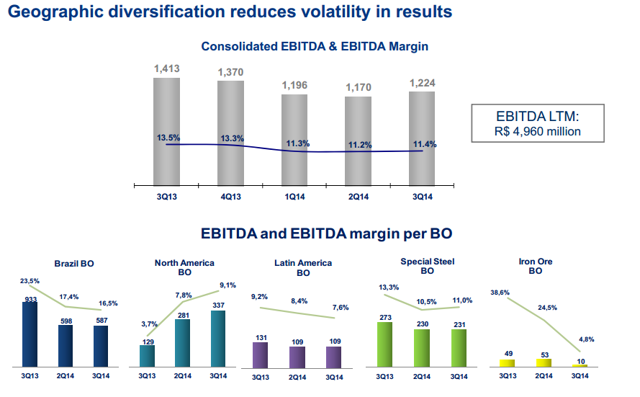 Finally I would like to add an another chart supporting the fact that GGB is better than its peers, when it comes to self-sufficiency, which was taken from the EY report as well.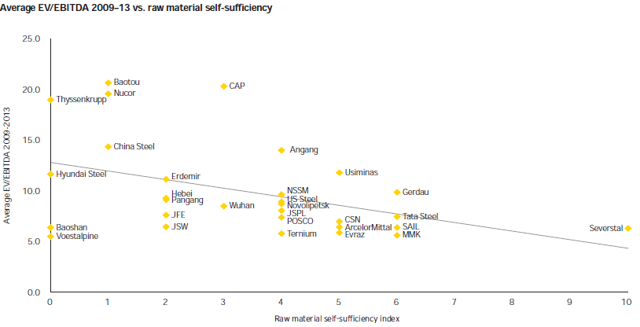 Risk/Reward conclusion
If the changes underway both in the industry and the Brazilian political environment continue, as I believe they will, we could see GGB easily returning to its pre-September price levels. As we can see, this downturn has really oversold a profitable business.
On the other hand, we have to be aware of the risks that are blatant in this case. Firstly, there is the political risk, which is the worst risk there is for a stock. Secondly, there's the industry risk, China's GDP growth potentially slowing and affecting the outlook of the steel industry yet again.
Although GGB is currently in a pressing environment, I believe stock should not go lower than the current levels, instead finding a bottom and rebounding.
Disclosure: The author is long GGB.
The author wrote this article themselves, and it expresses their own opinions. The author is not receiving compensation for it (other than from Seeking Alpha). The author has no business relationship with any company whose stock is mentioned in this article.
Additional disclosure: I am long through 'leap' options.