BlackRock Health Sciences Trust (NYSE:BME) is one of my favorite closed end funds, or CEFs. Although the yield is "only" around 4.5% or so based on its monthly dividend (there's a large special dividend coming up), it has managed to keep pace with the S&P 500 based on share price alone, an impressive feat. It's trading at a slight premium to its net asset value, or NAV, today, but you should have it on your watch list just the same.
The bad first
I've been happily invested in BlackRock Health Sciences Trust for years. It provides me exposure to the health care industry and a steady income stream that has recently been switched from a quarterly payment to a monthly payment. That made the CEF even more desirable in my eyes. However, there is one glaring problem-an information void.
To be fair, BlackRock isn't the only fund sponsor that doesn't share nearly enough information with investors that have trusted it with their money. That said, if you own any BlackRock closed-end fund, be prepared for twice yearly updates on what management is doing and thinking. That's not really enough sharing. Oh, and they won't be too timely at that. For example, the most recent report available right now is from April. The annual report for the end of October isn't out yet (you can get the one from last year, though). Although such lag times are within regulatory limits, it certainly isn't pleasing for an investor who wants to know what's going on now, not two months ago.
Information sharing is one of the reasons why I like Gabelli funds, they provide solid information on a quarterly basis. However, based on Health Sciences Trust's solid performance, I'm willing to live with a little less information in this case. Indeed, Gabelli offers a health care focused CEF, but it hasn't done as well over time and costs more to own. (Gabelli's management fees are 1.65% versus BlackRock's 1.12%.)
GRX Total Return Price data by YCharts
So, since I'm no expert when it comes to health care stocks -particularly if you are discussing up and coming technologies-this is an area of my portfolio I'm happy to outsource. And BlackRock Health Sciences Trust has done a good job filling in for the fact that I don't have a medical degree.
So what does it do?
The management team's past performance is probably the most notable advocate for buying Health Sciences Trust. But what does it actually do? To find out, you need to go all the way back to the fund's initial SEC filings.
The management team uses a combination of top down and bottom up analysis. In other words, it's looking at the big picture trends in the industry and tries to see where the major sub-sectors of the industry are heading. The filing documents specifically highlight pharmaceuticals, biotechnology, medical devices, and healthcare services, roughly the industries on which BlackRock provides regular allocation updates. As of October, the portfolio had two thirds of its assets in pharmaceuticals, biotechnology, and life sciences holdings, with a third in equipment and services.
Once it's created an industry backdrop, management then starts looking at individual stocks within desirable sub-sectors. Here the team is looking for companies with, "...strong product potential, solid earnings growth and/or earnings power which are under-appreciated by investors, a quality management team and compelling relative and absolute valuation." This is all standard fare for a top down/bottom up approach. The notable take away is that there's nothing unusual here.
Now that you know this, reading the semi-annual updates can provide a little more information. For example, in April management noted that, "The Trust continued to maintain a focus on innovative companies and, as such, continued to maintain large allocations to the biotechnology and pharmaceuticals industries, where the innovation cycle is in an upward trend and is expected to drive a secular growth story." And, "While policy uncertainty has diminished with the expected implementation of Health Care Reform, changes are still taking place due to austerity measures unfolding globally. As such, the Trust remained underweight in companies that would be at risk if government reimbursements were reduced." Both of these sit well with the stated focus on macro issues and feel much less random when couched within the big picture focus.
Also, the, "Trust expanded the innovation theme to the health care equipment & supplies industry with investments in several companies with compelling new product launches on the horizon." This works on the bottom up side, where the fund is looking for companies with innovative new products. So, the fund appears to be doing what it says it will. That's about as much as you can ask, even if that update is from April.
The other big policy issue to note is that BlackRock Health Sciences Trust uses options. The SEC documents allow it to write options, both puts and calls, on up to 50% of the portfolio. Right now that number is around 35%. These options are a core reason the fund is able to pay a relatively high distribution even though it's investing in companies like biotechs that typically don't pay large dividends.
That said, options have their downside. For example, if it sells a covered call on a stock that subsequently goes up dramatically, it will likely lose out on much of that increase. But, if that stock were to go down, the premium received from writing the call would offset a portion of the loss. It's a double edge sword, but one that's probably well worth the risk if you are looking for income.
How about performance?
One of the reasons I like this particular health care CEF is that it's managed to keep up with the S&P 500 over time. That's impressive, but even more so when you consider that this is based only on share price performance. Add in the distributions that have been paid along the way and the fund outperforms the S&P. That's almost like having your cake and eating it, too, if you don't reinvest the dividends. There's clearly no guarantee that this trend will keep going forever, but the fund was started in 2005. So it's lived through both good markets and bad.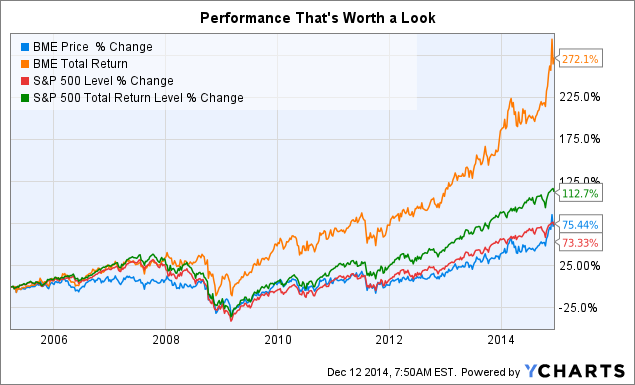 BME data by YCharts
The distribution, meanwhile, can be a mixture of dividends, capital gains, and return of capital. That said, the fund didn't use return of capital in fiscal 2013 or through the first half of this fiscal year. The bulk of the distribution was made up of capital gains. The last return of capital distribution took place in 2009, and the NAV went up that fiscal year. That said, the NAV fell in 2011, even though there was no return of capital that year. (This is why you shouldn't get too hung up on return of capital. It's an important issue, but not the only one you should be considering.)
Watch this one
All of this said, I wouldn't buy BlackRock Health Sciences Trust right now. It's trading at around a 2% premium to NAV. That's small to be sure, but I don't like overpaying. However, don't expect massive discounts here, either. The fund's average five year discount is a paltry 2%. It gets wider than that, but don't expect 10% or 20% discounts here. If it gets above 5% it's worth considering adding to your portfolio. So put this on your watch list and don't get too greedy. It will, eventually, be a good buy again.
Disclosure: The author is long BME.
The author wrote this article themselves, and it expresses their own opinions. The author is not receiving compensation for it (other than from Seeking Alpha). The author has no business relationship with any company whose stock is mentioned in this article.