Admittedly, there's much to admire about Waste Management (NYSE:WM). On the surface, it's a great annuity business whose cash flows are bond-like in their predictability. Also, the company has raised its dividend at a CAGR of ~7% a year for a decade and the company does an excellent job of buying back shares. The company seems to have an institutional seal of approval, since institutions own more than 80% of the company and investors as talented as Joel Greenblatt and Ray Dalio are lining up to buy. Those very compelling virtues, though they don't excuse the many problems we see with this company. We feel investors should avoid Waste Management at these prices. Our advice is for investors to kick this pile to the curb, put a lid on it, and don't look back.
Valuation
Good investing rests on the idea that assets of all types have a range of reasonable intrinsic values. You do well when you can buy those assets below this range, and you do poorly when you buy those assets above this range. Someone prone to massive understatements might call Waste Management's valuation "somewhat rich." Here are some immediately obvious examples:
WM has an EV/EBIT ratio of 28.72. This implies an earnings yield of 3.5% on the enterprise's entire value. By comparison, the S&P 500 (arguably overvalued itself) has an earnings yield 17% higher than WM's.
The TTM PE for WM is even more obscenely rich relative to the overall market. WM sports a TTM PE multiple of 222. To put that number in context, at the height of the Dot-com bubble, Cisco systems (another great company with a sustainable business model) had a PE around 110. This PE is not only alarming, but is abnormally rich for this company.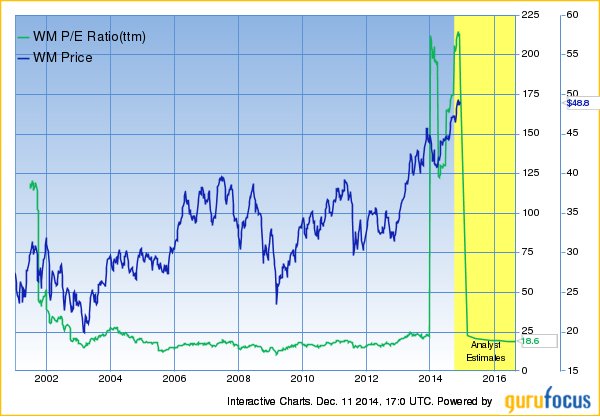 Source: Gurufocus
Is it reasonable?
In theory, it's possible to justify a rich valuation. To do so, a company would need to be very compelling indeed. And indeed, that might be the case with Waste Management. The company certainly has some great things going for it.
The Good?
On the surface, Waste Management seems to be doing an excellent job of building shareholder wealth. We note the following:
Dividends have grown at a CAGR of 7% over the past decade.
WM is a sustainable, recession-proof business that throws off a consistent annuity cash flow stream.
Waste Management services a market that is growing and may benefit from scale economies as the industry consolidates.
Given that institutional ownership sits at 81%, there is minimal fear of "weak hand" drawdowns in price - assuming that institutions are good at this and won't crack at the first sign of trouble. WM shares have support from its institutional ownership structure.
There is lots to love here. Nevertheless, when I think about Waste Management, I'm reminded of the immortal words of that great Canadian philosopher Bryan Potvin: "she ain't pretty, she just looks that way."
Should investors overlook current rich valuations and focus on the long-term positives of WM? No.
Dividend History In Context
The company has done an excellent job of growing dividends at a CAGR of ~7% a year over the past decade. This is quite a feat given the state of the macro economy over that time. When we see something that's enjoyed this level of predictibility, we're left to examine issues of sustainability.
When we look at the sustainability of WM's dividend policy, the story is far less rosy. The dividend payout ratio is currently at 718%.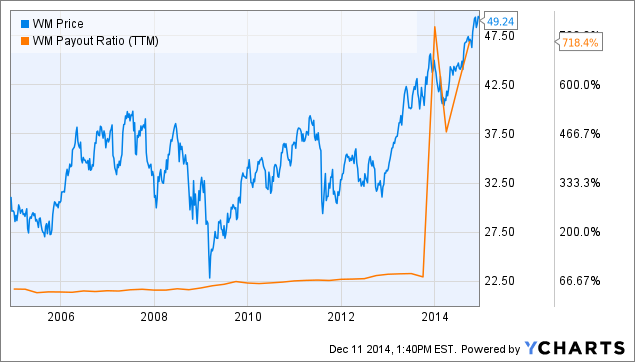 WM data by YCharts
Source: YCharts
We believe that WM's dividend is unsustainable. It has been a great ride, but that which is unsustainable won't be sustained. In the past when an unsustainable dividend has been cut, it's usually the small investor who's left to pick up the check.
Also, we infer from this payout ratio that management is unwilling to reduce dividend payments for fear of what would happen to its share price. Our problem with this is non-quantifiable, yet a management team that is unwilling to suspend an unsustainable dividend makes us nervous.
Annuity Business In Context
In addition to the dividend history at the firm, investors are attracted to Waste Management's non-cyclical predictability. The "bond-like" cash flows undergirding WM's narrative are quite compelling. Its free cash flow per share for instance has shown very little variability for more than a decade.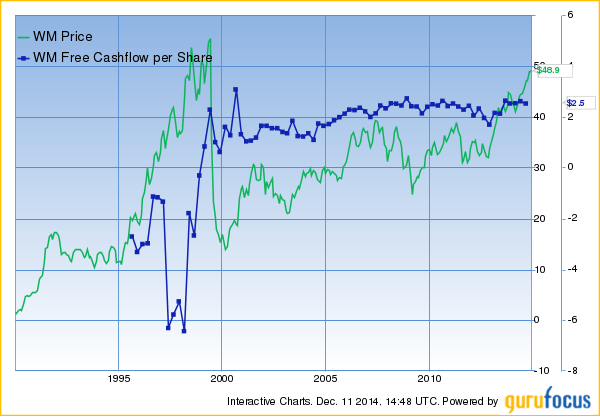 Source: Gurufocus
In parallel to that free cash flow per share is, unfortunately, the issuance of long-term debt and almost constant Capital Expenditure.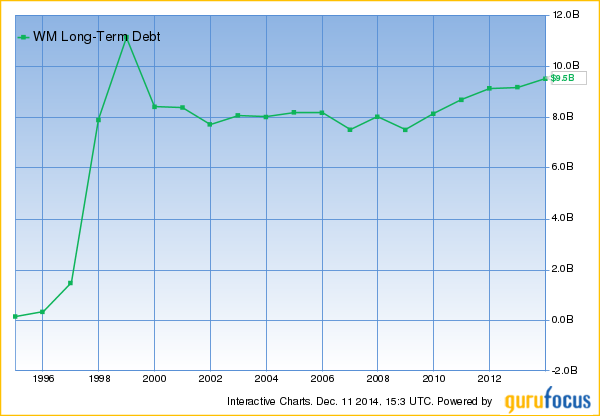 Source: Gurufocus
We believe that WM's "good" is mirrored by problems of equal significance. Dividends are excellent, but they're unsustainable. The company is growing nicely, but needs to make massive CAPEX expenditures to do so. Not so good.
Can the Company Overcome These Problems? Can Their Future Profit Overcome The Problems Described Above?
To answer that question, we need to look at the return characteristics of this business. Unfortunately, the situation is not great.
1. ROA and ROE numbers are pitiful for the company, and have been in decline for some time.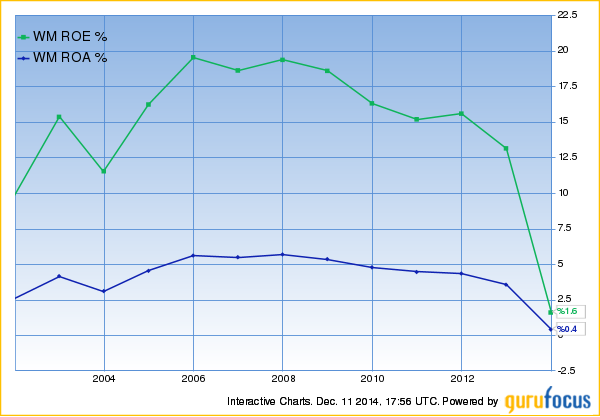 Source: Gurufocus
ROA is 0.46% - meaning that the company is making 46 cents on every $100 of assets employed. Ouch. Those are returns similar to the assets employed in a checking account.
2. "Recession proof" or not, the operating margin for the company has been in decline for the past few years.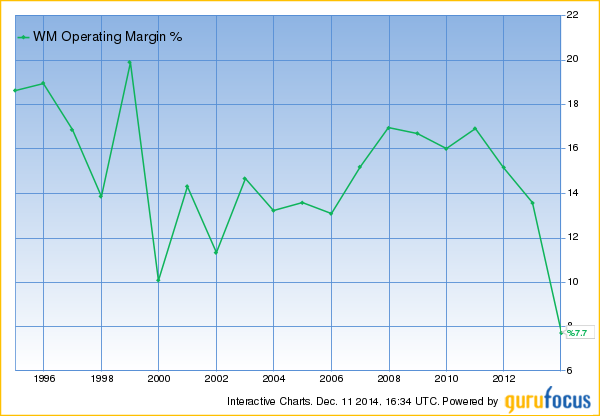 Source: Gurufocus
Summary
Basically, there seems to be a negative attached to almost every positive about WM. Add to that WM's high valuation, and you have a value-destroying situation for long-term investors.
The company is doing a great job at buying back stock and raising dividends consistently - but they're taking on massive amounts of debt to do so.
The business is a sustainable recession proof annuity - but they need to make massive CAPEX investments to capture industry growth and their margins and return numbers are bad.
We believe that Waste Management soaks up massive amounts of shareholder capital and puts that capital to work in what amounts to a low-margin, sustainable business. And we believe that investor capital could find much more productive, risk-adjusted uses.
Waste Management has a compelling narrative. Yet whenever investors have paid high prices for a business that has a great "story," they have typically been disappointed. When we review an investment opportunity, we are looking for what Warren Buffett referred to as the "fat pitch" - a great situation at an acceptable price. We believe that Waste Management is an "OK situation at a terrible price." Our advice is to avoid WM and find a better risk-adjusted home for your capital.
Disclosure: The author has no positions in any stocks mentioned, and no plans to initiate any positions within the next 72 hours.
The author wrote this article themselves, and it expresses their own opinions. The author is not receiving compensation for it (other than from Seeking Alpha). The author has no business relationship with any company whose stock is mentioned in this article.