Yesterday, the S&P 500 (NYSEARCA:SPY) moved lower to close Tuesday's upside gap and kept moving south as the trading day progressed. Not a good sign for the bulls. However, until the $125 level is broken, the bulls remain in good standing. A push below $125 and I think a waterfall, capitulation type move could occur. If a sharp decline occurs, I would suspect that SPY will see the Dec. 1 upside gap close at $118.03 (the high from Nov. 30).
Again, as long as SPY is able to hold the March lows I think the market will be okay -- although, when I say okay, I mean a move back near the top of the established trading range – $125-137. Let the range-bound trading begin.
Options Indicator: Overbought, Oversold
All of the ETFs I follow in the High-Probability, Mean-Reversion Strategy have moved back into a short-term neutral state. With that being said, I will be patiently waiting on the sidelines until an ETF moves into a short-term extreme. Patience is by far the hardest aspect of trading. Inherently trading is exhilarating, so it makes perfect sense to want to do it as frequently as possible. Unfortunately, that goes against the main goal of any strategy, which is to make money. Wait, wait, wait and then pounce on a high-probability opportunity. That is how money is made trading – at least if you have a long-term approach to creating and more importantly accumulating wealth.
I find it interesting that over the years, when these lulls occur, subscribers often flee. They want action and are too short-sighted by the the excitement of trading options. Believe me, we have all been there. If they could only realize that patience coupled with sound risk-management is what makes an options strategy successful.
You can see all of the performance results for the High-Probability, Mean-Reversion strategy here.
Daily Options Links of Interest
Summary
Not much has changed over the past few weeks; range-bound trading persists. It appears we could see the markets move sideways for a few more months. Are the summer doldrums already upon us? How long can SPY stay in this range of roughly $126-137? The question is, while I continue trading extremes in the HPMR strategy , how can I take advantage of the range bound movement at the same time?
[Click to enlarge]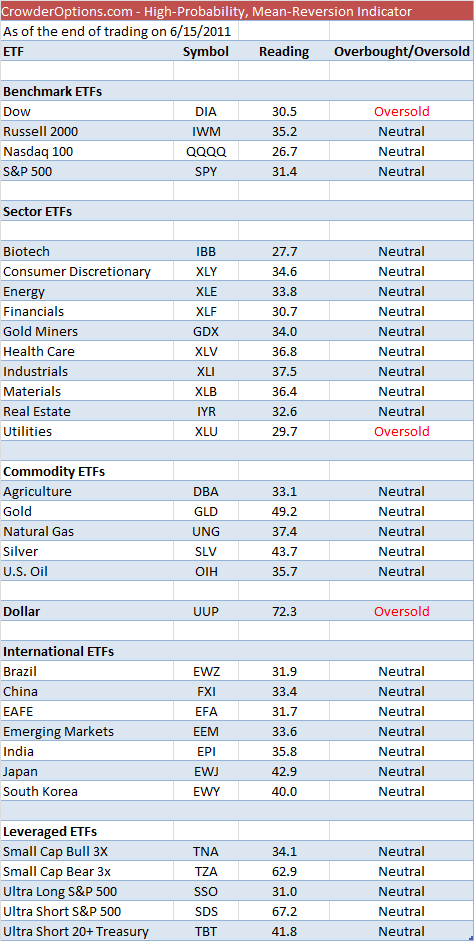 Disclosure: I have no positions in any stocks mentioned, and no plans to initiate any positions within the next 72 hours.