Introduction
Readers of my previous articles know that MLPs are a significant part of the "Buy-the-Dip High-Yield" (BTDHY) portfolio. Unfortunately, this sector has been subject to intense pressure in recent months as a result of the on-going decline in oil prices, which was exacerbated by OPEC's Nov 28th "black Friday" decision to not cut oil production.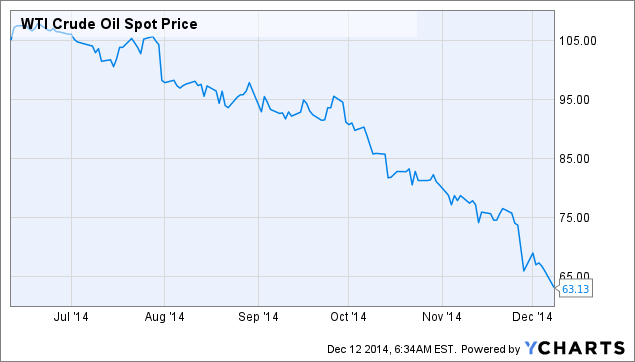 WTI Crude Oil Spot Price data by YCharts
However, it is important to note that not all energy MLPs are created equal. Upstream MLPs conduct exploration and production (E&P) of oil and gas from wells. Midstream MLPs are largely concerned with the transportation (via pipeline, rail, barge, oil tanker or truck) and storage of crude or refined petroleum products. Downstream MLPs are involved with the refining of petroleum crude oil and the processing and purifying of raw natural gas, as well as the marketing and distribution of products derived from those fuels.
Most MLP stocks available to investors fall into the upstream or midstream category. Popular upstream MLPs include Atlas Resource Partners (NYSE:ARP), Breitburn Energy Partners (BBEP), Linn Energy, LLC (LINE), Memorial Production Partners (NASDAQ:MEMP) and Vanguard Natural Resources (NYSE:VNR). Popular midstream MLPs include Enterprise Products Partners (NYSE:EPD), Energy Transfer Partners (NYSE:ETP), Kinder Morgan Energy Partners (NYSE:KMP), Magellan Midstream Partners (NYSE:MMP) and Plains All American Pipeline (NYSE:PAA).
Upstream MLPs often have higher yields, but their distributions are strongly linked with energy prices. In contrast, midstream MLPs (particularly those of the pipeline variety) generate lower but more stable yields. How did these popular upstream MLPs fare vs. midstream MLPs over the past few months?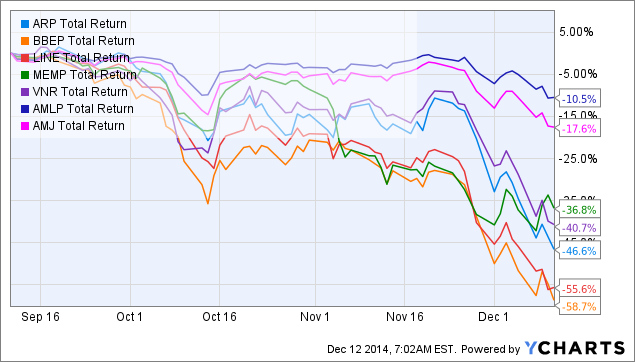 ARP Total Return Price data by YCharts
We can see from the above chart that there was a significant divergence between the basket of five upstream MLPs mentioned above, and two popular exchange-traded products tracking the (midstream) Alerian MLP Infrastructure Index, the ALPS Alerian MLP ETF (NYSEARCA:AMLP), an ETF, and JPMorgan Alerian MLP Index ETN (NYSEARCA:AMJ), an ETN. Note that to my knowledge, there currently exists no exchange-traded product that tracks an index consisting exclusively of upstream MLPs.
The fall in price of the upstream MLPs has sent their yields soaring to very high levels. At the same time, the yields of the midstream MLP exchange-traded products has remained relatively stable.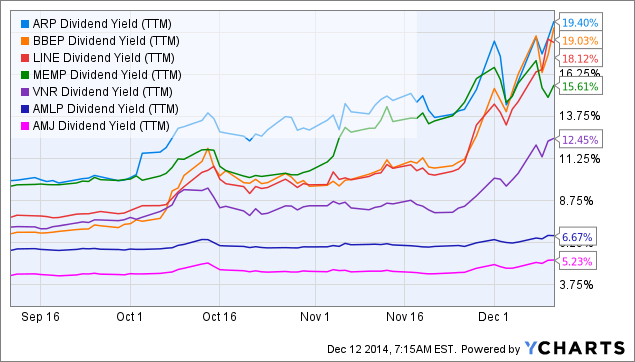 ARP Dividend Yield (NYSE:TTM) data by YCharts
Is it time to buy upstream MLPs? There are as many opinions as there are experts, and predicting commodity prices has historically confounded the brightest of analysts. Pundits can be found at every point along the bull-bear spectrum and so their analysis will not be rehashed here.
While I have no idea what the price of oil will be in the future, the philosophy of the BTDHY portfolio dictates that the time to buy is when prices are down (different types of investors may refer to this behavior as "value-investing", "rebalancing" or "knife-catching"). However, it is unclear at present whether or not the sky-high distributions of many of the upstream MLPs are sustainable. Each MLP is unique and will have different levels of proven/unproven reserves, different hedging programs in place, different levels of debt, and so forth. I am not an MLP expert by any means, and I don't wish to place bets as to which MLPs will cut distributions and which will pull through. While a distribution cut technically has no effect on the intrinsic value of a company, its effects on the stock price are commonly disastrous given that many MLPs are income favorites, as well as the fact as the announcement of the cut is usually accompanied by a moribund commentary of the firm's outlook (see Boardwalk Pipeline Partners (NYSE:BWP), Feb 2014). Therefore, an MLP fund would be more desirable.
Yorkville High Income MLP ETF
Yorkville High Income MLP ETF (NYSEARCA:YMLP) is an ETF managed by Yorkville ETF Advisors that seeks to track the performance of the Solactive High Income MLP Index. According to the YMLP Factsheet, "The index is a rules-based benchmark designed to provide investors a means of tracking the performance of selected Master Limited Partnerships ("MLPs") which are publicly traded on a U.S. securities exchange. The Index constituents must meet certain criteria relating to current distribution, coverage ratio of the distribution and the historical growth of the distribution."
Composition
The constituents of YMLP are given in the table below. Also shown is the % holding, present yield, market cap and type of each constituent (Note: data are current as of 12/10/2014). In categorizing the type of MLP, I have used the classification types in the CBRE Clarion Securities MLP Market Update website, which considers these following MLP classes: [i] traditionally structured midstream MLPs, [ii] upstream MLPs, [iii] traditionally structured "other" MLPs, [iv] variable distribution MLPs, [v] MLP GP holding companies, [vi] other publicly-traded companies that own GP interest in an MLP, and [vii] other MLP-related securities.
| | | | | | |
| --- | --- | --- | --- | --- | --- |
| Name | Ticker | Holding / % | Yield / % | Cap / B | Type |
| FERRELLGAS PARTNERS-LP | (NYSE:FGP) | 7.66 | 8.0 | 2.07 | Other |
| ALLIANCE RESOURCE PTNRLP | (NASDAQ:ARLP) | 7.11 | 5.9 | 3.22 | Other |
| TEEKAY LNG PARTNERS LP | (NYSE:TGP) | 6.51 | 7.3 | 2.94 | Other |
| GOLAR LNG PARTNERS LP | (NASDAQ:GMLP) | 6.5 | 7.7 | 1.30 | Other |
| CALUMET SPEC. PROD. LP | (NASDAQ:CLMT) | 6.4 | 11.4 | 1.67 | Other |
| AMERIGAS PARTNERS-LP | (NYSE:APU) | 5.63 | 7.6 | 4.32 | Other |
| TEEKAY OFFSHORE PART | (NYSE:TOO) | 4.9 | 9.6 | 1.93 | Other |
| EV ENERGY PARTNERS L.P. | (EVEP) | 4.79 | 13.2 | 1.14 | Upstream |
| MEMORIAL PRODUCTION |   | 4.41 | 14.9 | 1.20 | Upstream |
| NATURAL RESOURCE PART. LP | (NYSE:NRP) | 3.96 | 14.8 | 1.16 | Other |
| VANGUARD NATURAL RESOURCE |   | 3.9 | 14.8 | 1.43 | Upstream |
| SEADRILL PARTNERS LLC | (NYSE:SDLP) | 3.91 | 13.1 | 1.13 | Other |
| NAVIOS MARITIME PART. LP | (NYSE:NMM) | 3.74 | 16.7 | 0.82 | Other |
| LEGACY RESERVES LP | (NASDAQ:LGCY) | 3.58 | 17.9 | 0.95 | Upstream |
| BREITBURN ENERGY PART LP |   | 3.29 | 21.6 | 1.34 | Upstream |
| ATLAS RESOURCE PARTNERS |   | 3.28 | 22.2 | 0.87 | Upstream |
| LINN ENERGY LLC - UNITS |   | 3.11 | 22.0 | 4.37 | Upstream |
| EXTERRAN PARTNERS LP | (EXLP) | 3.09 | 10.5 | 1.17 | Other |
| CAPITAL PRODUCT PARTNERS | (NASDAQ:CPLP) | 2.54 | 13.7 | 0.60 | Other |
| ALLIANCE HOLDINGS GP LP | (NASDAQ:AHGP) | 2.49 | 5.8 | 3.64 | GP |
| GLOBAL PARTNERS, LP | (NYSE:GLP) | 2.37 | 7.8 | 0.92 | Other |
| NGL ENERGY PARTNERS LP | (NYSE:NGL) | 2.31 | 9.1 | 2.39 | Other |
| SUNCOKE ENERGY PARTNERS | (NYSE:SXCP) | 2.21 | 7.9 | 0.58 | Other |
| LRR ENERGY LP | (NYSE:LRE) | 1.13 | 25.4 | 0.18 | Upstream |
| MID-CON ENERGY PARTNERS | (NASDAQ:MCEP) | 0.79 | 29.3 | 0.16 | Upstream |
| CASH |   | 0.05 |   |   |   |
What we can see from this table is that most of the holdings in YMLP are categorized as "other" MLPs, which according to CBRE includes all MLPs that are not midstream MLPs, but are structured like midstream MLPs (with a minimum quarterly distribution). These include coal, compression, shipping, oilfield services, wholesale distribution, and everything else. (Note: others classify wholesale distribution as midstream).
Examples of "other" MLPs in YMLP include Exterran Partners, which provides natural gas compression products and service, Navios Maritime Partners, which owns and operates dry cargo vessels, and Calumet Specialty Products Partners , which specializes in the manufacturing of various oils, solvents and waxes.
Additionally, upstream MLPs make up a significant component of YMLP, making this ETF, to my knowledge, the only exchange-traded product out there that has significant exposure to upstream MLPs while excluding midstream MLPs. The allocations are depicted visually in the chart below.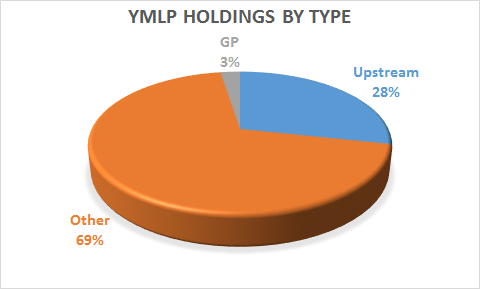 Besides its emphasis on other energy-related non-midstream MLPs, YMLP also differs from AMLP in the market cap distribution of its constituent stocks. As shown in the table and chart below, YMLP has no giant or large cap exposure, only 11.5% medium cap exposure, with the remainder being small and microcap. In contrast, the majority of AMLP's equity is medium-cap or above. This makes YMLP more similar to Global X Junior MLP ETF (NYSEARCA:MLPJ) in terms of market cap composition, and investors need to be aware of the risks associated with smaller companies before investing in YMLP.
| | | | |
| --- | --- | --- | --- |
|   | YMLP | AMLP | MLPJ |
| Giant | 0.0 | 9.1 | 0.0 |
| Large | 0.0 | 36.7 | 0.0 |
| Medium | 11.5 | 51.6 | 14.1 |
| Small | 71.4 | 2.6 | 77.9 |
| Micro | 17.2 | 0.0 | 7.62 |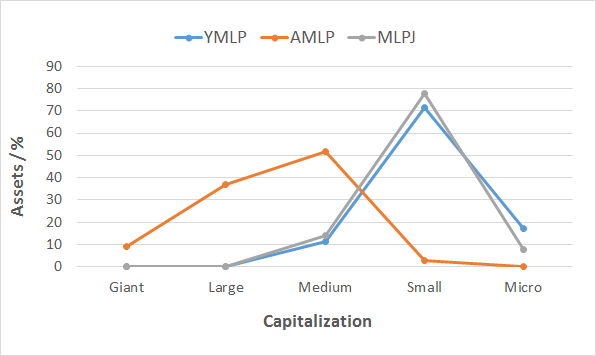 Data sourced from Morningstar. (Note: Giant-cap stocks are defined as those that account for the top 40% of the capitalization of each style zone; large-cap stocks represent the next 30%; mid-cap stocks represent the next 20%; small-cap stocks represent the next 7% and micro-cap stocks represent the smallest 3%).
Expenses
| | | | |
| --- | --- | --- | --- |
|   | YMLP | AMLP | AMJ |
| Management fee / % | 0.82 | 0.85 | 0.85 |
| Other expenses / % | 3.83 | 7.71 | 0.00 |
| Total expenses / % | 4.65 | 8.56 | 0.85 |
The above figures are taken from the funds' websites. Note that I am not a tax expert so please take the following with a grain of salt. Consult your tax advisor regarding specific MLP tax issues.
The management fee for YMLP is similar to the popular midstream MLP exchange-traded products on the market, AMLP and AMJ. However, because YMLP is an ETF that directly holds MLPs, it is structured as a corporation and is therefore subject to the same tax conditions that governs AMLP, resulting in a very high "other expenses" tab. The upshot of this is that when the constituents of an MLP ETF appreciate it value, the ETF will have to accrue for a deferred tax liability, which acts to decrease its NAV compared to an MLP ETN. Conversely, in a falling market an MLP ETF should fall less than an MLP ETN because the ETF will be able to accrue a deferred tax asset.
Investing in an ETN simplifies the tax issue, although the credit-worthiness of the ETN issuer then becomes a source of risk.
Distribution
Earlier this year, YMLP has cut its distribution from $0.411 a quarter to $0.388 per quarter. At current prices, YMLP yields nearly 12%, which is nearly twice that of AMLP (6.7%) or AMJ (5.4%).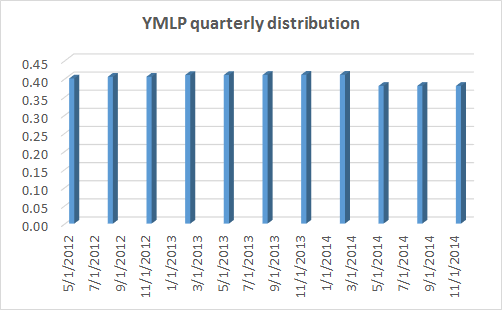 However, as mentioned above, this may or may not be sustainable. If commodity prices continue to fall, there will be high likelihood of further dividend cuts. Conversely, if commodity prices were to stabilize, the constituents in YMLP should experience a significant appreciation in price, since it appears that grim forecasts and recent volatility are depressing these stocks far below their intrinsic value.
Conclusion
The most attractive feature of YMLP in my opinion is that it offers a diversified exposure to non-midstream, high-yielding energy-related MLPs, including upstream MLPs and those categorized as "other" MLPs, making it very different to most of the MLP exchange-traded products out there. This diversity is appealing to those such as myself that are not confident in picking individual stocks in these sectors. The most similar product would probably be the Morgan Stanley Cushing MLP High Income Index ETN (NYSEARCA:MLPY), a 10%-yielding ETN that includes high-yielding MLPs from the entire MLP space, and therefore contains both upstream, midstream and "other" MLP exposure.
However, one must also be aware of the risks. As mentioned in the article, YMLP is biased towards smaller-cap stocks. Furthermore, upstream MLPs, as well as the various "other" MLPs (to different extents) are acutely sensitive to commodity prices, and the 12% distribution is in no way guaranteed. With these risks in mind, my own personal target allocation to YMLP will be relatively small.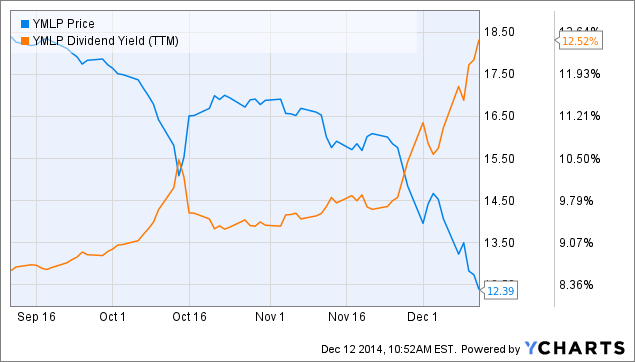 YMLP data by YCharts
Disclosure: The author has no positions in any stocks mentioned, and no plans to initiate any positions within the next 72 hours.
The author wrote this article themselves, and it expresses their own opinions. The author is not receiving compensation for it (other than from Seeking Alpha). The author has no business relationship with any company whose stock is mentioned in this article.