As the largest publicly traded health insurance company in America, UnitedHealth Group (NYSE:UNH) has been a strong performer over the last several years, despite the implementation of the Affordable Health Care for America Act. The shares have more than tripled over the last five years and gained nearly 30% during the previous 12 months; the company now has a market cap of nearly $100 billion. However, stock's forward earnings multiple is now well above its long-term average even though analysts do not anticipate an acceleration of earnings growth. This article analyzes the company's fundamentals and then uses the DRAG framework to determine whether UnitedHealth Group's shares are likely to continue their impressive run over the coming year.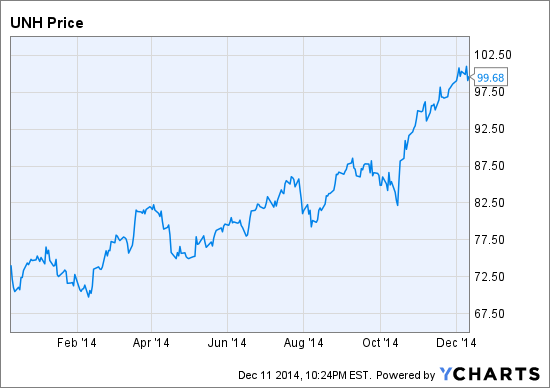 Please click here to read my article which outlines the DRAG analysis framework in more detail.
To summarize, the four variables used in a DRAG (dividend and risk adjusted growth) analysis are as follows (each company is ranked from 0 to 3 in each category):
1. How cyclical is the industry in which UnitedHealth Group operates?
2. How strong is UnitedHealth Group's competitive position within this industry?
3. How risky is UnitedHealth Group's balance sheet?
4. What is UnitedHealth Group's dividend yield and dividend growth history?
The premise is that a company that operates in a non-cyclical industry, with a strong competitive position and a clean balance sheet that pays an attractive dividend should trade at a higher earnings multiple than a company without these attributes, even if the lower quality company has higher projected future earnings growth. After adjusting for these variables, it becomes easier to compare companies in different sectors with different levels of future growth potential.
UnitedHealth Group DRAG Analysis:
UnitedHealth Group Industry Analysis

Industry Beta

0.70

Stock Beta

0.55

10 Year EPS Std Dev

18.7%

Industry Score

2.5/3
Healthcare is one of the least economically sensitive sectors of the stock market. Furthermore, North America's aging population with likely continue to increase the demand for medical services for decades to come. Both this academic research website and the iShares U.S. Healthcare ETF (NYSEARCA:IYH) suggest that American healthcare stocks tend to possess less volatility than the broader market. UnitedHealth Group's stock has also exhibited below average volatility over the last five years and its beta has declined significantly so far this year: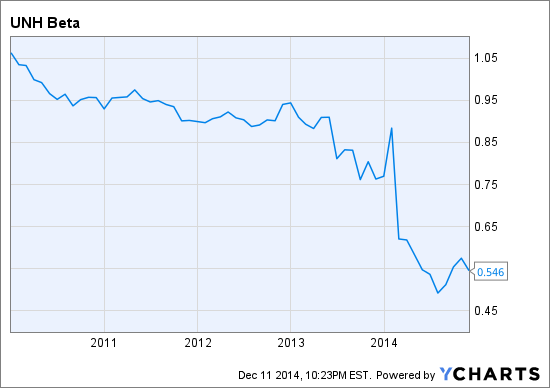 The company's financial results are also impressively consistent - its bottom line has increased nine out of the last ten years and its earnings volatility has been minimal during this time: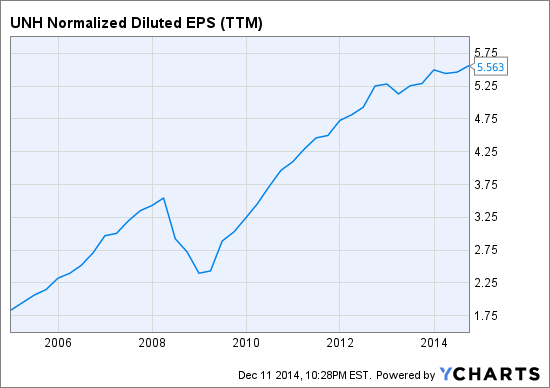 Therefore, UnitedHealth's lack of cyclicality allows it to earn a well above average score in this section of the framework.
UnitedHealth Group Competitive Position Analysis

Gross Margin

25.2%

Operating Margin

7.8%

Return on Assets

6.6%

Return on Invested Capital

12.0%

Competitive Position Score

1.5/3
UnitedHealth Group's massive size ($122 billion in revenue last year) provides it with economies of scale relative to its smaller competitors. And while programs like ObamaCare have increased competition in the industry, the firm still manages to generate solid returns on its invested capital. Its efficiency ratios are slightly better than firms such as Aetna (NYSE:AET) and Humana (NYSE:HUM) and UnitedHealth's margins have remained fairly stable over the last decade while sales have nearly quadrupled. Taken as a whole, these factors translate into an average score for UnitedHealth Group's competitive position.
UnitedHealth Group Balance Sheet Analysis

Debt to Equity Ratio

0.45

Current Ratio

0.74

Interest Coverage

15.5

Balance Sheet Score

2/3
The company's balance sheet is solid, although two of notable issues exist. First, UnitedHealth Group has maintained a current ratio of below 1 going on more than a decade. While this can be a sign of liquidity concerns, it appears to be common in the health insurance industry. Second, due to a history filled with acquisitions, UnitedHealth's balance sheet accounts for over $32 billion in goodwill, which is equal to its entire book value of equity. However, neither of these two matters should be particularly concerning to the firm's shareholders, especially because the company has over $9 billion in cash and short term investments on hand compared to approximately $20 billion in total debt outstanding (and a $95 billion market capitalization). Investors can be confident in UnitedHealth Group's financial position, which results in the firm receiving an above average score for its balance sheet.
UnitedHealth Group Dividend Analysis

Current Yield

1.5%

Payout Ratio

23.6%

1 Year Dividend Growth

33.9%

3 Year Dividend Growth

130.8%

Dividend Score

1/3
After a series of impressive dividend increases in recent years, UnitedHealth Group's stock now yields a decent 1.5%. While this is likely not sufficient for many income seeking investors, those focused on dividend growth investments might find UnitedHealth shares attractive. The company consistently generates more free cash flow than it does net income, so this level of dividend growth could conceivably continue for several years. In 2013, UnitedHealth used four times as much cash repurchasing shares as it did on dividend payments. While the firm's below average current yield results in a dividend score of only 1 out of 3, another year or two of 30% payout increases would quickly improve its rating.
UnitedHealth Group DRAG Analysis

Total DRAG Score

7

/4 = Average DRAG Score

1.75

x Projected LT EPS Growth Rate

x Projected 2015 EPS

= UnitedHealth Group Target Price

$102.79
UnitedHealth Group is a seemingly well run corporation with solid fundamentals. Analysts expect the firm will be able to generate annualized earnings growth nearly 10% moving forward, which is nearly identical to its growth rate over the previous five years. However, with the stock price currently sitting at $100, the DRAG framework does not see meaningful upside for UnitedHealth over the next year. The below chart sheds some light on the stock's valuation: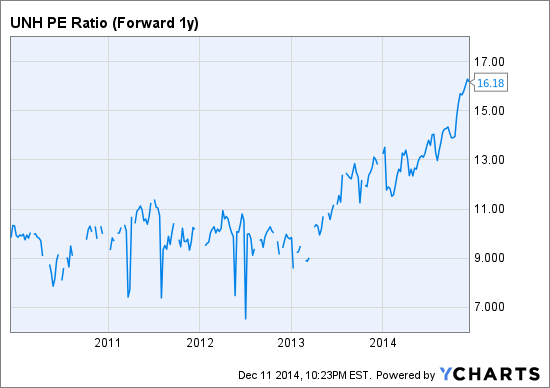 If you are an individual investor considering adding UnitedHealth Group to your portfolio today, you need to recognize that you would be paying a historically high multiple for a company with only modest growth potential. Remaining on the sidelines and waiting for a pullback is therefore the most prudent strategy, although current UnitedHealth shareholders should feel comfortable maintaining their positions.
Disclosure: The author has no positions in any stocks mentioned, and no plans to initiate any positions within the next 72 hours.
The author wrote this article themselves, and it expresses their own opinions. The author is not receiving compensation for it (other than from Seeking Alpha). The author has no business relationship with any company whose stock is mentioned in this article.