For the United States Oil ETF (NYSE: USO), the International Energy Agency's (NASDAQ:IEA) December Oil Market Report will weigh today. It marked the fourth downward revision in five months for oil demand, but it also noted an important output cut in November. WTI Oil was trading down $0.52 to $59.43 in early morning trading, and the USO security was down 0.4% in pre-market trading Friday.
The IEA report indicated oil demand growth in 2015 should be 230,000 barrels less per day than it last estimated. A decrease in former Soviet Union demand should limit global demand to 93.3 million barrels per day in 2015. Obviously, that still marks global growth from an estimate of 92.4 mb/d in 2014, but it will be less growth according to the industry group. Less demand for oil demands a lower price for the commodity, and so oil prices are trading lower Friday, with WTI now under $60 a barrel.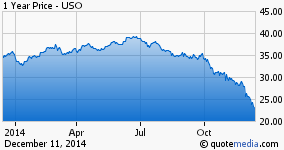 1-Year Chart of USO at Seeking Alpha
The United States Oil ETF should extend its latest losses today on the news, at least through morning trading. The USO is already down 42% from its 52-week high through the December 11th close. The ETF seeks to reflect the performance of the spot price of West Texas Intermediate (WTI) light sweet crude oil.
Negative economic news out of China this morning did not help the situation. Industrial production was reported up less than expected, sending another shock wave through international shares Friday and affecting U.S. stock futures. Of course, it also supports the case for lower oil demand and oil prices and will also weigh on the USO today.
Completing the trifecta of negative factors against oil today, the Italian President indicated he will leave office in 2015, putting the fate of Italy's Prime Minister in question. Given Greece's direction away from EU favor, there's also concern about Italy given a general strike also planned today.
A positive for the USO, global production fell by 340 kb/d in November to 94.1 mb/d. The production cut is more than the growth adjustment made by the IEA, but global production remains ahead of expected demand for 2015 (93.3 mb/d).
For now, pressure remains on oil prices, and I expect more pressure could come before the close of December. Yet, I also expect we will mark a bottom for oil this month, likely just after Christmas. So, I would not advise United States Oil long-term holders to sell at this point, unless they were taking tax losses and replacing their holdings with the iPath S&P GSCI Crude Oil (NYSE: OIL) instrument when fear reaches crescendo later this month. We can expect further downside today, and I expect ultimate bottom just after Christmas. I'll discuss my reasoning for this in my next article focused on that topic.
Disclosure: The author has no positions in any stocks mentioned, and no plans to initiate any positions within the next 72 hours.
The author wrote this article themselves, and it expresses their own opinions. The author is not receiving compensation for it (other than from Seeking Alpha). The author has no business relationship with any company whose stock is mentioned in this article.