Oil and gas companies have been the main focus of traders and researchers over the past three months with everyone trying to call a bottom on prices and pick undervalued stocks poised for massive rebounds when oil prices move higher. In my nearly 10 years of trading oil futures, I have learned very quickly that picking a bottom is pointless, especially when larger forces are at play (namely, a certain OPEC country producing 9.6mbd attempting to put US shale players out of business). With that said, it doesn't mean you can't speculate on where prices are going. It's clear OPEC wants to force US shale producers out of business, and at $60 wti (well head price much cheaper), they are not far away from doing just that. The Saudis can withstand $60 oil far longer than many other OPEC players and I believe the cue they are looking for is the writing down of asset values secured by future production prices, defaults triggering bankruptcy, and tightening of lending to many of these companies. The simple fact is this wont happen quickly, at least when we look out over the next 1-3 month horizon, so again, why rush into calling the bottom on oil when you can wait for prices to stabilize, turn slowly, and then catch 75%-80% of the trend higher.
Now that my oil rant is done, what you can do is focus on companies that have been indiscriminately sold off along with the whole complex and that have a small portion of net income tied to oil prices.
Since their IPO in 2005, Global Partners LP (NYSE:GLP) is still up about 42% with a steadily growing distribution from $0.45 to (most recently) $0.6525. All the while, they've grown EBIDTA and DCF through acquisitions and organic growth. Global partners has mainly been involved in transportation, wholesaling and retailing of petroleum products and more recently crude transportation and wholesaling through longer term agreements. Their acquisition of the remaining interest in Warren equities is an excellent purchase that will tie in extremely well with their current business, allowing further economies of scale -- their expectation is for the acquisition to contribute $50-60 million to EBITDA in 2016. More than 500 additional retail sites will be added to their portfolio with the acquisition, contributing close to 500 million gallons of additional sales in some of the most populated and volatile areas.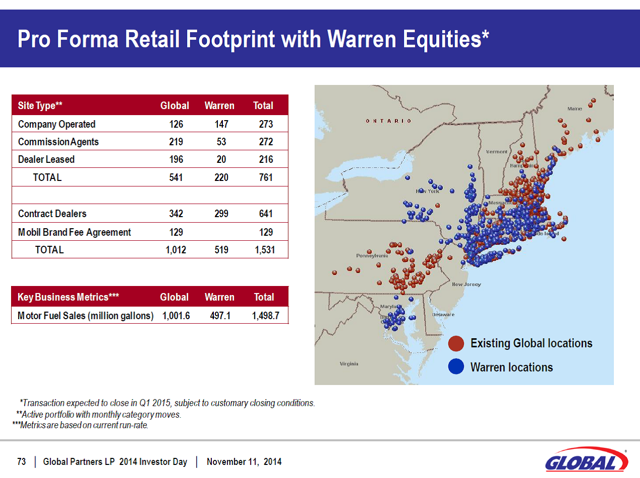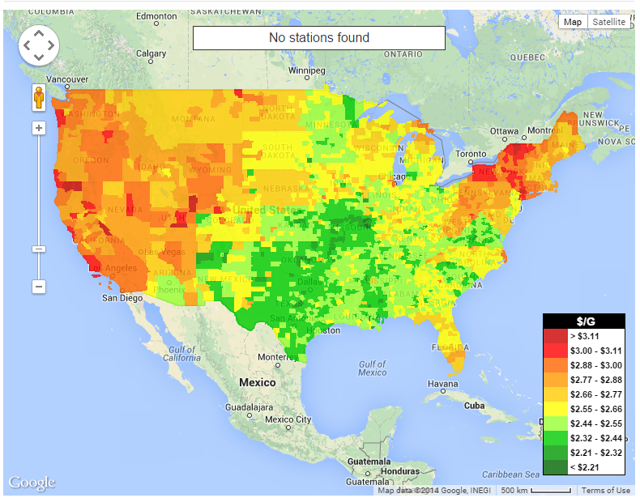 Source: www.gasbuddy.com/gb_gastemperaturemap.aspx
73% of Global's $445M YTD product margin was driven by gasoline, distillate wholesale and retail services, as well as rent from c-stores. The US east coast is generally very limited from a supply point of view, especially in the New England states. Fewer options on supply also means volatility, and for companies properly positioned to take advantage of changes, it means opportunity. For the roughly 3 million barrels per day (mbd) of gasoline demand and 1.1mbd of distillate demand, there is only a maximum of 1.3mbd refinery product for all products in Padd 1. Ultimately, this means supply needs to come from the gulf coast refineries or imported cargoes. Colonial pipeline is the main supply source from the gulf coast, but this is often allocated, which means only a certain amount can reach up to New York harbor and eventually make its way to the New England states. The other main supply source comes from imported cargoes, either from Irving St John, Come by Chance refinery or imports from North West European refiners.
None of the above is a steady stream, so any refinery problems (or slow downs in imports) can cause prices to spike. As a major supplier of home heating oil and natural gas, this winter's earnings will be heavily dependent on temperatures and it's unlikely we'll see a repeat of last year's extreme cold. Possibly offsetting some of that decline is the transition of sulfur levels in home heating oil for most New England states from 2000ppm to 500ppm. Any time a spec change takes places, it allows for blending opportunities and volatility as people adjust to the new specification. While everyone is pointing towards an oil glut and waning demand, the main markets for Global's wholesale and retail products business are showing primary inventories levels right within normal ranges.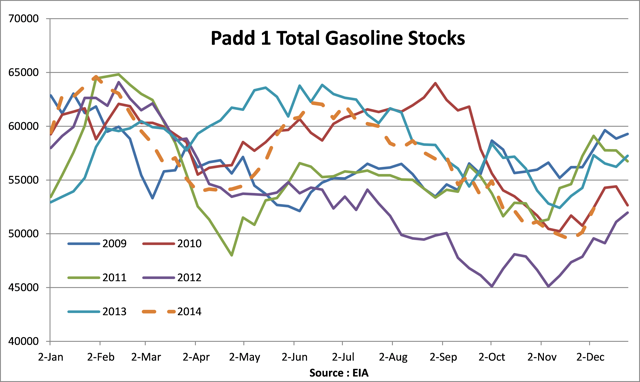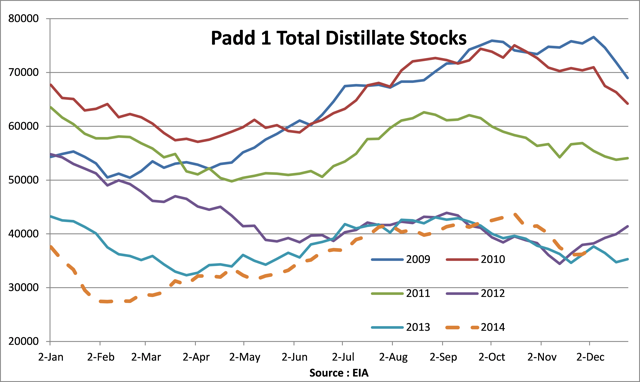 Adding to Global's wholesale and retail business is the leverage provided by nearly 10.1 million barrels of storage around key supply locations. Outside of day to day business, the numerous tank locations allow for economies of scale while importing cargoes provide blending opportunities in the high margin business of converting ethanol into gasoline and bio-diesel, as well as taking advantage of market structure if gasoline or distillate is in contango. Tanks can also be subleased to counterparties if need be, adding to the company's income stream.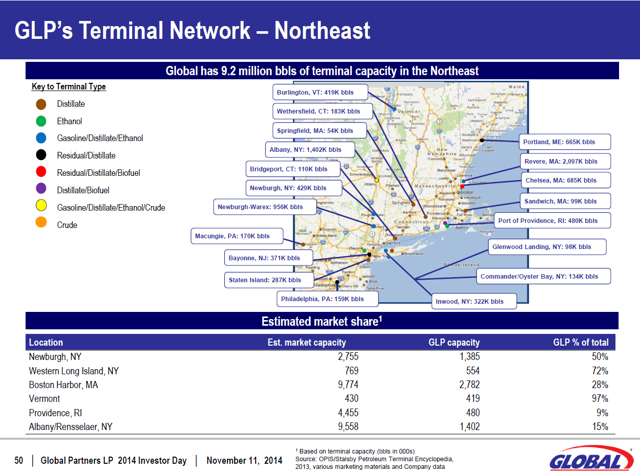 The company's business outside of their core strategy of product wholesale and retail is more exposed to the drop in oil, and likely to be a slight drag on earnings. Their crude wholesale business has made up about 22% of net margins so far in 2014. In 2013, they completed the expansion of their rail facility in Albany, acquired a 60% interest in Basin Transload, purchased the CPBR facility and in 2014, they continued the expansion into crude transportation, signing pipeline deals with Tesoro and Meadowlark as well as an agreement with KCS to develop a terminal in Port Arthur.
Their most recent investor day was held at the CPBR site where the company hoped to showcase the future possibilities of 600 thousand barrels (KB) of storage, allowing a unit train to unload in 12 hours, handle both crude and ethanol and provide access for some large ships. Expected investment on this project is $75 to $100 million. The agreement with Kansas City Southern for 340 thousand barrels of tankage (expandable to 700kb) is an approximate investment of $75 to $125 million with completion in early 2017. While the Albany terminal has been a focus for the group, any further major capex is likely put on hold with the decline in crude and subsequent decline in future volume as well as the political pushback on transporting more crude down the Hudson river.
Global's transload facilities located in North Dakota are likely the most exposed to a reduction in net income resulting from a drop in crude production. The Basin Columbus currently has 270 thousand barrels of storage for Global Partners, with another 176kb anticipated online by Q1 2015. Total North Dakota storage for them will be at 760kb including the capacity at Basin Beulah. Helping to cushion some of the blow from lower income on crude transportation is the take or pay agreement to delivery roughly 50kbd of crude to p66's Bayway refinery in NJ as well as the more recent announcement of approximately 30 thousand barrel per day take or pay agreement for rail, terminaling, storage and marine logistics of crude.
From a financial standpoint, Global continues to grow their distribution at a steady, but not aggressive rate, which will allow for some cushion during leaner times. They have posted 36 consecutive quarterly cash distributions since their 2005 IPO. The current quarterly distribution of $0.6525 is close to an 8% yield. The TTM P/E of 8.40x is lower than about 70% of the oil and gas operations industry and the current DCF coverage of 2.1x is the highest it has been since the IPO. Financial leverage is the main concern, with a high debt/equity ratio, but this can be expected during a high growth period financed through lending. The common share offering of 3,565,000 units at 40.24 will help to get the D/E ratio back in check.
From a technical point of view, along with all oil related stocks, GLP is extremely oversold and is approaching the bottom end of the down channel. Short term MA's are turning down, which is a bearish signal, but could easily see an unimpeded run back up to $39 before running into resistance.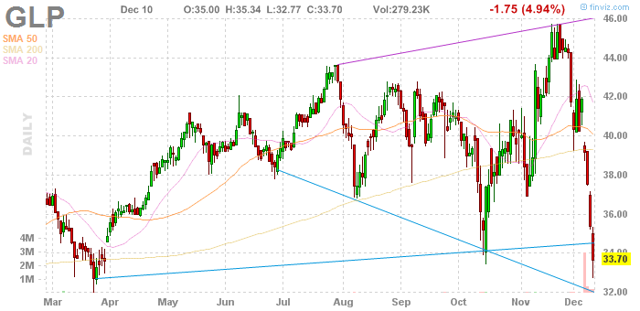 Source: finviz.com/quote.ashxl
Conclusions
73% of Global Partners' business is more stable and likely can see some upside with the slight elasticity of fuel demand.
Nearly $200 million of the product margin YTD has come from Gasoline Distribution & Station Operations (GDSO) and $129 million has come from wholesale distillate, gasoline and residuals.
Crude wholesale and logistics, which makes up 22% of their margins, will see a decline in net income, but should be cushioned by two take-or-pay deals that are close to 80kbd.
Warren equities acquisition will provide excellent synergies and allow solid growth in cash flows once they are realized in 2016.
As with any blender and wholesaler, GLP is exposed to RIN's pricing as well as legislative issues related to the blend credit and biofuel producer credit. H.R.5559 is currently in the House -- the Ways and Means Committee -- and if it's passed will extend the 1.00 tax credit for 2 years, providing some potential upside to GLP's earnings.
Using a multiple for terminal value that is much more conservative than the price paid for Warren's acquisition, I estimate a price target of $42.00, which should provide for 25% upside from current levels with the risks of more upside or downside caused by cash flow from crude wholesale and logistics business with moves in WTI prices.
Global Partners LP will continue to directionally trade along with the sentiment of the rest of the oil and gas space, but is currently an undervalued company. At $60 WTI oil prices, I think we've got just as good of a chance of seeing $50 as we do of seeing $70 with the current bearish bias in the market and lack of any global macroeconomic premium associated with supply disruptions.
For this reason, I believe the current price of Global Partners represents a good place to start building a position, but OPEC's stubbornness over the coming months poses a downside risk with poor oil and gas sentiment. Selling covered calls is possible if you want to capture some additional income while waiting on oil prices to turn a corner.
Disclosure: The author is long GLP.
The author wrote this article themselves, and it expresses their own opinions. The author is not receiving compensation for it (other than from Seeking Alpha). The author has no business relationship with any company whose stock is mentioned in this article.