Oil prices are continuing to fall, this time breaking through the $60/barrel level for WTI Crude futures. There is now talk of oil dragging down general markets, as both the equity market and fixed income could be impacted by a prolonged downturn in energy prices. Even though energy makes up about 10% of certain key indices, many of the key high yield debt benchmarks contain energy exposure closer to 20%. This is what has fixed income investors unable to sleep at night right now, and could lead to considerable losses should we see the smaller E&Ps begin to default on their debt.
Chart of the Day:
We wanted to put the recent price action in oil in perspective by looking at some of the historical moves that oil has had. While there were moves back in the 70s and 80s which were big, the only thing one can really compare this price swing to is the move we saw during the 'Great Recession'. When one looks at the world today and compares it to what happened back then, it is hard not to want to go bullish ETFs like the United States Oil ETF (NYSEARCA:USO) and Energy Select Sector SPDR ETF (NYSEARCA:XLE) as well as oil names in general.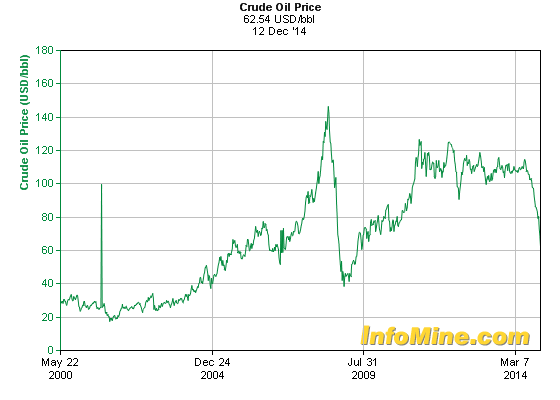 Source: InfoMine
Commodity prices are as follows (at time of submission):
Gold: $1,224.30/ounce, down by $1.30/ounce
Silver: $17.09/ounce, down by $0.022/ounce
Oil: $58.00/barrel, down by $1.95/barrel
RBOB Gas: $1.604/gallon, down by $0.0204/gallon
Natural Gas: $3.736/MMbtu, up by $0.102/MMbtu
Copper: $2.9325/pound, up by $0.0115/pound
Platinum: $1,232.50/ounce, down by $9.70/ounce
Oil Patch Deal?
In an interesting turn of events, it seems that Talisman Energy (NYSE:TLM), which was previously trying to sell off parts of the company, might receive an offer for the entire company. The rumors in the market right now are that Spain's Repsol (OTCQX:REPYY) is negotiating to purchase the company for up to $8 billion, with negotiations focused on a per share price of $6-8/share. This would have Talisman shareholders receiving a 100%+ premium to Thursday's closing price.
The reason we have been putting together lists of the small- to mid-sized E&Ps is because there are numerous buyers out there who have been looking to deploy capital for months. Now, instead of buying one or two projects, the buyers can purchase the entire company that owns the properties they are interested in. If the M&A market heats up, as we think it will, the buyers will be able to purchase these companies either at or below prices the sellers' stocks were trading at just months ago.
We think that Gulfport Energy (NASDAQ:GPOR), PDC Energy (NASDAQ:PDCE) and Rosetta Resources (NASDAQ:ROSE) could be ideal candidates to be taken over by larger names. Like Talisman they have expertise in certain areas and a specialized workforce that could assist an acquirer in ramping up exploration across the combined portfolio.
Shareholder Sues
It has been tough to be bullish of shares of Freeport-McMoRan (NYSE:FCX) in recent months, especially after the early success of our call to go long the producer of copper, gold and oil. Shares are now at multi-year lows as the company comes under pressure from falling commodity prices impacting nearly everything that the company produces.
One shareholder appears to be taking out their anger on the company via a lawsuit to block the CEO's granted stock resulting from the 2012 merger between Freeport-McMoRan and two oil and gas companies. This adds to the suits already out there regarding those transactions and puts the company in an interesting position as they look to settle outstanding litigation.
Disclosure: The author is long PDCE. FCX, GPOR, PDCE and ROSE have previously been recommended.
The author wrote this article themselves, and it expresses their own opinions. The author is not receiving compensation for it (other than from Seeking Alpha). The author has no business relationship with any company whose stock is mentioned in this article.
Editor's Note: This article discusses one or more securities that do not trade on a major U.S. exchange. Please be aware of the risks associated with these stocks.