By Craig Bowles
Overview
BlackBerry Limited (BBRY) is slated to report 3Q 2015 earnings before the bell on Friday, December 19th. The earnings release is expected at approximately 7:00 a.m. EST followed by an 8:00 a.m. conference call available at BlackBerry Investor Relations. The company was formerly known as Research In Motion Limited and changed its name to BlackBerry Limited in July 2013. Turnaround specialist John Chen became CEO in November 2013.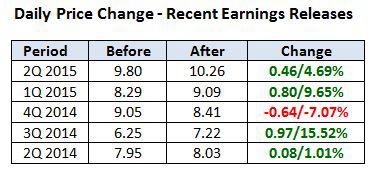 Outliers & Strategy
Key measures:
Adjusted Earnings Per Share: The Street estimate is -$0.05 (range -$0.16 to $0.05) (source: Yahoo! Finance). Analysts have increased their consensus from -$0.16 three months ago.
Earnings Per Share from Continuing Operations: If an Adjusted EPS figure is not available, this value would compare with forecasts.
Revenues: Analysts expect a decline of 20.5% y/y to $948.82 mln (range $836.70 mln to $1.19 bln).
Price/Book of 1.6 has increased from 1 two quarters ago but is still below the 5-year average of 2.3; Price Sales of 1.5 is above the 5-year average 1.2. Negative cash flow is still an issue.
Analysts view BlackBerry with 1 Buy, 17 hold, and 7 sell ratings. (source: Analystratings.net) (down from 4 Buy ratings last qtr)
BlackBerry shares have a 1-day average price change on earnings of 9.96%. Options are pricing in an implied move of 10.66% off earnings.
Recent News
12/10: BlackBerry's short interest, at more than 111.37 million shares as of month's end, was 12.4% higher than in the previous period. The company is listed among the most shorted on the Nasdaq, according to a post on 247wallst.com.
12/09: Blackberry CEO John Chen says he's working on a plan to bring its products to China. But that won't distract from his core mission: developing secure software for companies, its "enterprise" business. The consumer space isn't BlackBerry's future, according to a post on Money.CNN.com.
12/08: BlackBerry Classic can be pre-ordered and is available in a white color scheme, according to a post by gsmarena.com.
12/07: BlackBerry Ltd. said it plans to launch, early in the new year, a mobile diagnostic tool for its Passport device to allow doctors to securely access cancer patients' medical data from any location, according to a post by Dow Jones.
11/27: Blackberry offers iPhone users up to $550 to trade in for a Passport, according to a post on Money.CNN.com.
11/19: Morgan Stanley downgraded Blackberry to Underweight from Equal Weight citing "the market has swung too optimistic" and that "the competitive market and organizational hurdles will likely keep BBRY's results well below its plan.", according to a post on Barrons.com.
11/16: BlackBerry's new plan could bear fruit. The company says it has about 5.1 million licenses signed up for a program that allows corporate users to try the BES platform for free until the end of January, according to a post on WSJ.com.
11/14: Deutsche Bank , while encouraged by the overall plan, was skeptical of BlackBerry's prospects of off-setting service revenues following the company's analyst day, according to a post on WSJ.com.
Technical Review
BlackBerry hasn't shown much in the way of duration above $10.50 in 2014. Above $11.50 has 2013's $14-$16 first half consolidation which could act as resistance. The stock hasn't trended well recently, so a fluctuation back to $9.25 or even $8 probably wouldn't cause much alarm until more new product data is available. (Chart courtesy of StockCharts.com)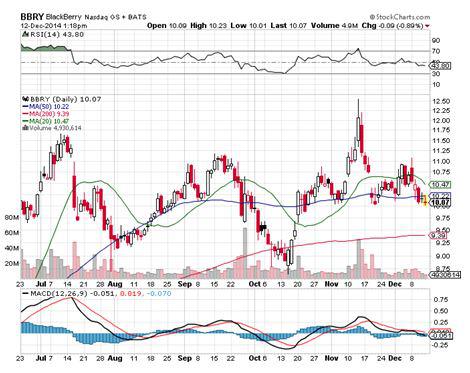 Summary
BlackBerry remains in a turnaround phase and plans to become cash flow positive in 2015. Analysts are optimistic about the move away from the consumer market but question how many of the corporate user trials can be converted into paying customers after January. The company has beaten estimates by a minimum of 14c the last three quarters but analyst consensus is less negative this quarter. The company probably needs to report a 2c loss or better on revenue above $995 million to gain a positive reaction from market participants.
DISCLAIMER: By using this report, you acknowledge that Selerity, Inc. is in no way liable for losses or gains arising out of commentary, analysis, and or data in this report. Your investment decisions and recommendations are made entirely at your discretion. Selerity does not own securities in companies that they write about, is not an investment adviser, and the content contained herein is not an endorsement to buy or sell any securities. No content published as part of this report constitutes a recommendation that any particular investment, security, portfolio of securities, transaction or investment strategy is suitable for any specific person.
Disclosure: The author has no positions in any stocks mentioned, and no plans to initiate any positions within the next 72 hours.
The author wrote this article themselves, and it expresses their own opinions. The author is not receiving compensation for it (other than from Seeking Alpha). The author has no business relationship with any company whose stock is mentioned in this article.