LendingClub (NYSE:LC) has a disruptive business model for a fairly sleepy industry - finance. To put it succinctly, LendingClub is like a broker of consumer loans and also an originator. Through its website, individual investors purchase loans originated through LendingClub. At the same time, small business owners and individuals go directly to the website to borrow money from individual investors.
This limits risk for LendingClub because client deposits are tied up for a couple of years inside debt securities that LendingClub does not directly invest into. This means charge-offs won't damage the financial statement in the foreseeable future because LendingClub doesn't actually own the debt it services and originates. This makes LendingClub less exposed to the "bust" part of the business cycle. As an added bonus, the revenue LendingClub generates isn't constrained by the amount of available capital on its balance sheet, as it relies on growth in client deposits to scale its business.
At the same time, the business has a well-defined moat, thanks to the network effect unfolding. Favorable interest rates in a low-interest rate environment give investors returns on debt securities they cannot find in more traditional investment securities such as government/corporate bonds, CDs and preferred stocks issuances. With interest rates - factoring in net charge-offs - in the 4.74% to 7.56% range, the investment class of securitized consumer debt has shown promise when compared to other types of investment securities. On the downside, there's less liquidity when compared to bonds and stocks.
Investors are heavily dependent on LC's rating system of debt securities to determine ways to maximize the risk-adjusted return on capital. Even so, a broad base of investors has emerged, inclusive of hedge funds, high net worth investors, retail investors, pension funds and university endowments.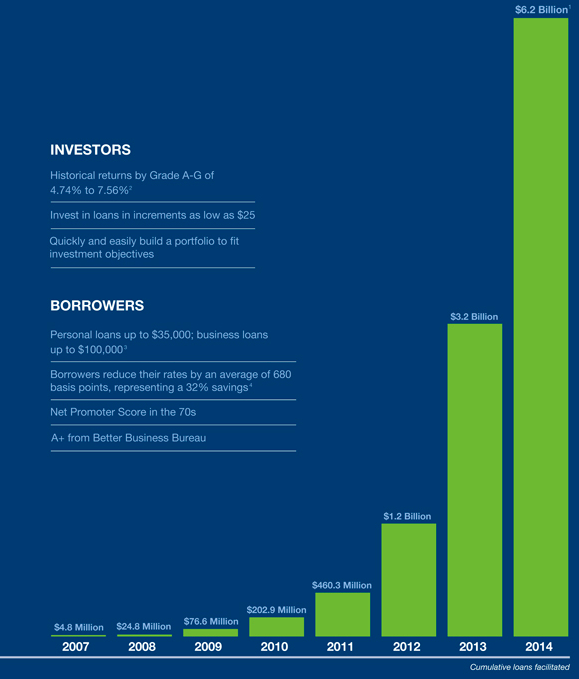 Source: LendingClub Prospectus
Because LendingClub has yet to provide financial guidance, as it has yet to report a fiscal quarter as a public company, we're left with the company's S1 and other pre-IPO/IPO-related public filings.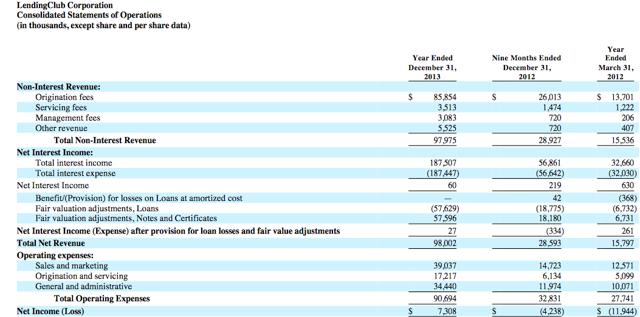 Source: LendingClub
That being the case, we have to work with the information we have. In FY 2013, the company generated $98 million in revenue. At a $9 billion market cap (approximate), the stock is trading at 91.8 times sales. That's pretty expensive... wait excuse me... the word I'd use is just wow. Assuming revenue grows at 123% year-over-year (based on the trailing 9-month growth rate), revenue for FY 2014 will be $218.54 million. So, on a forward P/S basis, the stock is trading at 41.18x. That's a little more reasonable, but understanding whether growth has already been priced in or if there's more upside is subjective at the present moment.
According to the LendingClub prospectus:
We believe we have substantial opportunities for future growth, and we estimate that in September 2014, approximately $390 billion in outstanding consumer credit would meet our marketplace's standard program credit policy. We intend to continue to enhance our marketplace's existing loan products and add new loan products to attract a greater number and broader variety of consumers and small business owners. Because our technology can efficiently assess risk and set efficient pricing for individual borrowers, we plan to extend our marketplace to widen the spectrum of borrowers to meet this investor demand over time. Increase Supply of Capital Available to Borrowers. As confidence in our marketplace's performance increases, we are able to attract additional investors with different thresholds for risk, yield and maturity.
Currently, LendingClub has a $6 billion loan portfolio when compared to the $390 billion in outstanding consumer credit that would meet LendingClub's criteria. However, the growth story doesn't end there - the company can expand into mortgages or auto loans, based on its discussion of longer-maturity credit, which is typically associated with collateralized loans. In this hypothetical scenario, perhaps anyone can own a small chunk of a mortgage security or car loan.
The argument for owning LendingClub comes down to many factors. One being the premium that would need to be paid over the current market cap assuming a larger company with some strategic value showed interest. Companies that come to mind: PayPal (NASDAQ:EBAY), Alibaba (NYSE:BABA), Amazon.com (NASDAQ:AMZN), Visa (NYSE:V), and MasterCard (NYSE:MA).
However, LendingClub could grow into its valuation. For example, let's say that over the next five years, LendingClub has $50 billion in debt in originations and earns a 1% to 5% fee on that amount. The revenue generated would be $500 million to $2.5 billion. Let's go with the midpoint at $1.25 billion, use an applied sales multiple of 15x and perhaps the valuation reaches $18 billion.
Admittedly, I'm presenting a hypothetical for the sake of illustration. It's not an actual prediction. However, over the next five years the stock may support a higher market cap, even at a significantly lower sales multiple. This indicates that there may be enough upside to merit a long-term investment consideration.
Therefore, LendingClub is a buy because it has much less exposure to the business cycle when compared to banks and has significant growth prospects due to its marketplace business model. However, LendingClub's high valuation and limited trading history adds some uncertainty to the stock. So this investment may not necessarily be suitable for all types of investors.
Disclosure: The author has no positions in any stocks mentioned, and no plans to initiate any positions within the next 72 hours.
The author wrote this article themselves, and it expresses their own opinions. The author is not receiving compensation for it (other than from Seeking Alpha). The author has no business relationship with any company whose stock is mentioned in this article.