When I have free time to research companies, one of my favorite methods involves using a stock screener to find corporations with similar (usually attractive) attributes. Yesterday, I completed a rather simple search using the stock screening tool at YCharts and was shocked by its result.
Much of my research and writing is centered on what I call DRAG (dividend and risk adjusted growth) analysis. Along with a stock's dividend yield and growth history, some of the key attributes I focus on include beta, return on invested capital, debt-to-equity ratio and the projected long-term earnings growth rate. I started this screen by looking at all large cap ($20 billion or greater) stocks in the Russell 3000 Index (there are 250 in total). The above characteristics then formed the basis for my most recent stock screen - specifically, the parameters were as follows:
Beta: less than 1 (126 matches), AND
Debt-to-Equity Ratio: less than 0.50 (46 matches), AND
Return on Invested Capital: greater than 20% (9 matches), AND
Estimated Long-Term Earnings Growth Rate: greater than 10% (6 matches), AND
Forward P/E Ratio: less than 20 times (1 match).
As you can probably tell by the title of my article, Apple (NASDAQ:AAPL) is the only stock that matches all of the above criteria and it also happens to pay a dividend of nearly 2%.
Of course, there are an infinite number of different ways one can screen for attractive investment candidates, but the above characteristics are all particularly meaningful to me.
Beta

Used to measure a stock's level of risk, beta is frequently misunderstood. Just because a stock has a low beta (the market as a whole has a beta of 1) does not mean it is a low-risk investment. Plenty of significant losses have occurred in stocks with low betas. However, in most cases, a low beta means that the stock is less volatile than the broader market and often times these companies operate in less cyclical industries than higher beta stocks.
Apple's beta has declined in recent years as the business has matured: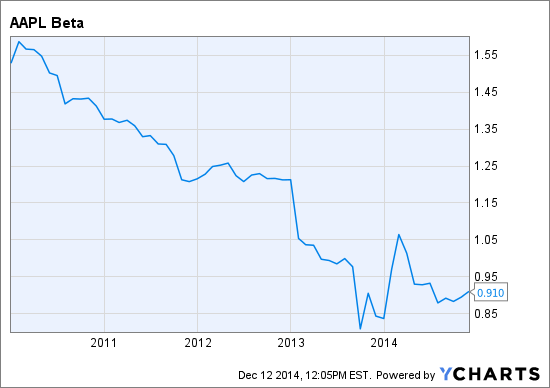 Debt-to-Equity Ratio

This metric is fairly straightforward - I prefer investing in companies with conservative balance sheets. Companies with minimal debt levels can perform just as poorly as highly-levered ones, but during difficult times, a flexible balance sheet can be immensely important to a stock's performance. Until last summer, Apple had no debt outstanding whatsoever. Since that time, it has used debt to fund share repurchases and while its balance sheet is less pristine than it used to be, Apple's financial flexibility is still plenty impressive: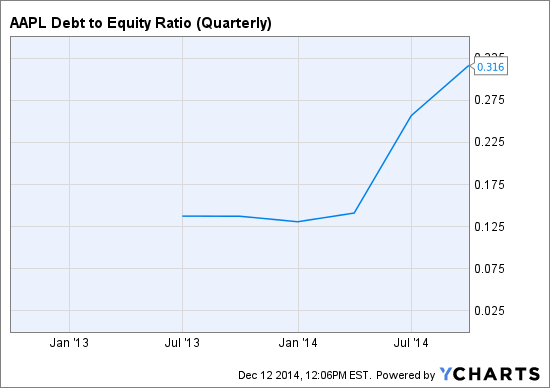 Return on Invested Capital (ROIC)
This metric is one of my personal favorites and is an effective way to measure the competitive position of a company. If a stock can generate significantly above-average profits from its capital (whether it be equity or debt), it will likely perform well over the long term. Finding stocks that can maintain a strong ROIC is challenging, but as you can see easily at Morningstar.com, Apple has possessed a return on invested capital of greater than 20% during each year of the past decade, demonstrating its sustainable competitive strengths.
Estimated Long-Term Earnings Growth Rate
This metric relies on analyst opinions, so it needs to be taken with a grain (or several grains) of salt. However, when searching for companies that have the potential to deliver consistent growth over the next 5+ years, it remains a useful screening tool. One always needs to remember that this is very much an estimate, but given Apple's past history of growth, the below predictions appear entirely reasonable: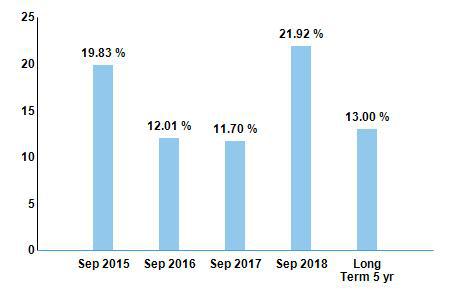 Forward P/E Ratio
This is a widely-used valuation metric and not one I will spend a lot of time explaining. However, I found it interesting to note that although six companies matched all of the previous criteria, Apple was the only one that had a forward price-to-earnings ratio of less than 25. Given that Apple's forward P/E ratio actually sits below 15, this stark difference in valuation is impressive. And while Apple's forward multiple is higher than it has been in recent years, the results of this screen make it nearly impossible to argue that the stock is currently overvalued: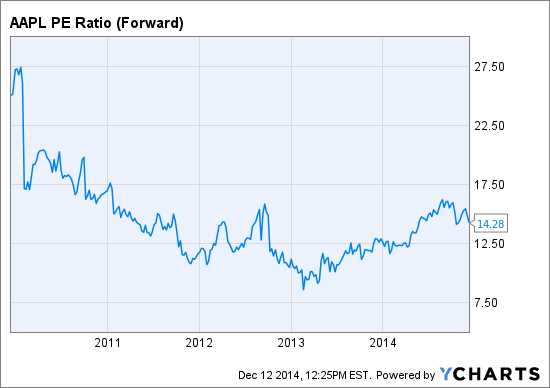 Of the largest 250 companies in the Russell 3000 Index, it happens to be that the most massive of them all is the only one able to meet each of these fairly straightforward criteria. You might very well disagree with one or more of these filters, in which case, I strongly recommend you create your own stock screens based on the criteria you find most important - you will likely discover companies you did not previously know existed.
In this case, several companies appear surprisingly similar to Apple if the screening criteria is loosened slightly. For example, the following stocks match all but one of the filters:
At this point in time, I contend that Apple is a particularly special corporation not due to its smartphones, tablets and computers, but because of its impressive fundamental investment attributes. If a company with fundamentally strong operations, a conservative financial position and impressive earnings growth potential trading at a reasonable valuation seems attractive to you as well, Apple should form a part of your investment portfolio.
Disclosure: The author has no positions in any stocks mentioned, and no plans to initiate any positions within the next 72 hours.
The author wrote this article themselves, and it expresses their own opinions. The author is not receiving compensation for it (other than from Seeking Alpha). The author has no business relationship with any company whose stock is mentioned in this article.