The price of U.S. crude oil has fallen around 43% from its high of $107.73 in June this year. The sharp fall in crude oil prices has created a huge sell-off in the energy sector, specifically small-cap energy companies such as Abraxas Petroleum (NASDAQ:AXAS). This has created some buying opportunities in several companies that don't deserve to trade at a huge discount due to the "fear" in the oil market.
There are several small-cap companies out there that have taken on high levels of debt to finance their exploration operations in the hopes that crude prices would not plummet like they have. Firms such as PetroQuest Energy (NYSE:PQ) and Callon Petroluem (NYSE:CPE) have huge amounts of debt on their balance sheets. PetroQuest Energy has total debt of around $422 million, with its revenues around $230 million. Callon Petroluem has total debt of around $102.50 million, with its revenues around $140 million. These firms may find it difficult to service their debt and may have to sell assets or issue more stock to service their debt if crude oil prices remain low
One firm that is profitable, has manageable debt, and is a low-cost exploration company is Abraxas. The company is headquartered in San Antonio, Texas, and has around 114 employees with senior management with an average of 33 years of experience in the industry. Abraxas has exposure to core acreage in the Bakken, Eagle Ford, and Permian formation, with proven reserves of 31 million barrels. Its stock has fallen over 60% to around $2.55 from its high of $6.45 in July. The map below shows the companies core regions in the United States:
Source: abraxaspetroleum.com.
The company is financially sound with a 1.0x debt/EBITDA ratio. Abraxas is still profitable at current crude price levels. Its cost of production is between $40-$60 per barrel. The company also plans to increase production in 2015 to over 6,000 barrels. The chart below shows the debt-to-production relationship, with very manageable debt in the current environment.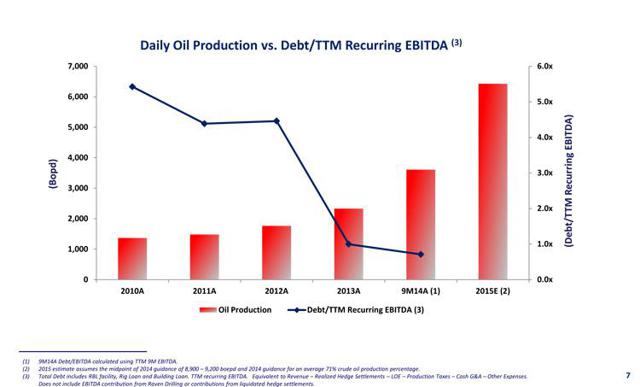 Source: abraxaspetroleum.com.
AXAS stock trades at very low valuations. Its current P/E is around 4 and its forward P/E is around 6.3. Its book value is $1.69 and will grow with continued oil production and prudent capital management. The company is very profitable with high margins. For the last 12 months, its profit margin was 47.65%, operating margin was 28.41%, return on assets was 7.80%, and return on equity was a whopping 51.04%.
Is AXAS' Debt Manageable?
The big worry during times of panic and crisis is that will the company be able to service its debt. As of Sept. 30, 2014, AXAS had total long-term debt of $59 million. Its debt is much lower than its peers when compared to revenues and free cash flow. It has a 1.0x debt/EBITDA ratio, and management's goal is to maintain it around that number.

Source: Latest AXAS earnings report.
Its biggest long-term debt of $52 million is its senior secured credit facility with Société Générale. According to their latest earnings report, the interest rate on the credit facility was 2.15% based on one-month LIBOR rate and the level of utilization. The stated maturity date of the credit facility is June 30, 2018. This gives the company enough time to raise money if the oil prices plummet further.
AXAS' rig loan's outstanding balance as of last quarter was $5.1 million and bears an interest rate of 4.26%. The real estate loan's outstanding balance was $4.4 million, bears an interest rate of 4.25%, and matures on July 20, 2023. Abraxas Petroluem has plenty of time to pay out and service its debt.
What Is the Intrinsic Value of AXAS Stock?
Earnings estimates for 2015 have been reduced considerably from $0.60 per share to $0.40 per share due to the sharp crude oil price decline. Even with the huge decline, the company is still profitable and trades below its intrinsic value. So what is its intrinsic value?
With a book value of $1.69, assumed P/E of 12, and EPS of $0.40 for FY 2015, its intrinsic value is around $3.49. Based on its current stock price of $2.55, the stock is trading around 37% below intrinsic value. That's a huge discount for a relatively safe small-cap oil and gas exploration company.
Disclosure: Author is long AXAS.