Below is an updated look at the current weightings of the ten sectors that make up the S&P 500.
As shown, Technology leads the way with nearly a 20% weighting in the index. Financials ranks second at 16.67%, while Health Care is in third at 14.60%. The big thing you'll notice is how low Energy's weighting has gotten. As of today, the sector makes up just 8.05% of the index.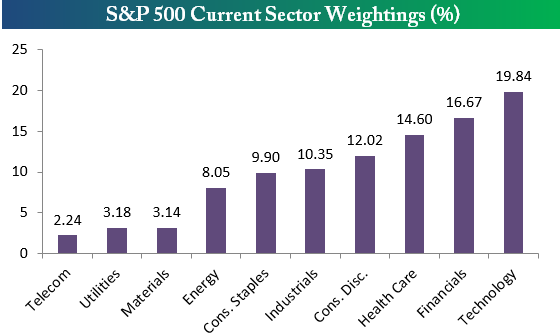 Below is a look at how sector weightings have changed in 2014 and since the bull market began in March 2009. As shown, at the start of the bull market, Energy had a weighting of 14.05%, making it the third largest sector of the market. At 8.05%, Energy is currently the fourth smallest sector. This year alone, Energy's share of the S&P has dropped 2.19 percentage points, and it has dropped 6 percentage points since the bull market began.
On the other side of the spectrum is Financials. At the start of the bull market, the weighting for Financials had dropped all the way down to 8.58%. Since then, its weighting has nearly doubled, taking it up to 16.67%.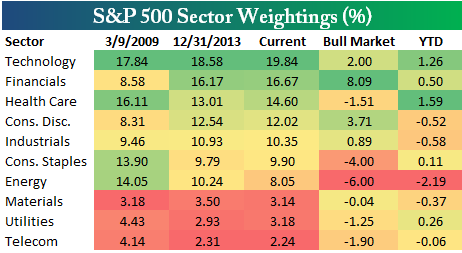 Below are charts showing the historical movements in weightings for the ten S&P 500 sectors. The red line represents each sector's average weighting over the last 25 years going back to 1990. You can see which sectors are currently above their average market weighting, and which ones are currently below.