By Clayton Browne
A December 10th report from international finance and accounting firm EY highlights that 2014 was the strongest year for IPOs since 2010. The overview of the report notes:
In 2014, 1,206 IPOs raised US$256.5b, a 35% increase in volume and a 50% increase in value compared to 2013, according to the report: EY Global IPO Trends: 2014 Q4. Although 2014 was the best year for IPOs since 2010 in terms of proceeds and volume, volatility on global stock markets in October meant Q4'14 failed to meet expectations, making 2014 a good, rather than a record-breaking year.
IPOs also performed strongly financially, coming through with a 17.1% average return for the year, outperforming market indices by a solid 12.3%. In fact, 2014 was the best year for IPO performance since 2007.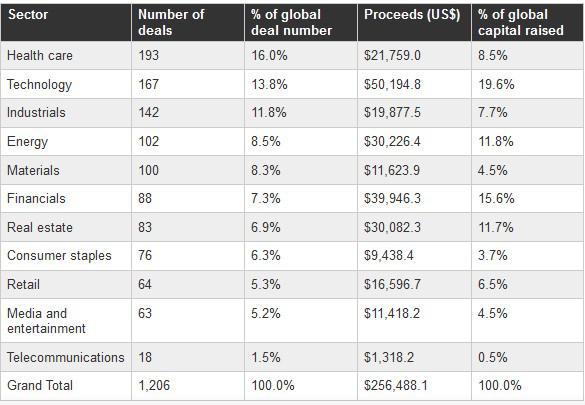 Financial sponsor-backed IPOs big part of global IPO activity
The EY report also points out that financial sponsors continued to play a dominant role in the global IPO market this year. EY analysts Maria Pinelli and colleagues say that financial sponsors took advantage of positive market sentiment to dispose of assets acquired in the peak of the economic cycle in 2006-07. Topping $124 billion, the proceeds from 328 financial-sponsored IPOs were up by 86% compared to 2013, and represented almost half of global IPOs by value and 27% by number.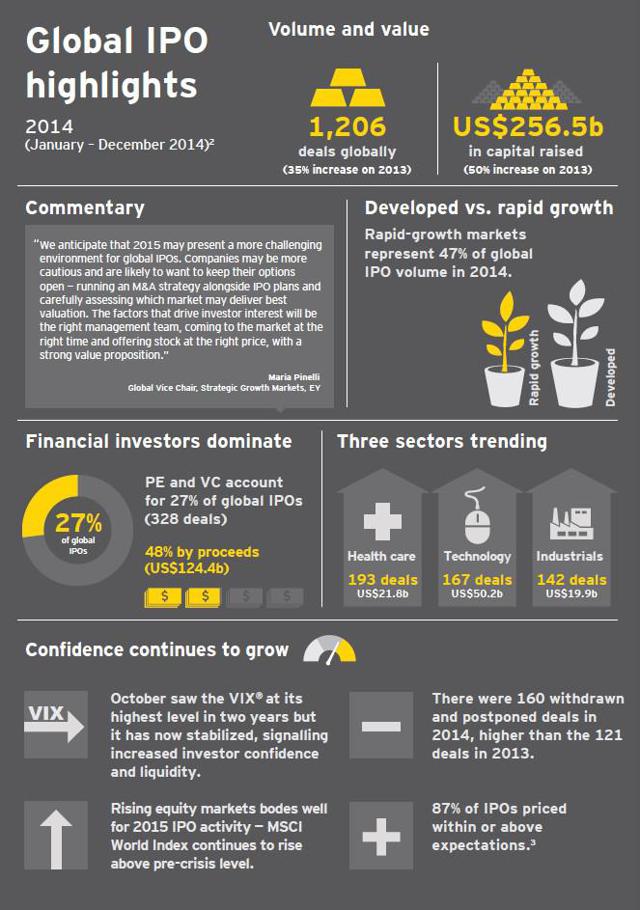 Cross border deals
Pinelli et al. also note that cross-border deals were a major driver of global IPO activity in 2014. At 129 IPOs, cross border deals represented 10.7% of all deals - the highest percentage in seven years. Of note, 52% of cross-border listings were undertaken on U.S. exchanges, or 23.3% of total U.S. deal volume. Other significant destinations for foreign listings were London with 22%, Australia 9%, Singapore 4%, Germany 2% and Hong Kong 1%. The U.S. was the number one destination in terms of the number of deals, but mainland Chinese exchanges outperformed in both pricing and performance. 2014 year-to-date returns in mainland exchanges averaged 133%, blowing away Hong Kong's 4%, the U.K. Main Market's -0.3% and 27.8% in the U.S.
Highlighting the Asia-Pacific exchanges, Pinelli explains the dynamic:
The U.S. has long been a magnet for foreign capital as it offers a well-developed market infrastructure, a knowledgeable analyst community and a deep pool of investors ready to pay for growth. However, companies may find it hard to overlook the price performance of companies listing on Asia-Pacific exchanges, which have typically seen such solid after-market performance that this is attracting an inflow of foreign capital and leading to an abundance of liquidity. It is possible these exchanges will mount a growing challenge in 2015 and beyond.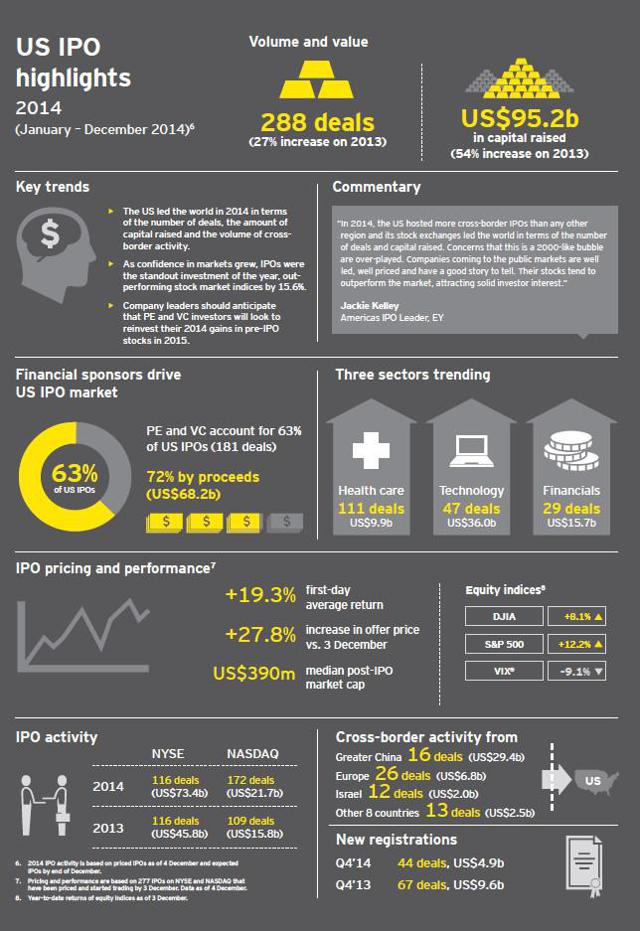 Disclosure: None