By Amy Calistri
If you're an income investor, you'll want to see this one. This investment...
Pays no corporate taxes
Is required by law to pass through the bulk of

earnings

to investors
Acts as a "toll operator" for the transport of America's most-needed commodities
Earns money from how much

volume

it ships -- NOT the price of the commodities
Rarely sees any competition in most regions
Pays yields of 6% on average -- twice the amount of a 10-year Treasury
That's a pretty impressive list.
And in the past 15 years this asset class has earned a whopping 17% compound average annual total return, according to Morningstar.
I'm talking about master limited partnerships (MLPs). You might have heard of them, but I know from experience there are a number of income investors who haven't.
These partnerships -- including the one I'll tell you about in a moment -- trade just like a common stock. Their businesses are highly stable. Most MLPs operate in the energy sector, but they don't buy or sell commodities. They transport them.
In other words, the income of an MLP is largely based on the volume of oil and gas flowing through the system -- like a tollway -- much more so than on the volatile prices of the underlying products.
And since MLPs are required to pay out most of what they earn as distributions, their yields are typically higher than normal. As I noted above, on average, MLPs are trading at about a 6% yield, double that of a 10-year Treasury.
Even a recent article on Forbes.com said, "Any fan of big dividend stocks should take a look at master limited partnerships."
I own a number of MLPs in my Daily Paycheck portfolio. In fact, I added units of Enterprise Product Partners (NYSE: EPD) just about three weeks ago. (MLP shares are technically called "units.")
This MLP has raised its dividend for 27 consecutive quarters -- which is an income investor's dream come true.
I'm glad I found it, as MLPs can be good investments in challenging economic times -- especially for investors who depend on a steady income stream. During the last recession, many "regular" companies cut or suspended their dividends to preserve capital. But almost every MLP increased their distributions during the downturn.
Now, MLPs aren't immune to market risk. So if we get a market correction, the unit price of MLPs will trend with the market. But that income stream is likely to keep on flowing and growing.
And that's why I hold several in my real-money Daily Paycheck portfolio.
I always reinvest my dividends. The compound growth of dividend reinvestment is pretty powerful on its own. But use the technique with securities also raising payments, and your dividends can rise even faster.
For instance, I was able to boost my income by 9.9% from one MLP in just one year. Of course the icing on the cake was that the MLP gained 38.9% in that same period.
Now imagine this happening with an entire portfolio.
Take a look at the chart below. It shows the monthly dividends I've received each month. At first glance, it looks lumpy. But remember that many stocks pay quarterly -- you can expect larger checks in January, April, July, and October, which are the most common months for dividends to be paid.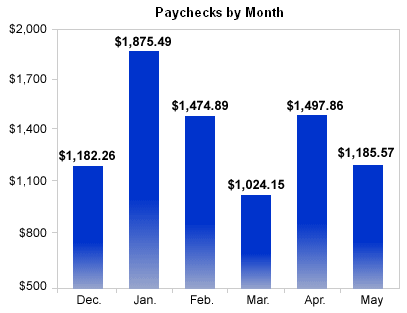 There's little doubt the payments are rising, which simply makes the future payments larger without me having to add another dime.
Keep in mind that all this is done with a portfolio of $200,000 in actual cash (StreetAuthority actually buys the stocks held in my Daily Paycheck portfolio). But the results are fully scaleable.
If you have half that amount to invest, simply cut the monthly dividends above in half. If you have $400,000 to invest, you can double the numbers.
For example, my boss, Paul Tracy, is actually the one who created the "Daily Paycheck" strategy. In December, he topped $6,000 in monthly dividends, after reinvesting for just a few years. You can read his first-hand account here.

P.S. --
I'd be remiss if I didn't mention the tax complexities of MLPs. Since they are technically a partnership, taxes are a little trickier than with regular stocks. They also aren't ideal for holding in tax-deferred accounts. For more information,
click here to read more from our sister site
, InvestingAnswers.com.
Disclosure: Neither Amy Calistri nor StreetAuthority, LLC hold positions in any securities mentioned in this article.