While the frothiness in upstarts like OpenTable (NASDAQ:OPEN) – which I warned about in early February – might lead you to wonder if all technology stocks are expensive, that's simply untrue.
In yesterday's column, my good friend and investment director of The Oxford Club, Alexander Green, dispelled the myth about the bubble in technology stocks. He did so by compiling a list of nine unmistakably bullish fundamentals. And today, it's time to put a cherry on top and bump that list to 10.
Mature, blue-chip technology stocks are the cheapest they've been in over 25 years. And this chart from the number crunchers at Morgan Stanley (NYSE:MS) proves it.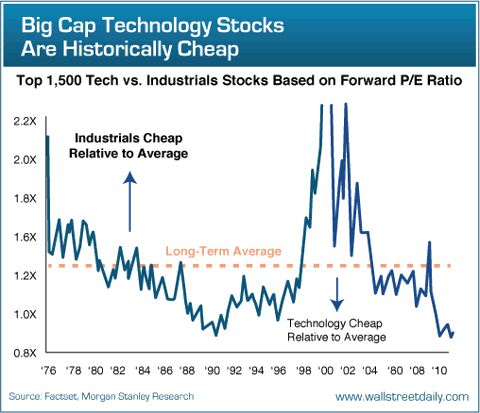 Now, some might argue that the relative cheapness of large-cap technology companies like Cisco Systems (NASDAQ:CSCO) and Intel Corp. (NASDAQ:INTC) indicates the declining value of their products.
Nonsense. If anything, they're becoming more integrated into everyday life. I mean, think about how many products – from smart phones to tablet PCs – now rely on advanced semiconductors and an ability to access the internet and various other data networks. Simply put, such large-cap technology giants make the "engines" that drive almost every new technology trend. Thus, their longevity, not obsolescence, is ensured. And since the purpose of investing is to buy low and sell high, that means the current favorable valuation for large-cap technology stocks represents a golden opportunity.
So which company represents the best bargain?
Rules of Engagement
Let's take the two aforementioned cheap, large-cap tech stocks – Cisco and Intel – and pit them against each other to decide. We'll conduct a blow-by-blow analysis to determine a winner in terms of investment merit, just as we did with Visa (NYSE:V) and MasterCard (NYSE:MA) last month. You can then consider either buying the winner or adopting a market-neutral strategy, whereby you purchase shares of the winner and sell short the loser, investing equal dollar amounts in each.
So without further ado, let's use five categories to determine whether Cisco or Intel represents the most compelling investment right now.
Which Blue-Chip Tech is Best?
Market Share & Competitiveness: Draw. Although the two companies aren't direct competitors, it's still instructive to compare and contrast their respective competitive positions. And in short, they're both top dogs.
Cisco is the world's leading supplier of data networking equipment and software. Meanwhile, Intel is the largest semiconductor company in the world. And neither is likely to get knocked off their perches. For example, Intel's commitment to new products and ideas saw the company spend $6.6 billion on R&D last year, equivalent to 15% of sales. And Cisco committed to build up by buying out. Specifically, it's completed 15 deals in the last three years alone.
Profitability & Growth Opportunities: Advantage Intel. As I've noted before, one of the most important profitability metrics is return-on-equity (ROE). For example, Warren Buffett insists on a minimum of 15% before he even considers investing in a company. Based on his criteria, Cisco barely passes muster with a ROE of 15.8%. But Intel passes with flying colors with an ROE of 27%.
And as for growth opportunities, although the personal computer market is maturing, analysts still expect Intel to increase its profits at a faster clip than Cisco. In fact, over the next five years, they expect Intel's profits to grow by 11.7%, almost two full percentage points better than expectations for Cisco.
Valuation: Advantage Intel. There's no denying that both stocks are cheap. Heck, they didn't even trade this cheaply during the teeth of the global recession in 2008.
On a forward-looking basis, the companies are in a dead-heat, trading for 8.8 times forward earnings, based on Morningstar data. On A historical basis, though, Intel boasts a slight advantage, trading for just 10 times earnings. That represents a 49% discount to the stock's five-year average price-to-earnings ratio (PE). By contrast, Cisco trades for 11.8 times historical earnings, which represents a 42% discount to its five-year average.
Financial Strength: Draw. In short: Rock solid. Both companies generate more than $40 billion in annual revenue and are sitting cash-heavy. Intel boasts $12 billion in cash, which is enough to pay off all outstanding debts six times over. And Cisco has a whopping $42.8 billion, which is enough to pay off all outstanding debts about two-and-a-half times over. Not to mention, each company is spinning off gobs of cash each year ($7.6 billion for Intel and $5.2 billion for Cisco).
Yield: Advantage Intel. Being a value investor requires patience. So it doesn't hurt to get paid while we wait. Both Cisco and Intel pay extremely safe and reliable quarterly dividends, based on their dividend payout ratios (30% for Intel and just 5% for Cisco). However, Intel's current yield is more than double Cisco's – 3.4% versus 1.6%.
Final score: Intel 3, Cisco 0, with a tie in two categories.
In the end, both companies represent compelling deep-value investments. But Intel wins because it ranks as a faster-growing, higher-yielding and slightly cheaper investment. In about six months, we'll check up on the performance of each stock to declare a winner of this stock war.