Taseko Mines (NYSEMKT:TGB) announced that it has extended its copper hedging program through the first half of 2015. It has been hedging since 2009 and now has put options for 30 million pounds of production at a strike price of $3.00 per pound in Q1 2015 and $2.90 per pound in Q2 2015. This represents approximately half of its share of production at Gibraltar during the first half of 2015. Although the cost of the put options for Q2 2015 was not disclosed, the cost was $1.9 million for Q1 2015 and $1.8 million for Q4 2014.
Taseko also highlighted that the Canadian dollar price of copper has remained quite stable over the past year. Based on today's numbers copper is trading for approximately $3.40 Canadian per pound, which is right in the middle of the $3.25 Canadian to $3.50 Canadian per pound range that copper has typically traded in from the end of March 2014 onward.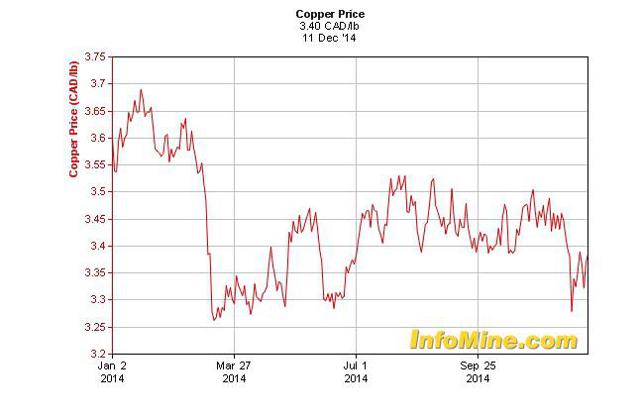 Source: Infomine
I think the decision to continue its copper hedging program is a reasonable one for Taseko as it protects them against a major price crash similar to 2008. As a smaller company, it is more vulnerable to the effects of extreme commodity price fluctuations. It does come at a cost, but like insurance it wouldn't be seen as a cost if/once it is actually needed. I was aware of Taseko's hedging program, but hadn't mentioned it in previous articles. The effect of Taseko's hedging program for the first half of 2015 is to potentially guarantee it at least $0.80 per pound margins for half of its production if it can get production results back to Q2 2014 levels. This should be aided by the weaker Canadian dollar and falling diesel prices. I do not believe that enough attention has been paid to the Canadian dollar effect in maintaining margins for Taseko despite slightly lower copper prices. At $0.80 per pound long-term margins, Taseko would now be trading at less than 0.5x NAV for Gibraltar alone, so that level of margin is very solid.
Disclosure: The author is long TGB.
The author wrote this article themselves, and it expresses their own opinions. The author is not receiving compensation for it (other than from Seeking Alpha). The author has no business relationship with any company whose stock is mentioned in this article.