Overview
I previously concluded a series of articles that identified what I consider to be the best long-term income stocks (based on dividend growth and yield) for investors by comparing S&P 500 stocks within the same industry sector. In this series of articles, I will be following the same process for small-cap stocks within the S&P 600.
For Part 11, I will be taking a look at Engineering & Construction stocks within the Industrials sector. These stocks include:
Out of these stocks, the following do not currently pay a dividend: Aegion, Dycom Industries, Engility Holdings, Matrix Service, and Orion Marine Group.
When ranking the remaining stocks by dividend yield, the order is as follows:
Comfort Systems - 1.55%
Tetra Tech - 1.09%
EMCOR Group - 0.75%
Tetra Tech just started paying a dividend this year, so it cannot yet be considered a dividend-growing stock.
When ranking the remaining two stocks by dividend growth over the past five years, the order is as follows:
EMCOR Group - 60%
Comfort Systems - 20%
EMCOR hasn't been paying dividends for a full five years, but it has grown its dividend more in a shorter time period.
Looking at revenue growth over the past five years, the two companies have had similar growth with Comfort Systems performing a bit better.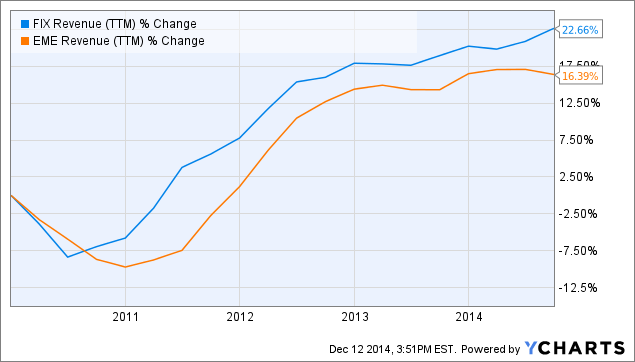 FIX Revenue (TTM) data by YCharts
In terms of earnings, it has been EMCOR that has seen the better growth. Comfort Systems has actually seen a decline in earnings over the past five years.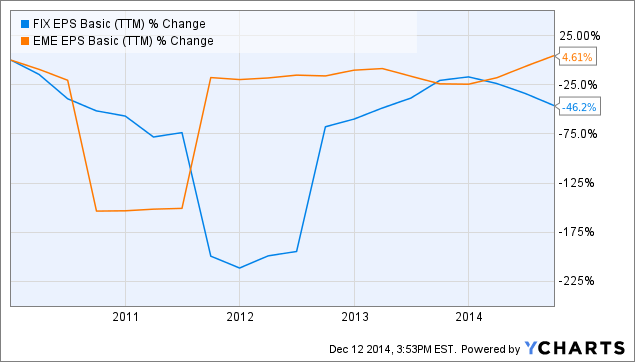 FIX EPS Basic (TTM) data by YCharts
However, since 2012, Comfort Systems has performed significantly better. That hasn't been the case the past few quarters, though, as EMCOR's earnings have increased this fiscal year, while Comfort Systems has seen lower earnings this year.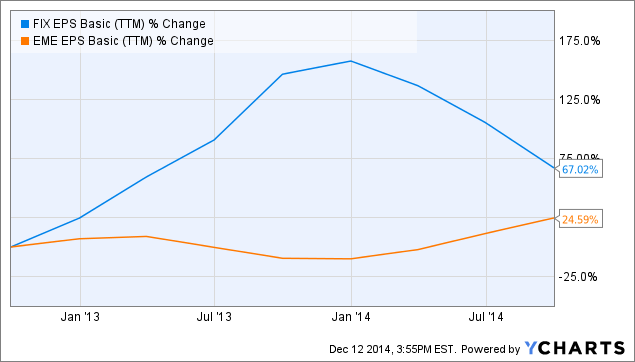 FIX EPS Basic (TTM) data by YCharts
In terms of valuation, Comfort Systems appears highly overvalued compared to EMCOR based on trailing P/E ratios (32.47x vs. 16.68x). The valuations are nearly identical when looking at forward P/E ratios (31.67x vs. 16.46x).
Return on Assets and Equity
EMCOR has higher returns on assets and equity (5.00% and 11.56%) based on trailing twelve months compared to Comfort Systems (2.89% and 6.09%).
Looking Ahead
Comfort Systems
In its latest quarter, Comfort Systems saw a 5.8% increase in revenue and a decline in earnings per share from $0.30 to $0.20 compared to the same period last year. Even though revenue was slightly up (mainly because of its recent acquisition of DynaTen), it was still below estimates. This marked the third straight quarter in which the company missed both revenue and earnings estimates.
Comfort Systems has shown improvements both in its backlog and cash flow; however, the company still provides little in returns on assets and equity.
The company's CEO had this to say about the company's near future outlook.
The current environment suggests that underlying economic conditions will not provide significant revenue lift in the first half of 2015. We currently expect improved bottom line results as service pays off, SG&A investments move to somewhat lower levels and our operations achieve incremental improvement.
EMCOR
In the company's latest quarter, revenues decreased by 2.5% compared to the same period last year, while earnings per share increased from $0.43 to $0.68. Additional good news was that the company's total backlog increased by 9.8%.
I believe that the company's close of operations in its U.K. construction business along with its recent engineering contract from the Department of Homeland Security will help deliver stronger results in the near future.
Conclusion
Comfort Systems does have some positive things going for it as I outlined in the Looking Ahead section; however, I feel that its poor revenue/earnings growth along with its current high valuation are enough to make this a stock to avoid at the moment.
While Comfort Systems does provide a higher dividend yield, EMCOR has shown higher growth in its dividend recently and offers better returns on assets and equity. Looking at the chart below, you can see how poorly Comfort Systems has performed throughout its history in comparison to both EMCOR and the S&P 500.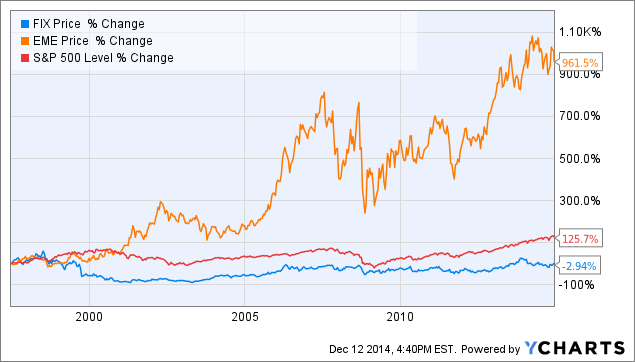 FIX data by YCharts
With an inability to see any long-term momentum in earnings growth, I don't see any evidence that this trend will not continue. Considering EMCOR's earnings growth and its aggressive dividend growth, I believe EMCOR is a solid buy for dividend growth investors at its current price. As always, I suggest individual investors perform their own research before making any investment decisions.
Disclosure: The author has no positions in any stocks mentioned, and no plans to initiate any positions within the next 72 hours.
The author wrote this article themselves, and it expresses their own opinions. The author is not receiving compensation for it (other than from Seeking Alpha). The author has no business relationship with any company whose stock is mentioned in this article.