This week ConocoPhillips (NYSE:COP) came out with its preliminary capital spending plan for 2015. Management announced a capital budget of $13.5 billion, down 20% from last year's $16 billion. At first glance it looks like the company might be working to do something about the crude oil overcapacity that most experts are now predicting for next year.
Those familiar with ConocoPhillips know that the company has a long-term plan of 3%-5% production growth and 3%-5% margin growth. At these oil prices margin growth would be impossible, but Conoco is sticking to its plan to at least grow production, albeit at the low end of the plan; 3%.
How is Conoco able to cut capex by 20% and still achieve its growth target? This article will take a closer look at Conoco's 2015 capital plans. Remember, these capital spending plans are currently just a preliminary number, and more information will be given to us at the company's investor day next year. That said, I believe that we can understand a lot just by looking at the company's recent statement within the greater context of oil markets today.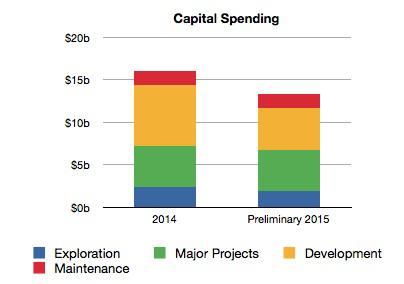 Chart by author
So without further ado, here is next year's capital plan. The 2015 capital plan can be divided as follows: $1.9 billion for base maintenance, $5 billion for drilling development, $4.8 billion for major projects and $1.8 billion for exploration. Let's go over these four piece-by-piece, with an explanation for each for those who aren't familiar with ConocoPhillips as a company.
Drilling development
Conoco terms drilling development as drilling new wells in existing oil fields, particularly in shale projects. While development includes the drilling of new wells which do indeed bring production growth from places like the Eagle Ford and Bakken, this development is largely done to offset declining areas such as Alaska and mature offshore oil projects.
Drilling development is expected to take up $5 billion in capex next year. According to the company's 2014 guidance, management spent $7.2 billion in this category last year. That is a big.
Before the steep drop in oil prices, in order from oldest to newest, management focused on five areas: The Bakken, the Eagle Ford, the Permian, the Niobrara and the Montney and Duvernay in northern Alberta. Next year management will more or less 'defer' development in the latter three and focus only on the Eagle Ford and the Bakken.
Major Projects
'Major projects' are big, capital-intensive undertakings typical for a major, international oil company: Big offshore drilling projects, LNG terminals and oil sands mines. These projects deliver the long-term production growth that Conoco is still looking to achieve despite the massive price decline.
Major projects are expected to take up $4.8 billion. The corporate press release indicated that this was a 'significant reduction' from 2014, although according to the company's 2014 Analyst Day presentation, major projects should take exactly $4.8 billion this year as well. I'm not sure where the significant reduction is coming from but more detail should be available later.
What is noticeable here is a change in focus. Last year Conoco saw many new projects to work on through 2017: Twelve international oil projects in Malaysia, Indonesia, the North Sea and even China (Five of those projects came online in Malaysia in 2014), a multi-billion dollar LNG facility in Australia and several oil sands projects in Western Canada.
This year management seems to be pulling down the hatches and concentrating only on that which is almost complete. Capital will be focused on the completion of APLNG (the Australian LNG plant), Surmount Phase 2 (in the oil sands) and "multiple" projects in Alaska, Europe and Malaysia.
While that might seem like a lot, notice that both Indonesia and China are missing from that list, which probably means that Conoco will either defer or cancel projects there. Conoco actually has multiple projects going on in the oil sands, but management mentioned only Surmont II by name and nothing else. This leads me to believe that the other projects will be either delayed or cancelled.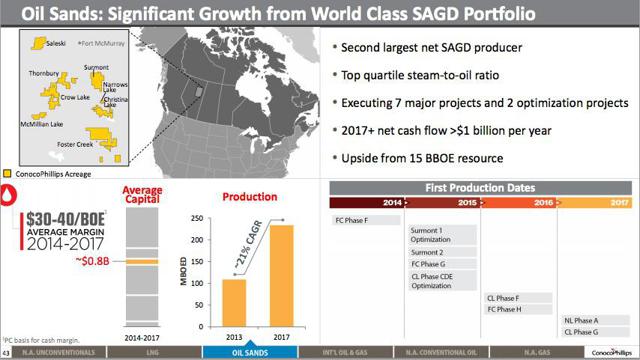 ConocoPhillips 2014 Analyst Day Presentation
The latest press release says that management will focus only on completing Surmont Phase II. But what about Foster Creek Phase G, which last year management said would get done in 2015? There was no mention of Foster Creek Phase G in the press release. Christina Lake Phases F and G, Forster Creek Phase H and Narrows Lake Phase A are all slated to be finished in 2016 and 2017. Since management indicated that it was interested only in completing Surmont Phase II, I suspect that these later expansions will be on hold.
Why? Economics. While Conoco has some of the most productive, 'core' oilsands assets, these specific projects are some of the lowest-margin projects which the company is working on. Experts believe that total 'breakeven' in the oilsands is somewhere around $70 (although projects already finished can still operate cashflow positive $40). Right now West Texas Intermediate is at $57, and Canadian crude prices are typically even lower. This leads me to suspect that Conoco might be rethinking some of these later projects which have just gotten underway but we'll have to wait until Analyst Day 2015 to know for sure.
Exploration
Conoco's exploration budget is expected to be $1.8 billion next year, down from $2.4 billion last year. This spending will have a fairly narrow focus: Gulf of Mexico, West Africa, Nova Scotia and North American unconventional.
That implies that exploration in Poland, China's Bohai Basin, Australia's Browse Basin, Colombia and both the Russian and Norwegian Arctic will all be put on hold. This is another example of Conoco cutting down most on projects that would have come online multiple years into the future.
What it all means
So let's put this all into perspective. The projects which seem most likely to get the axe are remote exploration, newly-started oil sands, and development in new shale plays. Even if all these projects would have gone further, their impact on 2015 production would have been minimal. This is how the company can cut down capex by 20% and only slow down growth by one percentage point.
This year Conoco is expected to produce 1.53 million barrels per day on average. Remember, Conoco's original goal was production growth between 3 and 5 percent.
So let's assume that, were oil prices still where they were six months ago, Conoco would have hit its midpoint guidance of 4% production growth. That would put Conoco's 2015 production at 1.591 million barrels equivalent per day. However, management now expects only 3% growth, which means average production of 1.576 million barrels equivalent per day.
In effect, Conoco is removing 15,000 BOEPD of expected capacity next year. Most of this change should be oil. This token reduction isn't really enough to move markets.
I think it goes without say that Conoco and others would prefer a higher oil price than what we have today. For that, supply needs to come down by one or two million barrels per day. Conoco will not do much heavy lifting in reducing supply in 2015, however.
Then again, with some of the lowest cost-base assets in the shale and oil sands, why should Conoco cut production significantly? Even with oil prices down here, the company's core shale drilling operations in the Bakken and Eagle Ford are still profitable. The bottom line is, Conoco can still produce oil and do so profitably. The 'heavy lifting,' then, may have to come from the producers with lower margins.
Disclosure: The author is long COP.
The author wrote this article themselves, and it expresses their own opinions. The author is not receiving compensation for it (other than from Seeking Alpha). The author has no business relationship with any company whose stock is mentioned in this article.