The steep price drop for oil continued last week. However, unlike the last month and a half; the markets took a very different direction in response to the continued decline of crude this week. Investors are starting to realize that the fall in oil prices has some negative consequences for both the economy and equities. This is something I have been warning about in recent weeks.
The Dow Jones Industrial Average had its worst week since November 2011 and the S&P 500 had its deepest weekly plunge since May 2012.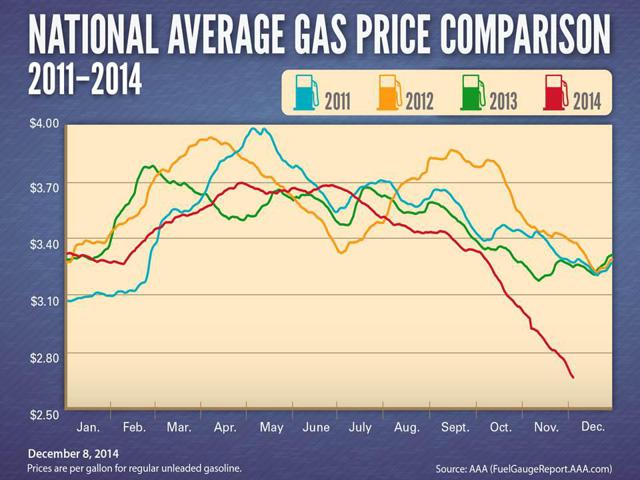 For months, most pundits have focused almost exclusivity on the benefits of falling oil prices. Declining gasoline prices are boosting consumer discretionary income. This is a $6 billion a month tax cut just for domestic consumers. The fall in energy prices also helps manufacturers, airlines, truckers and myriad other industries. All of this is true and is the main driver of November retail sales posting their best numbers since March and consumer confidence being at 8 year highs.
In addition, a lot of attention on how the steep drop in oil revenues is causing deep problems for some of the bad actors on the world stage such as Russia, Iran and Venezuela. This too is true and causing major headaches for our former cold war adversary. The ruble has fallen 40% recently against the dollar even though the Russian central bank has spent some $80 billion defending its currency and had to hike rates another 100bps this week. It is hard to see how the Russian economy can avoid a deep recession if oil prices do not rebound soon.
So that is the good news behind the fall in oil prices. The market however woke up to negative ramifications to the steep drop in oil this week. Here are three main impacts investors should factor into their assessment of the economy and the market.
Trading Partners under Distress:
Just as it is true that the economies of Russia and Iran are facing major headwinds, it is also true the same applies to some of our friends and major trading partners. Canada and the United States are the two largest trading partners on the globe and our Northern neighbor accounting for more than $300 billion of our exports on an annual basis.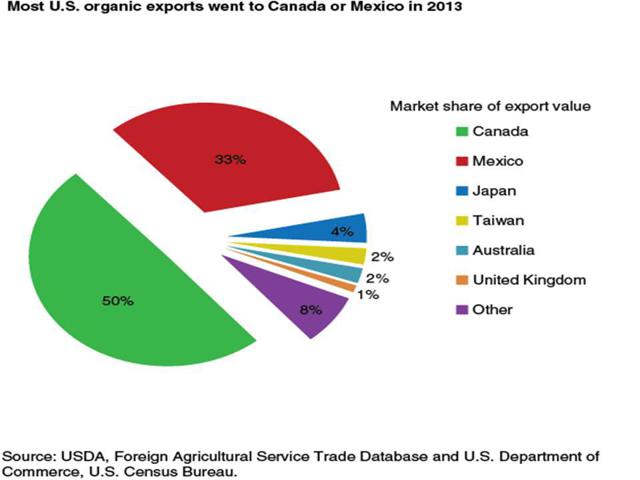 Canada has become a major exporter of oil over the past decade and the fall in oil and other commodity prices is starting to have a significant impact on the Canada economy. Its trade balance is narrowing quickly, its currency is falling against the dollar and there has been some speculation that its banking system will have negative impacts if oil stays at these levels.
Mexico is our third largest trading partner accounting for some $1 billion worth of exports a day. More importantly some 40% of the government's revenue comes from the national oil company Pemex. The over 40% drop in oil prices will translate into an over 8% decline in governmental revenues and will also hit an important source of economic activity. This is the core reason Mexico's stock market has started to tank lately.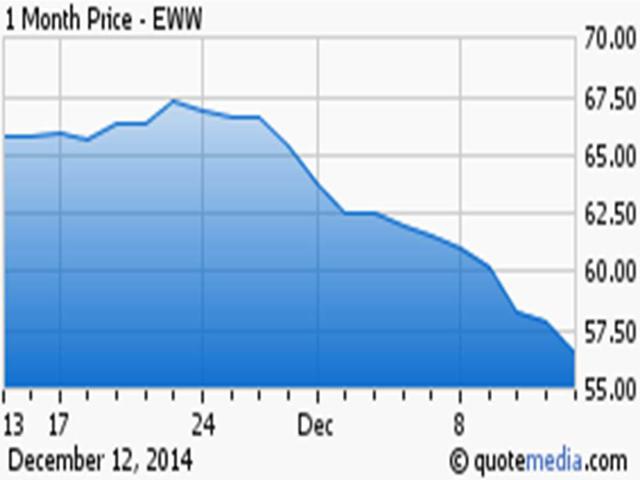 Lower energy prices will help American manufacturers lower operating costs. However with the dollar continuing to strengthen and our #1 and #3 trading partners under distress, it is hard to see these firms seeing increasing demand or having any impetus to hire.
Domestic Job Growth & Economic Activity:
The steep fall in oil prices is already causing exploration & production companies to slash their capital expenditure budgets in 2015. ConocoPhillips (NYSE:COP) just cut its 2015 capital budget by 20%. Midcap players like Denbury Resources (NYSE:DNR) have clipped their budgets even deeper lopping almost a half off its projected budget. Small cap Bakken play Emerald Oil (NYSEMKT:EOX) just announced it is slashing next year's capital budget by approximately two thirds.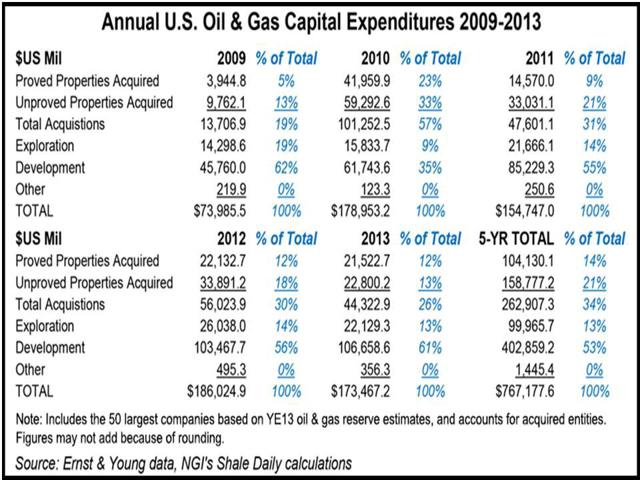 The oil and gas sector has spent hundreds of billions of dollars in investment into the domestic economy over the past half-decade. These cutbacks will result in tens of billions of dollars in investment that will not flow into the domestic economy next year. This is also resulting in a drop of future economic activity. Drilling permits dropped 40% in November from October levels and rig count just posted their deepest weekly decline in two years.
I would expect layoffs will be the next domino to fall both in the E&P sector as well as in energy services. The recent merger announcement of Halliburton (NYSE:HAL) and Baker Hughes (BHI) should result in thousands of firings once complete.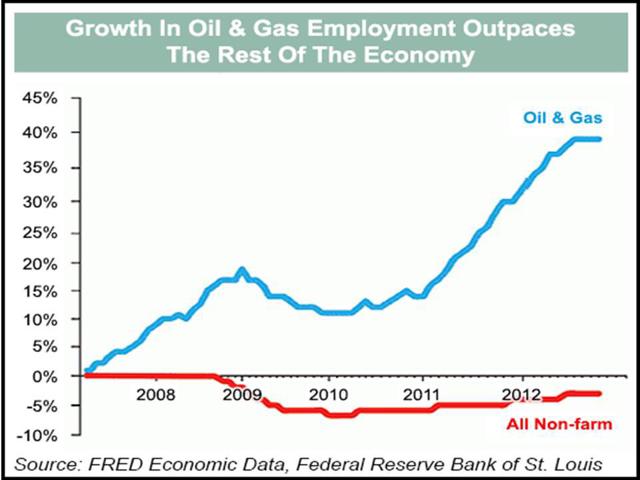 The rise of the oil and gas sector has been a huge factor of job growth over the past half-decade. In addition, there are high paying jobs with myriad job positions paying over $100K annually. It is going to take a lot of part-time low paying jobs in sectors like retail that will be boosted by falling gasoline prices to make up for each job lost or not created in the energy sector. This will have impacts to consumer spending as well average median income which is lower on an inflation adjusted basis than it was before the recession officially ended in June 2009.
Credit Dislocation:
This is my number one worry amid the fast and sharp fall in oil prices. The energy industry was the #2 issuer of high yield bonds over the past few years accounting for just over 15% of high yield bond issuance recently.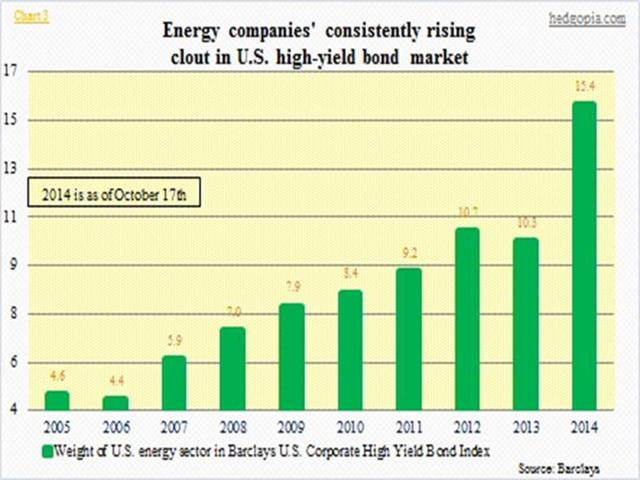 If oil remains at these levels over time a good portion of that debt will not be able to be serviced. This could have unforeseen ripple effects throughout the credit markets. The fall in energy prices has put approximately one fourth of this high yield debt in distressed territory already.
After all, subprime was a fairly small niche of the credit markets at one time and turned out to have much bigger impacts that when the Federal Reserve assured everyone that the crisis was "contained". Small and midcap banks in the oil patch have already been selling off for weeks as investors grow more concerned about this contagion spreading into the financial markets.
I am also concerned about the possible impacts to sovereign debt. Obviously Russia is not in good shape but has adequate reserves for now. The credit situations for Mexico, Brazil and Argentina certainly have to be monitored if oil prices do not recover soon.
Summary:
I deployed some of my higher than usual allocation to cash to nibble at the stocks of some stocks that I think were unfairly sold off this week on falling oil prices such as Boeing (NYSE:BA). The majority of the rest of my portfolio continues to be in large cap growth stocks that should be unaffected by the falling price of oil. These Blue Chip Gems include such names as Apple (NASDAQ:AAPL) and Gilead Sciences (NASDAQ:GILD).
In conclusion, the fall in oil prices bears watching closely. Declining energy prices have both negative and positive impacts both of which investors should be aware of at this time. Until oil prices stabilize the markets should continue to show the volatility that rocked equities this week.
Disclosure: The author is long AAPL, BA, GILD.
The author wrote this article themselves, and it expresses their own opinions. The author is not receiving compensation for it (other than from Seeking Alpha). The author has no business relationship with any company whose stock is mentioned in this article.
Editor's Note: This article covers one or more stocks trading at less than $1 per share and/or with less than a $100 million market cap. Please be aware of the risks associated with these stocks.