Since the publication of my previous piece Blackstone: A Strong Buy, published July 15, 2014, shares of the world's largest alternative asset management firm, The Blackstone Group (NYSE:BX) are down just over 1%.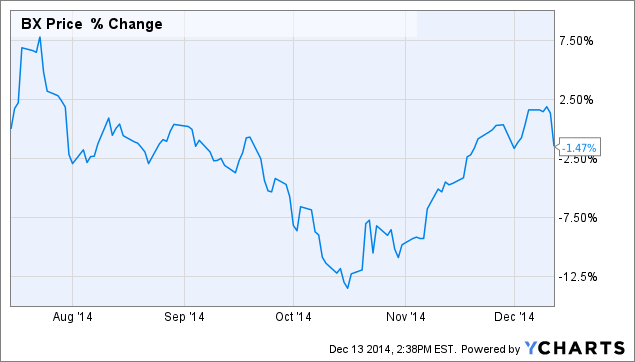 BX data by YCharts
Blackstone To Spin Off Financial Advisory Business
In early October, BX announced plans to spin off its financial advisory business via a merger with Paul Taubman's PJT Partners. The new entity will be publicly traded with BX shareholders owning 65% of the new firm's equity. I believe this deal is a positive for BX shareholders for a number of reasons. Firstly, one of the goals of this transaction is to unlock shareholder value for BX shareholders. Comparable advisory firms such as Moelis & Co (NYSE:MC) and Greenhill & Co (NYSE:GHL) trade at significantly higher valuations than BX. Currently, Moelis trades at 17 times earnings and Greenhill trades at 18 times earnings. Comparably, BX trades at just under 10 times forward earnings. In addition to unlocking value, the spin off will allow BX's financial advisory arm to do more business because it will not have to worry about conflicts of interest that currently arise due to its current relationship to BX's asset management business. In others words, BX financial advisory will be able to grow faster than is currently possible. While the spin off is a positive, the impact will be relatively limited as BX's financial advisory arm accounts for less than 5% of BX earnings.
Blackstone Core Private Equity
In November, BX said it approached investors about a new type of private equity fund dubbed "core." The primary difference between BX's new core private equity fund and its traditional private equity funds will be the lifetime of the fund. BX has pitched the fund as a 20 year time horizon, double the typical 10 year time horizon for current private equity funds. BX has also said that performance fees would likely be 15% of profits, a slight decrease from the current 20% that is universally standard. The new structure would allow BX to make more permanent investments. If this fund is successful, it could pave the way for BX to transition all of its private equity funds, over time, to longer duration vehicles. Longer dated funds are a positive for BX shareholders because it means AUM will be more stable. BX will not be forced to raise capital as often. Due to the more permanent nature of its AUM, BX could benefit from multiple expansion.
Valuation Remains A Compelling Reason To Buy
In my previous piece, I argued that BX was undervalued relative to traditional asset managers. I continue to believe this. Currently, BX trades at just 9 times forward earnings compared to 16.5 times forward earnings for BlackRock (NYSE:BLK), 18 times forward earnings for Federated, and 17 times forward earnings for T Rowe Price (NASDAQ:TROW). I believe BX currently trades at a discount because its earnings are more volatile and its capital is less permanent. However, it should be noted that BX is also growing much more quickly than traditional asset managers. Furthermore, traditional asset managers such as BlackRock, T Rowe Price, and Federated are focused mainly on managing mutual funds (BlackRock less so due to its iShares ETF products). As passive index funds continue to become more popular, traditional mutual funds could suffer significant outflows. As recently noted by the FT, so far in 2014, fewer active managers have beaten the market than any time in the past decade. Since BX is an alternative manager it is not exposed to this shift. BX funds are not designed to be correlated to equity indexes but rather to provide superior returns by using increased leverage. For these reasons, I believe BX should be trading at a premium to traditional asset manager, not a discount as is currently the case. In my opinion, investors looking to own asset management companies should shift money away from traditional asset management companies towards alternative managers such as BX.
Disclosure: The author is long BX.
The author wrote this article themselves, and it expresses their own opinions. The author is not receiving compensation for it (other than from Seeking Alpha). The author has no business relationship with any company whose stock is mentioned in this article.