CYS Investments Inc. (NYSE:CYS) is a mortgage REIT. It invests in Agency RMBS. These are collateralized by Agency ARMs, Agency Hybrid ARMs, and Agency fixed rate mortgages. When such a company can maintain or grow its book value while paying a great dividend, it is a good investment. Thus far in 2014 CYS has grown its book value from $9.24 per share to its Q3E $10.14 per share. This +$0.90 per share growth amounts to +9.7% so far for 2014. When you consider that CYS pays you a 13.10% annual dividend on top of this ($0.94 per common share for Q1-Q3 2014), that means CYS has been a great investment with a nearly 20% total economic return through Q3 in 2014.
In Q4 2014 we have seen a large drop in the yield of the 10-year US Treasury Note from 2.49% on September 30, 2014 to 2.08% at the close on December 12, 2014 (-41 bps). In addition the 10-year US Treasury Note yield chart (see below) is still trending strongly downward. This may mean we will likely see even more book value gains to come in future quarters.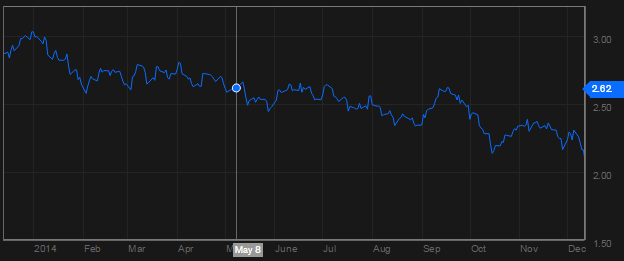 As investors can see from the chart above, the yield is down -95 bps from December 31, 2013 through December 12, 2014 (roughly a one-year period). Since almost half of that has occurred in Q4 2014, it is reasonable to expect that the book value will increase by +$0.50 or more in Q4 2014 (assuming the 10-year US Treasury Note yield does not rally sharply at the end of Q4 2014).
To get a better picture of what may be happening in Q4 2014, it may help to look at CYS' portfolio. The table and charts of the are below.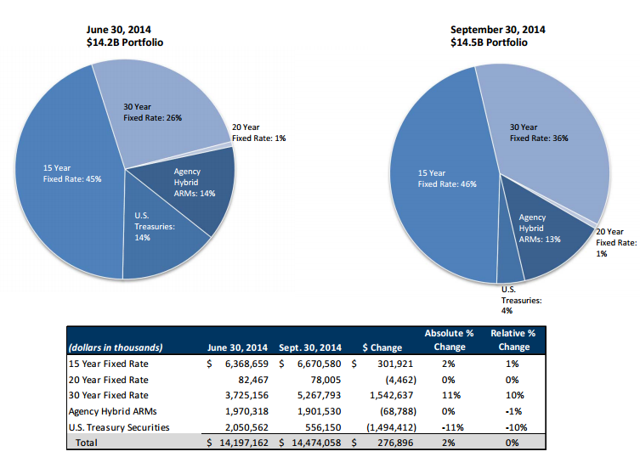 As investors can see CYS migrated into a heavier concentration of 30-year fixed rate Agency RMBS in Q3 2014. Those comprised approximately 36% of CYS' portfolio as of September 30, 2014 compared to only 26% as of June 30, 2014. Many investors might worry about this, since the long-term expectation is for interest rates to go up. However, CYS' management team again made the correct call. The 10-year US Treasury Note yield has fallen by -41 bps so far in Q4 2014. This should mean great profits for CYS. The table below gives a more precise breakout of the portfolio as of September 30, 2014.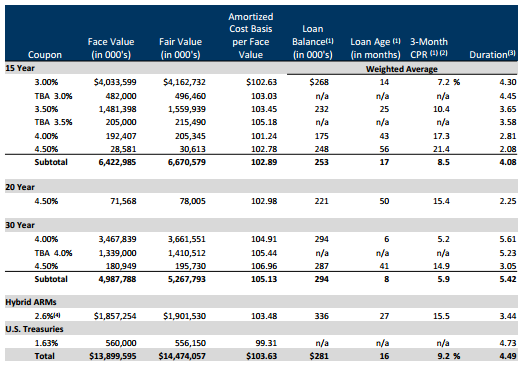 As investors can see virtually all of the 30-year fixed rate Fannie Mae RMBS have a 4.0% coupon rate. These amount to a little over $5.1B in fair value (of an about $14.2B total portfolio). The chart below is of the 30-year Fannie Mae 4.0% MBS.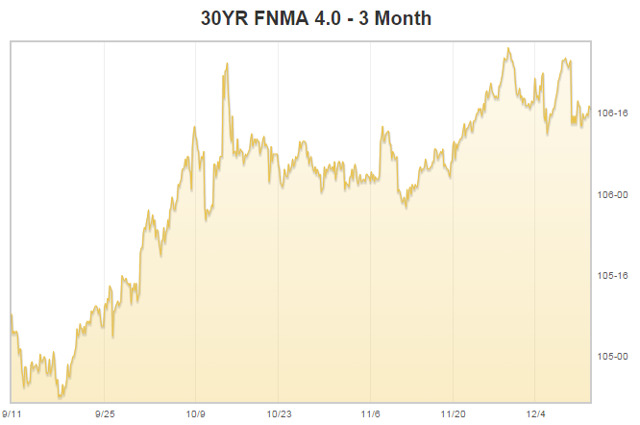 As investors can see the value of this MBS has risen more than 1% in Q4 2014. With a leverage ratio of 6.63x as of September 30, 2014, CYS will see many times that roughly 1% gain in book value. CYS will have to account for hedges, which generally go the other way; but hedging was only about $10.15B in notional value for a portfolio of about $14.12B. This should mean that CYS will see a good amount of profits.
There is another approximately $5.5B in 15-year fixed rate Agency MBS of both 3.0% and 3.5% coupon rates. The 3.0% rate MBS amounted to about $4.03B of that amount. The chart below shows the 15-year FNMA 3.0% MBS.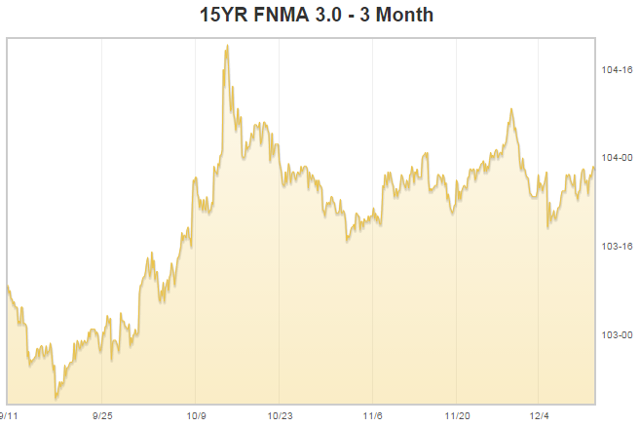 As investors can see this MBS security appreciated almost as much as the 30-year 4.0% FNMA MBS (a bit less than 1% for the 15-year). This should also mean great book value gains for CYS.
The book value stands to gain several percent in Q4 2014 as things now stand. On this basis alone, this 13.1% dividend payer is a buy. Its $10.14 per common share book value as of September 30, 2014 is $0.98 per share above the $9.16 stock share price as of December 12, 2014. If one adds a guesstimated 4% book value gain to the $10.14 per common share book value, then the book value would be about $10.55 per common share, if CYS ended the quarter December 12, 2014.
Using this book value figure of approximately $10.55 per common share, the stock price would have to rise about $1.39 per share in order to equal the book value (or +15.2%). This is good potential upside. It is also a buffer against a downside move in the stock price, if the overall stock market decides to go down significantly. Investors get this potential growth; and they get a 13.1% annual dividend.
The European troubles are one thing to worry about. In early November 2014 Draghi announced a €1 Trillion QE program. However, in December he stated that he had been unable to get the Germans to agree to the program. Further the Germans have been grousing about other ECB member countries meeting their budget deficit goals. While Germany may eventually acquiesce to Draghi's strategy, Germany could create a lot of negative energy before it does so; and they do have motive. After all other ECB member countries may want to monetize debt with a large QE program; but Germany is one of the big owners of such debts. It would be some of Germany's assets that the QE program would be monetizing away. Still it would appear that the EU economy needs significant help to recover. Without this help, many EU economies may be in serious trouble, including Germany's economy. Germany should eventually see the wisdom of Draghi's strategy. We are already seeing signs of weakness. France's credit rating was downgraded by Fitch from AA+ to AA on December 13, 2014.
An investor can never be sure what will happen. However, investors in CYS have a -41 bps drop in the yield on the 10-year US Treasury Note in their pocket for Q4 2014. Even if the yield rises a bit from here, CYS should still see a positive gain in book value in Q4 2014. CYS will also be paying a 13.1% dividend. CYS is a buy under these circumstances. Investors can always decide to sell, if interest rates start to spike. For now it appears that they are likely to remain low for some time to come. The overall world economic outlook is weak.
The two-year chart of CYS provides some technical direction for a trade/investment.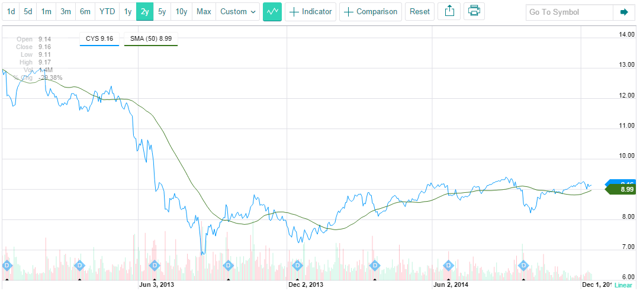 CYS' stock price has been consolidating sideways with an upward tilt for more than one year. The drop in the 10-year US Treasury Note yield so far in Q4 2014 of -41 bps would seem to ensure a good pop upward in the book value for Q4 2014. This should allow CYS' stock price to continue to climb slowly, especially with its great 13.1% annual dividend. CYS is a buy. The average analysts' recommendation is 2.3 (also a buy). This stock will require some watching of world economic conditions; but it looks good at this time.
NOTE: Some of the fundamental fiscal data above is from Yahoo Finance.
Good Luck Trading/Investing.
Disclosure: The author has no positions in any stocks mentioned, and no plans to initiate any positions within the next 72 hours.
The author wrote this article themselves, and it expresses their own opinions. The author is not receiving compensation for it (other than from Seeking Alpha). The author has no business relationship with any company whose stock is mentioned in this article.