Last quarter I completed a series of articles looking at the Dry Bulk Industry and comparing the company's Revenue, Expenses, and Balance Sheet on a common per unit basis. This series will take another look at the break down in order to find some common threads and consistencies among the companies.
The companies I will look at are Baltic Trading Limited (NYSE:BALT), DryShips, Inc. (NASDAQ:DRYS), Knightsbridge Tankers Limited (VLCCF), Navios Maritime Holdings Inc. (NYSE:NM), Navios Maritime Partners L.P. (NYSE:NMM), Safe Bulkers, Inc. (NYSE:SB), and Star Bulk Carriers Corp. (NASDAQ:SBLK).

The entire sector has suffered over the past quarter, with the companies down 40-70% for the quarter and 40-76% for the year.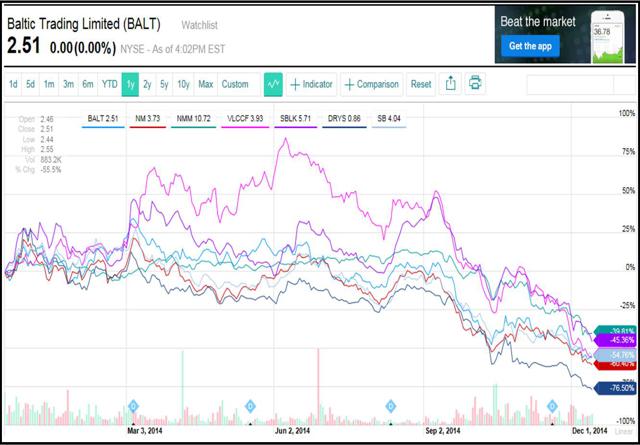 All the companies manage their fleets differently, and will be exposed to different levels of revenue and income depending on market conditions. It also helps to understand some of the industry terms.
Time Charter Equivalent (TCE) rates are defined as voyage and time charter revenues less voyage expenses during a period divided by the number of available days during the period. The TCE rate is a standard shipping industry performance measure used primarily to compare daily earnings generated by vessels on time charters with daily earnings generated by vessels on voyage charters, because charter hire rates for vessels on voyage charters are generally not expressed in per day amounts, while charter hire rates for vessels on time charters generally are expressed in such amounts.
Revenue Comparison
Revenues from 2Q14 to 3Q14 were basically flat across the industry, with the exception of DRYS which saw a 13% increase in revenue.

Time Charter Equivalents (TCE's) were also lower from 2Q14 to 3Q14 coming in at an average of $11,800 for the companies in 3Q14 compared to $13,460 for 2Q14. On the high end are NM, NMM, and SBLK. On the low end is BALT with just over $8K per day.

When the given revenues are broken down on a per Ship and per DWT it helps to paint a clearer picture to compare the company's. On a per Ship basis, DRYS, NM, and NMM had the highest revenues. To account for the different sizes of ships, the numbers are also broken down on a per DWT basis. On that comparison BALT, DRYS, NM, and NMM have the highest averages. By comparison, NM and NMM also had the highest TCE levels too.
On the opposite end of the spectrum, SBLK had the lowest levels of revenue on a per Ship and per DWT basis.
Earnings Comparison
When the earnings per Ship and per DWT are compared, NM and NMM come out on top, followed by SB just above average on a per DWT basis. On the opposite end of the spectrum, VLCCF struggled to turn a profit with just under $100/ship and $.52 per DWT.

2Q14 vs 3Q14
The two consistent performers from 2Q14 to 3Q14 are NM and NMM. Last quarter VLCCF averaged well compared to peers, but has fallen sharply in 3Q14 for both Revenue and EBITDA. DRYS on the other had performed well last quarter, and emerged as a top performer in terms of revenue for 3Q14. While DRYS did come in below the average for earnings, it still performed above its peers.
While there was a cyclic uptick in rates during 3Q14, they were not sustainable.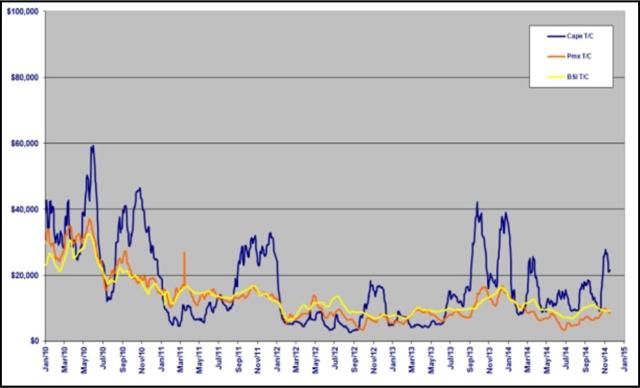 Conclusion
NM and NMM had the highest levels of Revenue maximization with the assets they own. On the other end of the line was VLCCF that struggled to convert its Revenue into meaningful EBITDA. SBLK was at the bottom of the list for Revenue on a per DWT basis, but did well at turning that revenue into EBITDA, even though it was below the average.Investors should avoid making decisions based on revenue and earnings alone, and instead look at the whole picture to include Expenses and Balance Sheets.
Disclosure: The author has no positions in any stocks mentioned, and no plans to initiate any positions within the next 72 hours. The author wrote this article themselves, and it expresses their own opinions. The author is not receiving compensation for it (other than from Seeking Alpha). The author has no business relationship with any company whose stock is mentioned in this article.
Editor's Note: This article covers one or more microcap stocks. Please be aware of the risks associated with these stocks.