As the price of oil has plunged over 40% in the past couple of months, almost everything oil-related has been consumed in flames. Most of the majors, including Exxon Mobil Corporation (NYSE:XOM), Chevron Corporation (NYSE:CVX) and ConocoPhillips (NYSE:COP) are down 20% to 30% from their 52 week highs.
Many MLP's like Linn Energy, LLC (LINE), BreitBurn Energy Partners L.P. (BBEP), Martin Midstream Partners LP (NASDAQ:MMLP) , and Legacy Reserves LP (NASDAQ:LGCY) are down over 60% year to date. Others have cratered more than 80%.
Buy when others are fearful
Warren Buffett famously said, "Buy when others are fearful, and sell when they are greedy". Well, have we arrived at the point where others are fearful?
Seeing as though prices in many of these names have declined, almost daily for the past several weeks, ranging from 4% declines to 18% in a single day with no seeming letup and huge volumes accompanying these moves, most would agree we have arrived at a full-fledged panic in the oil patch.
We have, however, thought on several occasions, that the capitulation and low had arrived with 18% daily down-drafts in several names on uncharacteristic large volume. At this point, there is so much uncertainty with regards to the demand/supply continuum and Saudi Arabia's ultimate price goal that it would appear prudent to begin scaling in slowly in order to profit from these decimated prices and crazily elevated dividend/distribution yields, now approaching 27% for some.
Dividends continue to roll in like clock-work
| | | | |
| --- | --- | --- | --- |
| Company | Ticker | Amount $ | Date |
| Linn Energy | LINE | .2416 | Nov. 13 |
| Breitburn Energy | BBEP | .1733 | Dec. 12 |
| Phillips 66 | PSX | .50 | Dec. 1 |
| Conoco Phillips | COP | .73 | Dec. 1 |
| | | | |
BreitBurn Energy's most recent distribution was a 6% increase from the previous year's period.
Phillips 66 recent dividend of $.50 was a 28.2% increase over its year ago $.39 dividend payout.
ConocoPhillips' Dec. 1st payout of $.73 was a 5.8% increase over its year ago $.69 dividend payment.
Dividends and Distributions Pay the Bills
During the worst crash in oil prices since the Great Recession, most oil companies, big and small, continue to declare and pay their dividends on schedule, just as they did in that 2007-2008 debacle.
At that time, oil prices cratered due to very slack demand as the world economy contracted. Now they are cratering because new technologies have made fracking possible, bringing on a surplus of supply at the same time as weakness, and slack demand in Europe, Japan and China have combined to produce a toxic cocktail for oil prices.
As retirees or near-retirees, we must keep our focus on the fact that dividends continue to be paid and continue to rise. We must not allow panicked re-pricing in the markets to dictate our emotions. We are not, after all, eating from our stock certificates and the ever-changing quotes tethered daily to them. It is the dividends and distributions that supply our daily succor. As long as they continue to be paid, let's just check that box.
Many oil E&P MLP's have efficiently hedged their production for just this type of debacle in prices.
Linn Energy and Breitburn Energy are hedged for the vast majority of their production through and including 2016, at upwards of $91 per barrel.
Certainly, these hedges, along with any capex maintenance and cost cutting measures will keep these distributions flowing. And if this premise is somehow undercut by unforeseen market forces, companies like LINE and BBEP could slash their distributions in half and still leave today's investor at today's prices sitting with 13.5% distributions, after any such cut. This really wouldn't be the end of the world, especially since distributions would again rise as oil prices normalized 12-18 months out, giving today's investor a strong, rising stream of income, coming off a supposed 13.5% base.
History is a good guide
A perusal of recent history and beyond suggests that whenever panic sets in, the situation is presenting investors who are able to keep their heads a tasty feast and grand rewards in terms of ample dividend income streams and capital gains. The Great Recession presented many such opportunities as many high-quality, strong companies presented accidentally high yields as their prices compressed in the panic.
Investors willing to scale gingerly into positions then were greatly rewarded going forward. Investors today salivate at those lost opportunities, wishing they had pulled the trigger to obtain yields of 10% to 16% on equities that today garner only 3% to 5%.
Bottom, Bottom, Who Sees the Bottom?
Because the last several weeks has seemed like trying to catch a falling knife on almost a daily basis, I would suggest that investors interested in profiting from today's wildly depressed prices consider scaling in to some of the worst hit names, only on days where high volatility and panic is depressing prices by 8% or more.
This technique will help to contain the damage and allow the investor to catch ever-lower prices if they continue in their downward trend, yielding ever-higher dividend/distribution yields. If scaled over 5 or 6 separate buys, this can be very effective.
For illustration, let's examine how this might have worked with Linn Energy and BreitBurn Energy over the past few weeks, since Saudi Arabia announced on Thanksgiving that they were giving the gift of cheap oil to the world by refusing to cut back their production.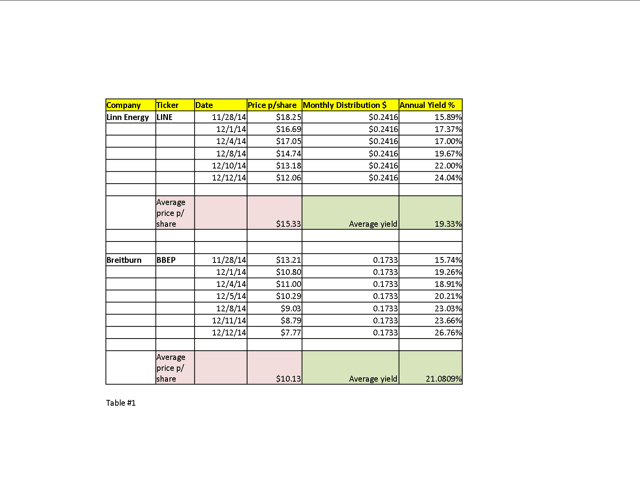 As can be seen from the above table, making purchases in equal amounts in each of these securities on those dates that experienced a draw-down in price of >8% resulted in obtaining yields of 15.89% to 24.04% for Linn, averaging out to a 19.33% yield with an average price paid per share of $15.33.
Doing the same with Breitburn resulted in gaining yields of 15.74% to 26.76%, averaging out to an equal weighted yield of 21.08% with an average price paid per share of $10.13.
Make Volatility Your Friend
This clearly illustrates that if we are so inclined to step gingerly now into the oil patch, we can mitigate some of the apparent risk of catching the falling knife by committing small amounts at a time, and entering only when volatility gives us a gift of a greatly reduced price.
Remember that all the while we are steadily increasing our income stream with higher and higher yields, with each lower purchase price. This can help give us that comfort we seek to sleep well at night as our fuzzy oil companies continue to pay us high dividends and distributions.
Final Thoughts
If you found this article, the concept and investment results interesting and intriguing, I invite you to read the other articles in this series. Stay tuned for further articles that will introduce additional sectors and names to further diversify a portfolio for continued ballast and mitigation of risks to any one sector.
Should you be interested in reading any of my other articles detailing various strategies to enhance your returns on a dividend growth portfolio, please feel free to find them here.
As always, your comments, discussion and questions are eagerly awaited.
Disclaimer: This article is intended to provide information to interested parties. As I have no knowledge of individual investor circumstances, goals, and/or portfolio concentration or diversification, readers are expected to complete their own due diligence before purchasing any stocks mentioned or recommended.
Disclosure: The author is long BBEP, MMLP, LINE, LGCY.
The author wrote this article themselves, and it expresses their own opinions. The author is not receiving compensation for it (other than from Seeking Alpha). The author has no business relationship with any company whose stock is mentioned in this article.