Even with a strong third quarter, BreitBurn Energy Partners (BBEP) sold off along with other energy plays. Falling oil prices, which are now at five-year lows and below $60 per barrel, raises concern that BreitBurn's cash flow is at risk. The firm so far paid an annualized distribution of $2.01 per share, but at a stock price of $8.12 the yield is 24.75 percent. At its current stock price, BreitBurn is trading at levels not seen since the financial crisis in 2008-2009. Is the stock set for a rebound? There are three things investors should consider.
1) $7.8 billion QRE Merger
BreitBurn merged with QRE in a move that would boost distribution per unit, increase borrowing capacity, and diversify its asset base. The transaction closed on November 20, 2014. The benefits were clear, but only when energy prices were stable. The new firm had a trailing 29 percent growth in proved reserved and a 16 percent annual growth in average daily production: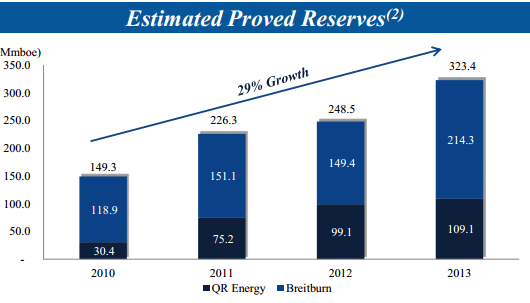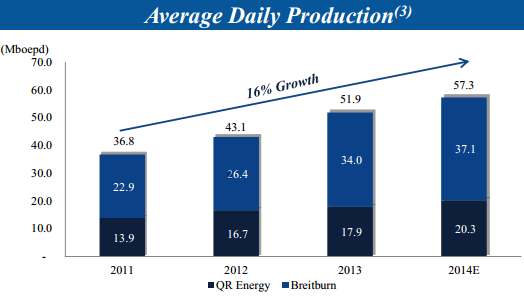 Source: BreitBurn Energy
BreitBurn touted the merged firm would have the largest oil-weighted upstream MLP: 34 percent Gas, 8 percent NGL, and 58 percent oil.
By growing its company size, the merged firm will now experience a greater blow to its income sheet as it faces lower energy prices in the quarters ahead. The good news is that BreitBurn will not face a worrying impact until 2016. For fiscal 2015, BreitBurn hedged 71 percent of oil and gas production.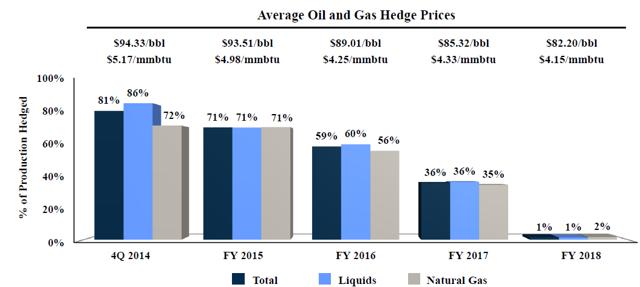 Even in 2016, more than half of BreitBurn's production is hedged. It is not until 2017 that lower oil prices will have a negative impact. This is when just 36 percent of total production is hedged.
2) Unrealistic dividend yield
At a yield of almost 25 percent, BreitBurn's dividend appears unrealistic. The failure of the generous dividend to cushion the stock from a selloff suggests the market believes BreitBurn still must cut the distribution. In its cautionary statement, the firm states:
risks related to level of indebtedness and periodic redeterminations of the borrowing base under BreitBurns credit agreement; ability to generate sufficient cash flows from operations to meet the internally funded portion of any capital expenditures budget; ability to obtain external capital to finance exploitation and development operations and acquisitions;
Declining cash flow will mean BreitBurn will have difficulties raising credit to fund projects. Growth through acquisitions will be delayed, until energy prices rebound. If energy prices do stabilize at current levels through the end of 2015, BreitBurn will need to cut costs. Like BP plc (NYSE:BP) or ConocoPhillps (NYSE:COP) cutting costs, BreitBurn's future profitability will depend on operating at lower costs.
3) Oil price volatility
The steep fall in oil prices over the last six months took nearly every market participant by surprise. Highly leveraged firm will not survive the new market conditions. This may mean financial firms will their risk forecast for oil and gas firms, which will mean higher lending and stricter covenant requirements.
Is BreitBurn a Buy at these levels?
BreitBurn has a healthy hedging strategy that will support dividends for the fourth quarter. With 71 percent of production hedged in 2015, the firm might cut its dividend by around 30 percent, to $1.42 per unit. Even if dividends were cut in half, the stock would still yield 12.8 percent. This might destabilize the share price a bit more in the short-term. An even more severe dividend cut would hurt the stock more. A healthier balance sheet during uncertain times is preferable over an unsustainable dividend.
Disclosure: The author is long BP, COP.
The author wrote this article themselves, and it expresses their own opinions. The author is not receiving compensation for it (other than from Seeking Alpha). The author has no business relationship with any company whose stock is mentioned in this article.