Background
Panoramic Resources (OTCPK:PANRF) is an Australia-based nickel producer with copper and cobalt byproducts, and gold and PGM development assets. In the year to June 2014, PAN sold 22.4kt of nickel in concentrate plus 5.4kt of copper and 426t of cobalt from 2 mines in Western Australia - Savannah and Lanfranchi.
Late last month, PAN released production guidance for Lanfranchi which surprised many in the market. In the guidance (found here) PAN said that it would transition Lanfranchi from its Deacon ore body to its lower grade, higher cost Jury-Metcalfe ore body. I wrote about this earlier this week and you can find the link here.
Whilst the reduced production and higher cost for the year to June 2016 represents a higher level of risk for the long term investor, the sell off in the stock (the shareprice has declined 31% since the release 3 weeks ago) more than compensates in my view and represents an attractive short term investment which is now more highly geared to movements in the nickel price.
In this article, I look at the cashflow yield of Panoramic given the recent sharp shareprice fall on the one hand and the reduced production out of Lanfranchi on the other, and compare that with the yield before the announcement.
What's the Upshot?
As I have always said regarding PAN, its not a stock for everyone. Traditional value investors would usually shy away from a story like PAN owing to its short reserve life - at 53kt its equivalent to around 2.5 years based on production guidance for 2015. In reality though, whilst its Lanfranchi operation will probably cease in 2017 (excluding any potential discoveries made before then), the Savannah operation will continue beyond then.
To continue operating at the kind of production levels the company has done up to now however, the company will either need to be successful in its exploration campaign or acquire something. To date, management has been investing heavily in the former (spending $16m on its 2 producing nickel projects alone) and also has a number of non nickel projects at various stages of development.
However, investing is all about balance and PAN I believe has fallen so much in value that its now an attractive investment, notwithstanding the risks. In fact, its currently the only pure play nickel miner that is actually trading below fair value at current nickel spot prices - every other miner is factoring in increases in the nickel price over the coming years in their valuations.
Looking below the hood on PAN, the company has a cash balance of A$70m as at 30 September and no debt. Thus its cash balance accounts for 60% of its current market value - leaving the operating assets (which actually generate the EBITDA) worth A$47m on current valuation. Last year these assets generated A$73m. This year to 30 June 2015, based on company guidance and current nickel price expectations, PAN should generate around bottom line cashflow of A$50m based on my analysis. Some brokers believe it will generate more (Macquarie capital reckons it will produce A$69 whilst UBS forecasts A$55m). Not bad for a company with an enterprise value of A$47m.
Its all about the cashflow
Anyone who reads my articles will know that I'm always hammering on about cashflow and what price an investor is paying for it. When it comes to investing, this is really the only thing that matters.
So applying this regime to PAN leads me to the conclusion that at its current price, based on my assumptions and company guidance, an investment in PAN today will effectively pay for itself inside of 16 months.
Of course, many will (rightly) ask what happens beyond June 2015 when Lanfranchi starts to wind down. And therein lies the risk with PAN. But for my money, if a stock can generate enough cashflow to equal the cost of my investment inside of 16 months then I think its worth committing some capital to.
Based on PAN's latest production and cost guidance and the average nickel price assumptions or Morgan Stanley, UBS and Macquarie for 2015 and 2016 and PAN's existing Sept cash balance of A$70m, plus an assumed A$11m which I assume the company generates in the current Dec quarter, my analysis suggests that an investment in PAN today will generate enough cashflow to pay for itself by April 2016 - despite its existing small hedge book and the expected decline in Lanfranchi beyond June 2015.
Put another way, the expected cash yield of PAN for 2015 and 2016 is 19% for each year. If you back the cash already on the balance sheet from the analysis, the cash yield for each year is 63% for each year.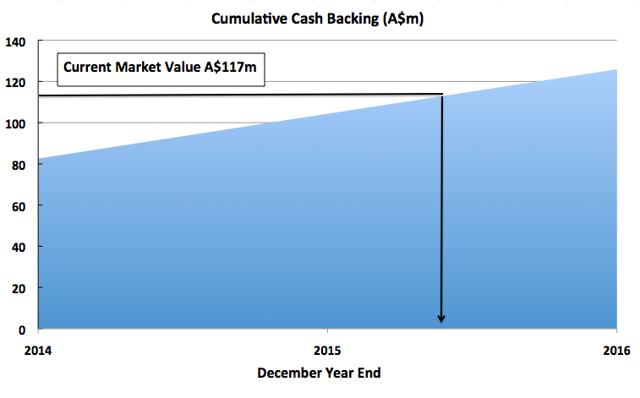 Source : Author
Conclusion
There is risk in PAN - that's beyond question. And for that reason, an investment in PAN is not for everyone. But with a reasonable degree of visibility on expected cashflow generation over the next couple of years and with a shareprice that's fallen 31% over the past 3 weeks, I think it represents an attractive investment proposition.
Based on my analysis - which is based on the latest company guidance on production and costs and on the average expected nickel price based on Macquarie, MS and UBS - an investment today would see a cashflow yield of 19% in each of 2015 and 2016. Further, PAN would generate enough free cashflow over the coming 16 months make any investor whole.
Disclosure: The author is long PANRF.
The author wrote this article themselves, and it expresses their own opinions. The author is not receiving compensation for it (other than from Seeking Alpha). The author has no business relationship with any company whose stock is mentioned in this article.
Editor's Note: This article covers one or more stocks trading at less than $1 per share and/or with less than a $100 million market cap. Please be aware of the risks associated with these stocks.