GAMCO Investors (NYSE:GBL) spun out a small investment adviser in late February 2009, during the depths of the bear market. That adviser, Teton Advisors (OTCPK:TETAA) has grown its AUM exponentially, producing significant revenue growth coupled with expanding pre-tax margins. The performance of the company over the last five-plus years is nothing short of spectacular. This is a micro-cap company that originally endeavored to serve micro-cap investors. However, it has been expanding its platform into adjacent equity boxes in order to diversify its offerings and continue to grow quickly. The stock is not followed, with zero sell-side coverage.
Business Overview
The company was founded in Texas in 1994, and in 1998, merged into Gabelli Advisors. In 2009, the business was spun off, with GAMCO still holding a 42% ownership stake. The board decided it was prudent to separate the two companies in order to give Teton more flexibility, its own traded security to use for incentive compensation, realize value of the two businesses, and lastly, reduce confusion between Gabelli funds and the Westwood (now under Teton) funds brands. The company is incorporated as a dual-share class structure, with 1.2 million shares of class A common with one vote per share and 800K shares of class B common with ten votes per share.
Firm and Fund Performance Go Hand-In-Hand
The company has grown from revenue of $948,000 in the first quarter of 2009 to $4.9 million in the third quarter of 2014, for a CAGR of 38.8%. The growth was driven by strong AUM, which increased from $386 million to $2.02 billion over the same time period, a CAGR of 39.2%. It has been able to significantly leverage its expenses during that same time frame, with pre-tax profit margins going from -12.3% to over 35%.
It started with 6 funds focusing primarily on the small-cap space. Most of them are tiny and have average performance. However, the one fund to draw significant assets is the Mighty Mites fund, which garnered over $1.3 billion in assets as of the last fiscal quarter-end. Surprisingly, despite the $1.3 billion asset base, it has been able to keep the high concentration in micro-cap stocks, which represents nearly 80% of the total portfolio. The performance has been good, but not stellar. The fund was ranked by Morningstar with five stars until earlier this year, when it was downgraded to four. The recent performance (2014) has hurt its standing, and if this continues, the fund will be downgraded again to three stars.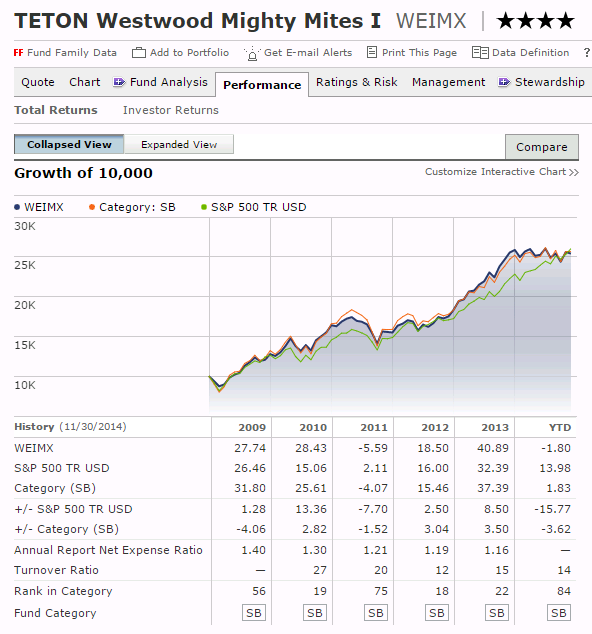 Teton now has 7 funds in total, two of which are fixed income funds. Other than the Mighty Mites, the funds are mediocre, at best. Additionally, given the moves towards both alternative (hedge fund) strategies in a 1940 Act format, along with moves towards passive investing, we think its funds are very average.
The portfolio manager of the fund is listed as Mario Gabelli, himself. But we would be curious to know how much time he spends on managing this fund given that he is the chairman, CEO and CIO of GAMCO Asset Management. We would worry that the fund is becoming too large to focus on its original niche operating space, which were micro-caps. The average market cap is now $483 million, which is up significantly from its original mandate. Given the size of the fund, it is largely relegated to finding names in the small-cap space. At $1.3 billion, the fund would need to invest $20 million to create a 1.5% position, which would soak up much of the equity of a micro-cap company.
Expansion Of Its Platform Seeks To Diversify Its AUM Base
Teton has been augmenting its capabilities to expand into better capacity products. In May of 2013, the company brought over Diane Wehner and her team from GE Asset Management, where they managed a Mid-Cap Equity strategy. The strategy was very successful through 2012, besting the Russell Midcap Index in four of the prior five years. The fund is too new to be rated by Morningstar but so far so good, with year-to-date performance of 8.08% (through November 30, 2014), compared to the mid-cap growth category average of 6.96%.
The company also hired Paul Sonkin, a prominent value investor and originator of the Sonkin Enterprise Multiple (Sonkin ratio). Previous to his hiring at Teton, Sonkin was a hedge fund manager at his firm Hummingbird Value Funds. The fund strategy focused on the sub-$100 million market-cap space. His portfolios were much more concentrated than many of those that operate in the micro-cap space. The portfolios would typically hold just 10-20 stocks which would account for 50% of the total portfolio. The other 50% would hold a large number of names where the portfolio manager had less conviction.
We think the company is better than most small asset managers in the space, and will likely continue growing its assets under management, even with average performance in the other funds. We think its competitive advantage, and something that is likely missed by most investors, is that while Teton Advisors may be a small advisor, it has access to a $50 billion asset manager's distribution network. Given the relationship with the GAMCO organization, the firm has setup a direct sale relationship through its G.distributors affiliate, which markets through the wholesaler and internal marketing sales force. In other words, the company has a massive sales force that it can leverage despite being a small-sized asset manager.
Valuation
The shares trade at 19.5x trailing earnings. Earnings are on track to be up 56% this year alone, hitting, we think, $3.89 per share, compared to $2.48 last year. On that basis, the shares are trading at approximately 13x earnings. It is rare for a stock that has grown at a 35%-plus CAGR to trade at 13x earnings. Clearly, market expectations are very low for future growth.
If we assume that AUM growth slows materially over the next three years to just 5% annually (recall that the CAGR has been near 40%), then AUM will reach $3.8 billion by the end of calendar 2017. Assuming no further pre-tax margin expansion, using the current 35% rate, equates to $12 million in pre-tax earnings in that year. Applying a 35% tax rate, and assuming no further reduction in share count (Teton's been buying back its own stock - more below) returns a $7.10 per share 2017 estimate. Small asset managers typically trade at 14x-16x earnings, in line with the broader market. Applying a 15x multiple to that figure would equate to a $106.50 price target, ignoring the potential for dividends. That is a 100%+ return over the course of two years.
Teton has also been prolifically buying back shares. In 2012, it repurchased $1.9 million worth of its stock. Last year, it bought back another $29,000 worth. In the last two years, shares outstanding has been reduced by nearly 10%. If the company can continue to buy back shares at the same rate, while expanding its pre-tax margins to 40%, then its 2017 diluted EPS could reach $9 per share. At that level, using the same market multiple, the shares would be worth more than $133 a piece, for 59% compound returns.
It should be noted that the company is highly levered to the equity markets. If the Russell 2000 sees significant selling pressure, then the AUM will be affected significantly, which will depress revenues and profitability. Additionally, the float on the shares are very low, with just 562K shares. The three months' daily average of shares traded is approximately 9,200, so one must be extremely cautious using market orders. For example, today the bid-ask spread was over 5%. This is a name to keep an eye on, and with the illiquidity of the shares, one could easily see the stock down big simply because someone put in a large market order. We feel those would be great buying opportunities.
Conclusion
Teton Advisors is a niche asset manager spin-off from the wildly successful GAMCO (Gabelli) company. While its funds are marginal performers, with one highly successful fund - increasing the concentration risk - the shares are cheap, assuming even modest growth over the next few years. Given the small size of the firm and the extremely talented management team in place, we think it can produce a few good ideas per year and really move the needle. We like the fact that Mr. Sonkin joined the team, as he is well-known in value circles due to his prowess in the micro-cap space. If you believe that this bull market has several more years to run, Teton would be a great way to play on that growth.
Disclosure: The author has no positions in any stocks mentioned, and no plans to initiate any positions within the next 72 hours.
The author wrote this article themselves, and it expresses their own opinions. The author is not receiving compensation for it (other than from Seeking Alpha). The author has no business relationship with any company whose stock is mentioned in this article.
Editor's Note: This article covers one or more stocks trading at less than $1 per share and/or with less than a $100 million market cap. Please be aware of the risks associated with these stocks.