The quarter for Research in Motion (RIMM) was devastating, sending shares down over 14% in the after market, confirming my warnings for RIM investors. The company has a big problem on its hands: It's lost its mojo to Apple (NASDAQ:AAPL) and Google (NASDAQ:GOOG). While RIM is selling more devices each year, it's been making a lot less from each sale, courtesy of fierce competition from the iPhone and Android.
In 2006, RIM earned $136 on every Blackberry it sold before taxes. That was before the iPhone was launched in 2007. Ever since, it's been downhill for RIM, marked by a dwindling operating profit on each cell phone. In its most recent quarter, the company made $65 on each device. The profound drop isn't done: The company issued weak guidance. Right now, RIM's operating income per device sold is $65; that's going lower as the company is forced to sell at lower prices and margins.
Compare Apple's robust profits per unit through the years, helping Apple clobber RIM. Apple has been able to earn more money every year per unit sale of its devices -- iPhones, iPads, computers, and iPods. While RIM's profits on each sale have halved, Apple's have more than quadrupled. RIM's underperformance is incredible when you remember the companies sell their products in the same space. Research in Motion's numbers wouldn't be so bad if they occurred in a vacuum, but they don't. Pay particular attention to Research in Motion's drop in operating income per device from 2008 to 2009 as the iPhone began to take off.
The graph below compares Apple and Research in Motion's most recent quarter over the last six years (Q1 for RIM and Q2 for Apple).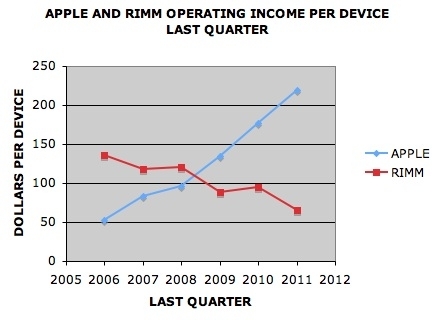 Disclosure: I am long AAPL.