Invesco Mortgage Capital Inc. (NYSE:IVR) is a mortgage REIT that invests in Agency and non-Agency RMBS, CMBS, and residential and commercial mortgage loans. It attempts to provide risk-adjusted returns to shareholders through dividends and secondarily through capital appreciation. IVR is externally managed and advised by Invesco Advisers Inc., which is a subsidiary of Invesco Ltd. (NYSE:IVZ) -- a leading independent global investment management company.
IVR's strategy of late has been to move away from interest sensitive investments in favor of less interest sensitive investments. The less interest sensitive investments do not need "shorter term" repo financing. They are such things as CMBS, GSE CRT, and commercial real estate mezzanine loans. The chart below shows the trend in IVR's portfolio holdings.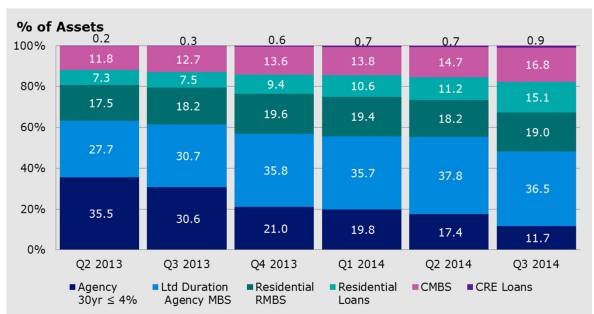 As investors can see, IVR has significantly decreased its holdings of long term Agency fixed rate RMBS over the last year and a half. The majority of its Agency RMBS holdings are now shorter term Agency RMBS. IVR has also significantly increased its holdings in residential loans and CMBS. In Q3 2014 IVR took advantage of the widening of CMBS and CRT spreads to buy more at favorable ROE's (return on equity). Some of this money came from the sales of Agency RMBS; and for some IVR issued $150 million of 7.75% Fixed-to-Floating Series B Cumulative Redeemable Preferred Stock. IVR used the proceeds of that to fund the latter investments.
In general Q3 2014 suffered from spread widening with climbing CPRs (constant prepayment rates). This led to a -3.2% book value loss on the quarter. However, book value has increased +6.6% year to date even so. It ended Q3 2014 at $19.16 per common share. The chart below shows the losses were spread across the asset classes.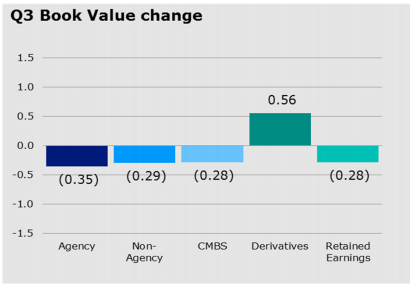 It also shows that the hedges did work in Q3 2014. Since there was relatively little change in the 10 year US Treasury Note yield during the quarter (from 2.53% at the close June 30, 2014 to 2.49% at the close September 30, 2014), it is impressive that IVR's hedges were as profitable as they were. When viewed in the context of the full year, IVR's Q3 2014 still looks good. IVR had book value gains of +$1.21 per common share. With its dividends of $1.50 per common share for Q1-Q3 2014, the total economic return amounts to $2.71 per common share. This is about 15% year to date; and IVR still has one quarter to go. A total economic return of 20%+ is well within IVR's grasp for FY2014. This kind of return should make most income investors happy.
If you take a quick look at the 10 year US Treasury Note yield during Q4 2014, the yield has fallen from 2.49% on September 30 to 2.08% at the close on December 12, 2014 (-41 bps). Barring a suddenly reversal between now and December 31, 2014, it seems a certainty that the book value of IVR's MBS investments will be much higher at the end of Q4 2014 than at its beginning. The other credit instruments should perform at least adequately. Therefore IVR is likely to gain a fair amount of book value in Q4 2014.
What FY2015 holds is much more up in the air. The BOJ already has a huge amount of QE in place for FY2015. What remains to be seen is exactly what the ECB will do. Draghi announced that he would like to have a QE program of about €1 Trillion . However, Germany has refused to sign up for this yet. Many people think that Draghi will eventually talk the Germans into it. However, if he does not, the results could be disastrous economically in the near term for the PIIGS and many of the other EU countries. Their bond yields will likely rise significantly. That in turn will tend to push up US Treasury bond yields. Approximately the opposite may be true if Draghi does succeed in talking the Germans into backing his planned program. In the first case IVR will likely experience some near term book value losses. In the second case IVR will likely continue to see book value gains (or at least a flat book value) in FY2015. However, the dividend may need to be cut in this second case. Still that would be a relatively safe and stable situation for income investors; and IVR seems likely to continue to yield a 10%+ dividend, even if the currently 12.6% annual dividend does get cut in 2015.
When you consider that IVR insiders are buying the company's shares, you have to be reassured that they at least feel that the management team is doing a good job. That insiders have net bought 12.6% (+24,631) more shares in the last six months has to encourage investors. Even objectively IVR has been decreasing its exposure to higher interest rates. This should put the company in a good position when the rates do eventually go higher, which seems a virtual certainty in the long run. Meanwhile the company is still performing well in the current situation.
The Q3 2014 and Q1-Q3 2014 earnings chart below gives a good idea of how the company has been doing with respect to earnings -- both Core Earnings and Comprehensive Income.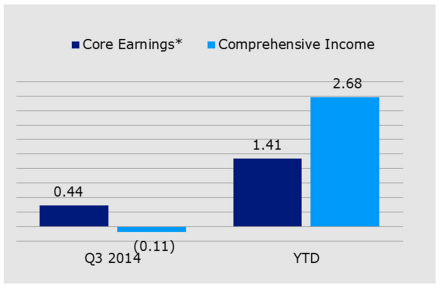 For the three quarters in 2014, IVR has been doing well in both Core Earnings and Comprehensive Income. The company has a litany of excuses for its relatively poor performance in Q3 2014. This was poor only in comparison to its previous quarters in 2014. Most other mortgage REITs had trouble in Q3 2014 too. IVR's book value loss in Q3 2014 was roughly on a par with those of Annaly Capital Management (NYSE:NLY) and American Capital Agency Corp. (NASDAQ:AGNC). Further the excuses seem legitimate. For instance the spreads did widen for most MBS during Q3 2014; and both IVR's management and many other mortgage REIT management teams do not think they are likely to see further widening in Q4 2014.
Since Q4 2014 was about half over by the time many reported Q3 2014 earnings, each management team probably had a good glimpse of its likely Q4 2014 results. Each seemed to believe that CPRs should steady out in Q4 2014. Consider also that IVR only had a small part of Q3 2014 for which the monies from the new preferred offering were invested. Consider that some of the losses were due to the continued move away from long term Agency fixed rate RMBS into other investment vehicles (some of which are lower yielding).
Overall it is encouraging that the management team is investing in IVR itself. Their story is believable; and the fundamentals look good so far. That may change. In a downturn, some of the non-Agency assets and residential and commercial loan assets may become more troubled; but the management team is watching for this. They claim to have an adequate plan in place for it. Given their recent execution, IVR is a buy even in the currently uncertain economic situation. Investors can always sell if they have to. Management can always sell poorly performing assets. Meanwhile IVR pays a great 12.6% dividend.
The two year chart of IVR provides some technical direction for a trade/investment.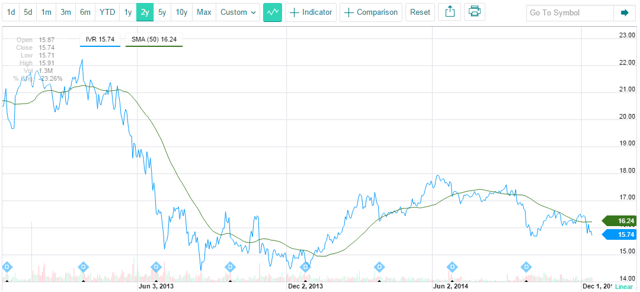 The chart of IVR has been consolidating sideways for the last year. Yes, the Q3 2014 results were a bit disappointing; but they were not so disappointing as to make the stock go down much if at all. When you consider the 12.6% dividend that IVR is paying, you have to be encouraged. When you consider the $19.16 book value as of September 30, 2014 and the stock price of $15.74 as of the close on December 12, 2014, you have to be encouraged. IVR would have to rise $2.42 per share (or 15%+) in order to reach its September 30, 2014 book value.
Further with the -41 bps drop from September 30, 2014 through December 12, 2014 in the 10 year US Treasury Note yield, it is a virtually certainty that IVR's book value is currently significantly higher than it was on September 30, 2014. That means the stock is trading at an even more substantial discount to its book value than cited above. As AGNC's CIO Gary Kain says, these assets are generally very liquid. Anytime you can buy a mortgage REIT stock at a tremendous discount to its book value, you should do so. The bottom seems unlikely to immediately fall out of the economy. Investors should get some warning if it starts to go south. They can sell. It would be nice to get potential stock price upside and a great 12.6% dividend to potentially make some profits on your money. IVR is a buy.
NOTE: Some of the above fundamental fiscal data above is from Yahoo Finance.
Good Luck Trading/Investing.
Disclosure: The author has no positions in any stocks mentioned, and no plans to initiate any positions within the next 72 hours.
The author wrote this article themselves, and it expresses their own opinions. The author is not receiving compensation for it (other than from Seeking Alpha). The author has no business relationship with any company whose stock is mentioned in this article.