In this article, I will be screening for stocks, which have had a significant decline in the last quarter using criteria similar to an article I wrote about falling knife stocks. Out of my five falling knife picks from my original article, only IAMGOLD (NYSE:IAG) has posted a loss since the article, therefore I looked at the data from my article to see what I could do to try to exclude companies like IAG in future screens. When looking at the data, I found that IAG was the only stock that was priced at less than $10 at the time of writing, and that IAG was the only company with a Return on Equity of less than 20%, therefore I added and updated those two criteria for this article. In addition, I also noticed that each company in my original article had a current ratio that was over 2, and had a projected EPS Growth next year of over 15%, therefore I updated those criteria as well for this article.
For my search, I will be using the FinViz.com Screener, to identify potential falling knife stocks.
Base Criteria
Performance Quarter: -30%
Market Cap: Over $2 Billion
Average Volume: Over 100K
Current Price: Over $10.
P/E: Profitable
Forward PE: Profitable
Earnings Growth Criteria
EPS Growth This Year: Positive
EPS Growth Next Year: Over 15%
Management
Return on Assets: Over 10%
Return on Equity: Over 20%
Return on Investment: Over 10%
Liquidity Criteria
Current Ratio: Over 2
Quick Ratio: Over 1
Valuation Criteria
After entering all the above screener criteria, the screener found only one stock that matched all these criteria, and that stock is Ubiquiti Networks (NASDAQ:UBNT). UBNT is down 30.07% in the last quarter alone, and 34.52% YTD, which shows that the current quarter has been especially tough for UBNT since the bulk of the YTD decline has occurred this quarter.
Reason for "Falling Knife" Status
The reason why UBNT has earned falling knife status is due to four factors: Earnings/revenue Miss, lowered Guidance, new distributors, and Political/Economic Instability.
Earnings/Revenue Miss
UBNT reported earnings in early November that showed EPS was 9.4% below estimates, and revenues were 5.56% below estimates. The combination of missing earnings on the top and bottom line along with the lowered guidance explained below led to the stock closing down 16.8% after earnings were reported.
Lowered Guidance
In addition, besides missing estimates as outlined above, UBNT also guided lower for the current quarter. UBNT projected for revenues of $147M-$153M and EPS of $0.46-$0.49, and the consensus for revenues was $164.3M and the consensus EPS estimate was $0.54.
New Distributors
In the most recent quarterly report, management noted, "DSO [Days sales outstanding] for the quarter reflects our strategic addition of larger distributors worldwide who we extend credit to instead of requiring a prepayment." What this means is that payments to UBNT for its products and services come in at a further point in the future, rather than requiring the customer to pay when they buy. The effect of this is that revenues are likely to fluctuate more because of the variable nature of when customers are paying for the products and services, instead of paying upfront.
Political/Economic Instability
In the UBNT earnings report for the quarter ending in June, there was a key paragraph talking about instability in some of the markets that UBNT serves. The paragraph highlighted the issues below, and UBNT estimated that the political and economic instability would not have any serious impact on the most recent quarterly results.
"World developments do have the potential to influence our revenues as the geopolitical landscape continues to evolve quickly. [2014 Q4 Earnings Report]

"We are closely tracking developments in Ukraine, Russia, Iraq, Argentina and Israel, which collectively make up around 6% of our total sales." [2014 Q4 Earnings Report]

"We do not believe these world developments have had a material impact in our fiscal fourth quarter results." [2014 Q4 Earnings Report]
However, in the most recent earnings report, UBNT stated that in fact the instability was an issue. With no end in sight for the issues in Eastern Europe, and with the potential for crashing oil prices to cause instability in countries that need oil prices higher for budgetary needs, it would be wise to factor those items into any valuation of UBNT.
"Recent geopolitical developments in Eastern Europe and the Middle East clearly influenced our sales for the quarter. This instability has not only disrupted the business environment in the effected countries, but also in the broader region." [2015 Q1 Earnings Report]
UBNT Positives
Even with the issues outlined above, UBNT had some significant positives during the quarter that in the long-term will lead to higher revenues, and higher shareholder returns.
Revenue Drivers
In the most recent earnings report, UBNT noted that even though revenues were down quarter over quarter, its Enterprise Technology segment posted record growth. Looking at the revenue breakdown, I noticed that revenues for the Enterprise Technology segment grew 33.75% Q/Q, while its Service Provider Technology segment has revenues that fell 13.47% Q/Q. Looking at the a year over year comparison of these segments, you can see that revenues for Enterprise grew at 20.56%, while Service revenues grew at only 13.91%.
| | | | | | | |
| --- | --- | --- | --- | --- | --- | --- |
| | F1Q 2015 | F4Q 2014 | F1Q 2014 | | Y/Y % Chng | Q/Q % Chng |
| Service Provider Technology | 107.3 | 124 | 94.2 | | 13.91% | -13.47% |
| Enterprise Technology | 42.8 | 32 | 35.5 | | 20.56% | 33.75% |
Going forward the Enterprise segment will be the driver of real growth for UBNT because UBNT signed new distribution agreements with companies in China, and India, which will lead to higher revenues, because of the expansion into large markets. In addition, UBNT noted that its newest Enterprise product UniFi® VoIP was not released until the current quarter we are in, therefore that will be an additional driver of Enterprise revenues going forward.
Shareholder Returns
UBNT in the most recent quarterly report noted that they were initiating an annual dividend. The most recent dividend was $0.17/share, which at the current price represents a yield 0.57%, which is small. However, UBNT has the potential to increase its dividend payments in the future because of its strong cash position. Cash at the end of the quarter was the highest on record with $391 million, and with its current dividend rate of $0.17/share and 89.9 million shares outstanding, the annual dividend currently costs UBNT $15.28 million/year. If UBNT did not generate cash and just used its current cash on hand to fund its dividend, UBNT could pay the $0.17 annual dividend for 25 years! In addition to the significant cash on hand, UBNT generated $43.5 million in free cash flow in the quarter, which will continue to add to the significant cash on hand. I would not be surprised given the significant decline in the stock if UBNT were to initiate a stock buyback program, and use some of their cash.
Valuation
To estimate the value of shares of UBNT I will be using a DCF Calculator, with a risk-adjusted discount rate. For the data for the calculator, I used EPS, and EPS growth from Zacks, with the assumptions that growth would continue for 5 years, and level off to 1% thereafter. For the risk-adjusted discount rate calculator, I used 10-year annualized S&P 500 (NYSEARCA:SPY) benchmark data from longrundata.com, the current 10-year yield, and retrieved the beta for UBNT from the NASDAQ. In addition, as I stated in the political/economic instability section, I am taking into account a drop in sales from those regions, and will use an adjusted level of EPS and EPS Growth. In the previous quarter UBNT noted that "Ukraine, Russia, Iraq, Argentina and Israel, which collectively make up around 6% of our total sales." Therefore, I lowered EPS by 6%, and lowered EPS Growth by 6% as well.
EPS: $1.98
EPS Growth: 15.00%
Adjusted EPS: [($1.98*(1-6%)) = $1.86]
Adjusted EPS Growth: [(15*(1-6%)) = 14.10%]
The results of the calculations show that shares of UBNT have an estimated value of $36.59, which is 22.25% above current levels.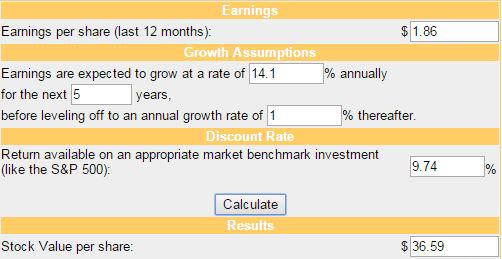 Discount Rate Calculator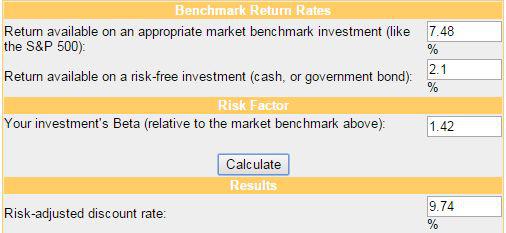 Closing Thoughts
In closing, I believe attempting to catch the Ubiquiti Networks falling knife is worth consideration because of the potential for increased revenue growth from new markets, and new products. In addition, having a strong cash position, and the recent initiation of an annual dividend, Ubiquiti has the potential to have increased shareholder returns going forward. There are potential risks though when considering Ubiquiti because of the increased length at which sales are recognized, and the effects of volatility in revenues from overseas where there is political and/or economic instability.
Disclaimer: See here.
Disclosure: The author has no positions in any stocks mentioned, and no plans to initiate any positions within the next 72 hours.
The author wrote this article themselves, and it expresses their own opinions. The author is not receiving compensation for it (other than from Seeking Alpha). The author has no business relationship with any company whose stock is mentioned in this article.