In hunting for bargains amid the ravaged energy service sector, investors may be tempted to look hard at Emerge Energy Services LP (NYSE:EMES) as the stock is currently trading about 66% off its August high and certainly looks oversold.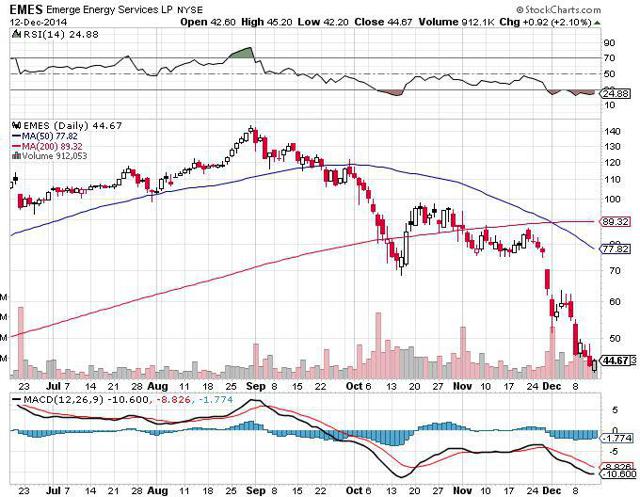 On the surface, it looks to be a great opportunity to grab a high revenue growth stock at a discount. The company has boasted strong quarterly year over year revenue growth of 10% so far this year, with the most explosive growth in 2014 coming from the frack sand production segment. This segment is the company's most profitable, comprising a majority of the total operating income, and is directly driven by demand from crude extracted via hydraulic fracturing operations.
The recent, sharp tumble in share price, as crude struggles to find a floor, tells a significant amount about position of the company and just how vulnerable the company could be to slowing or declining revenues due to cutbacks in fracked crude oil output. The steep correction may not be entirely reactionary or unfounded. Upon even a cursory examination of the underlying fundamentals from the most recent quarter, it's not difficult to observe that the company appears to be vulnerable to a slowdown in revenue in the years to come.
To start, it's really no secret that the company is already highly leveraged, with a debt to equity ratio at the end of the quarter of 119. However, the more concerning fact is that on September 30th, the company only had $3.36M in cash on hand to go with $62.58M in current liabilities. Additionally, when calculated on a trailing twelve month basis, levered cash flow was less than $2M out of an operating cash flow of $80M. With so much of the operating cash flow needed for debt servicing, the company certainly looks vulnerable to even to a modest potential revenue decline.
To contrast between two similarly sized competitors, U.S. Silica (NYSE:SLCA), with revenues nearly $300M less than EMES, had almost $197M on-hand at the end of the same quarter and a much larger levered cash flow of $65M .
Certainly, the debt to equity ratio of EMES, mentioned above, speaks for itself, but it really doesn't stand out significantly among its peers, as U.S. Silica has a ratio just under 100 (mrq). On the contrary, a high debt to equity ratio is not unheard of for the oil service and equipment in industry, especially with the last few years of cheap corporate financing for the industry, enabled to a significant extent by broader Federal Reserve rate policies.
Short term, oil looks to be in a freefall, and it's anyone's guess where the bottom is, especially as global demand falls. The commodity may face an even steeper dive if smaller OPEC producers break with the cartel and up production targets. The market will re-balance at some point, but exactly where remains to be determined. Barring dramatic increases in world demand, it seems that the days of $100 oil may be a relic of the past, as even the latest EIA forecast calls for oil prices to average around $63 a barrel in 2015.
It's probably too early to know definitively just what sustained cheap oil over the next year or two will mean for hydraulic fracturing. The technologies will continue to evolve, perhaps at a more rapid rate due to necessary cost disciplines, but in the meantime, the low hanging fruit of expensive drill sites and other high cost exploration areas will be cut. Emerge Energy looks very vulnerable to any fracking cutbacks which may result over the next few years. The first casualty may be the dividend, as the third quarter's payout cost nearly the entirety of cash flow from operations.
It seems obvious that potential investors should wait on the sidelines for oil to stabilize before thinking of picking up EMES at any perceived bargain. Unfortunately, there is real risk that oil may stay relatively cheap for a sustained period of time. If this happens, the company may have to stretch to find ways to service its debt with a dwindling pile of cash.
Disclosure: The author is long SLCA.
The author wrote this article themselves, and it expresses their own opinions. The author is not receiving compensation for it (other than from Seeking Alpha). The author has no business relationship with any company whose stock is mentioned in this article.