The meteoric rise of Tesla Motors (NASDAQ:TSLA) has made headline news for the past year. Financial and auto industry experts alike have been constantly pondering the meaning of the company's sudden emergence, and whether or not a paradigm shift to electric cars is indeed taking place.
Analyst have tirelessly dissected every part of Tesla's business, from the company's flagship product, the Model S, all the way to its CEO, Elon Musk. With the company's past announcement of plans to construct a huge lithium-ion battery factory, aptly named the Gigafactory, even more furor about the company's future prospects erupted.
Despite the analysts/investors inordinate amount of attention dedicated to examining Tesla's business model, these individuals have spent too much time analyzing the company's impact within the auto industry, as opposed to its impact outside of that context. While most of the attention has been focused on Tesla's electric cars and the Gigafactory as it pertains to its electric cars, the Gigafactory's potential standalone impact on outside industries cannot be discounted.
The Far-Reaching Implications Of The Gigafactory
Although Tesla's electric cars are often touted as an industry game-changer, the Gigafactory is potentially even more disruptive than the company's electric cars. While the Gigafactory was built with the intention to make electric cars cheaper, its potential impact on the utilities industry cannot be understated. The main obstacle holding distributed solar back has been a lack of cost-effective storage, but the Gigafactory could change all of that.
If the batteries created by Tesla can be successfully integrated with SolarCity's (SCTY) business (Elon Musk is the Chairman of SolarCity), an industry shakeup on an unprecedented scale could occur. While solar accounts for less than 1% of U.S. energy generation, the solar industry has been growing exponentially, and with the integration of cost-effective storage systems, the adoption of distributed solar could entirely break down the entire utilities business model. Because the main barrier holding distributed solar back is the lack of reliable storage devices, with this barrier gone, a rapid utilities death spiral could occur.
Solar's already exponential growth will be significantly accelerated with storage.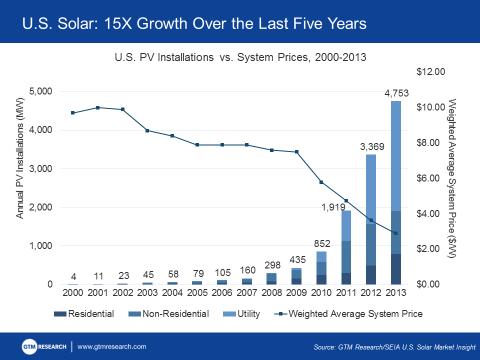 Source: GTM Research
While Tesla's Gigafactory is slated to produce around 50 GWh/year worth of batteries by 2020, most of its batteries would go to electric cars, with only a fraction of the batteries dedicated to SolarCity. Despite this, Elon Musk plans to build many more Gigafactory after the first factory is completed, making battery storage supply for distributed generation a non-issue. Musk has stated that "there will need to be hundred of gigafactories," hinting at a prediction of widespread battery use not only in electric cars, but also in residential/commercial electricity storage.
An overview of Tesla's Gigafactory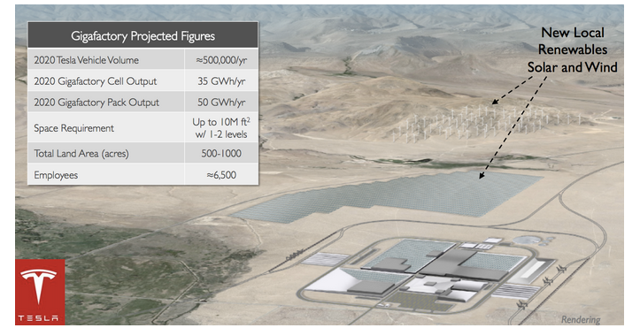 Source: teslamotors.com
What This Means For Tesla
If Tesla were to execute perfectly on its Gigafactory ambitions, the company could almost single-handedly change the electric power industry, which would also make it the single largest beneficiary of this revolutionary change (apart from SolarCity). Tesla's synergistic relationship with SolarCity would only speed up the transition from the electric utility model to the distributed generation model.
If such a paradigm shift of this magnitude were to occur in the utilities industry, Tesla's battery business could be worth multiples of its electric car business. The energy sector is one the of largest industries in the U.S., so leading the charge of an electric power industry paradigm shift would be hugely profitable for Tesla. In addition, Tesla's batteries would have virtual monopolistic control in the electric-storage market, given the company's huge first-mover advantage in the form of the Gigafactory. No other company in the world is even close to Tesla's battery ambitions, which would result in the future electric storage business going almost exclusively to Tesla.
Furthermore, if Tesla can successfully integrate its battery technology into distributed solar, this would makes worries about demand for Tesla's batteries irrelevant, as there will essentially be infinite demand in the form of residential/commercial energy storage. Tesla would also become more of a battery company than an electric car company, just by pure volume alone if the scenario of the battery/solar union occurs. The current electric power industry is huge, producing approximately $2 trillion worth of electricity every year. If Tesla can take a significant piece of that trillion dollar pie, its valuation could skyrocket.
Risks
The main risk that could derail all of Tesla's grandiose plans is that the company simply cannot hit its battery cost reduction target of 30%. This is highly unlikely though, as economies of scale (i.e. logistics) alone would probably account for the entire 30% cost reduction. This is not factoring in the natural battery innovations that would take place between now and factory completion. Musk has also stated that he expects actual battery cost reduction to be in the neighborhood of a whopping 50%, which is more than enough to fulfill Tesla's ambitions.
Another potential risk is that a superior battery technology could emerge during the Gigafactory's construction timeframe. Although this possibility may seem potentially devastating to Tesla's Gigafactory plans, the chance of this happening is extremely slim, and even if this were to happen, Musk has stated that the factory could be easily be restructured for new technologies.
Conclusion
Tesla's market capitalization of $25 billion may appear grossly overvalued, given its Q3 GAAP revenue of $852 million, but its Gigafactory alone could justify its valuation. In fact, if everything goes according to Tesla's plan, its current valuation of $25 billion seems ridiculously undervalued.
While the death of utilities in the near-term future may seem too fantastical to be taken seriously, a simple extrapolation of solar's growth trend in concert with Tesla's battery roadmap makes a great case for this exact scenario. Tesla's valuation lives and dies by the company's perceived future potential. Because of this, the company has great upside at current levels, as most investors have severely underestimated the Gigafactory's coming impact outside of the electric car industry.
Disclosure: The author is long SCTY.
The author wrote this article themselves, and it expresses their own opinions. The author is not receiving compensation for it (other than from Seeking Alpha). The author has no business relationship with any company whose stock is mentioned in this article.