A "Falling Knife"
The massive sell-off in the Oil & Gas Sector on "Black Friday" (November 28, 2014), the day after OPEC's decision not to cut production volumes, failed to provide even a temporary trading support for the stocks. After a short-lived bounce, share prices continue to feel like the proverbial "falling knife."
The pattern of the decline has not changed in the past two weeks. Leading on the way down are small- and mid-capitalization stocks, both in the E&P and Oil Service categories. The only visible change is the accelerated decline by E&P MLPs (which is not particularly surprising, given the previously stratospheric and difficult to rationalize valuations) and Gas Independents (in response to the drop in natural gas prices). These two groups had held up reasonably well during the earlier stages of the correction.
The performance by each group since Black Friday is shown on the graph below. (Stock-by-stock performance metrics for the ~125 stocks in my ad-hoc survey universe are shown in spreadsheets at the end of this note.)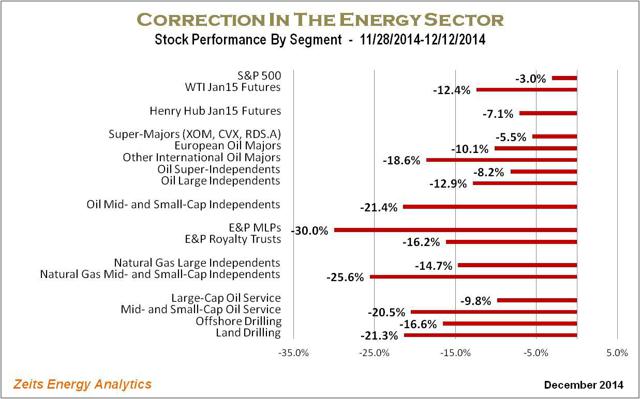 (Source: Zeits Energy Analytics, December 2014)
The magnitude of stock price declines in this correction is particularly visible when measured on a peak-to-current basis. Mid- and small-capitalization stocks remain the worst performing groups, now trading at an average discount to each individual stock's recent peak price of 55%-60%, a staggering decline. Large-capitalization E&P independents and large-capitalization oil service stocks are doing somewhat better, trading at a ~33%-43% average discount to recent peak prices. This compares to a ~43% peak-to-current decline in the price of the January 2015 Nymex WTI contract and ~22% peak-to-current decline in the price of the January 2015 Nymex Henry Hub contract.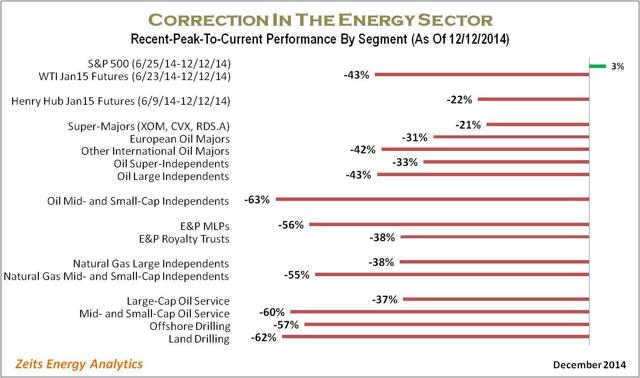 (Source: Zeits Energy Analytics, December 2014)
It is important to note that the deep declines among Oil & Gas stocks are not limited to just a handful of over-levered small-capitalization stocks or stocks with portfolios of marginal asset. The correction is truly wide-spread. Many larger, well-established operators have been impacted severely. The following list of recent-peak-to-current moves illustrates the point:
Statoil (STO): - 48%
Continental Resources (NYSE:CLR): - 60%
Whiting Petroleum (NYSE:WLL): - 70%
Oasis Petroleum (NYSE:OAS): - 79%
Halcon Resources (NYSE:HK): - 73%
Laredo Petroleum (NYSE:LPI): - 75%
SM Energy (NYSE:SM): - 65%
WPX Energy (NYSE:WPX): - 60%
Transocean (NYSE:RIG): - 63%
Patterson-UTI (NASDAQ:PTEN): - 62%
One could continue this list further.
There are also examples of stocks that stand out in terms of their relative outperformance versus peers. Following are some examples:
While idiosyncratic factors may explain differences in individual stock performance, the very wide differentiation between the two lists shown above raises a question with regard to how rational are valuations within the sector at the moment and whether some convergence in performance is likely to occur in the near future.
Are Super-Majors' Stock Prices A Risk?
Exxon Mobil (NYSE:XOM) remains in a class of its own in terms of stock price resilience throughout this correction. Exxon's 16% recent-peak-to-trough decline is the shallowest among Oil Majors, many of which have lost 23% to 37% from their peaks.
Again, this raises a natural question of whether such differentiated performance is rational and whether the performance gap can be sustained. A similar question relates to the other two Super-Majors, Chevron (NYSE:CVX) and Royal Dutch Shell (NYSE:RDS.A), both of which have declined 23% from their recent peaks, still an excellent outcome relative to other Oil Majors and other stock groups in the sector.
As a reminder, the combined $0.9 trillion market capitalization of thee three Super-Majors is comparable to the combined capitalization of all small-, mid- and large-capitalization E&P stocks in my sample universe. A correction in the prices of these three stocks, if it occurred, could have a visible impact on broader equity indices and general market sentiment.
From a fundamental perspective, the Super-majors are characterized by very low financial leverage, high proportion of production sharing contracts ("PSAs") that reduces sensitivity to the price of oil, and the presence of downstream assets in their portfolios which offsets the financial impact from the oil price decline in the short term.
Having said that, Super-Majors are strongly exposed to the long-term oil price fundamentals as they are dependent on the economic viability of multi-billion megaprojects for sustaining their businesses and competitive advantage. If the market's primary fear that caused this correction is that the ~$100 per barrel price of oil - that the industry enjoyed in the past five years - is not sustainable and a substantially lower average price will prevail from now on, the Super-majors' perceived valuations cannot be immune.
Oil Price In A Free Fall
The rate of oil price decline showed no signs of subsiding in the past two weeks. It is important to note, however, that in this regard the current correction is no different from the "free fall" trajectories that were observed during the oil price mega-correction during the financial crisis of 2008 and a shallower, but still significant, correction in 2012.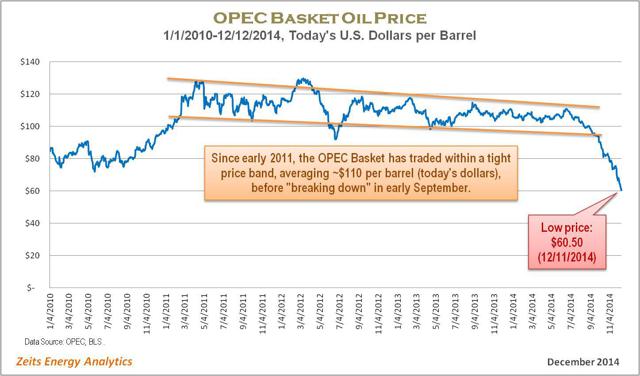 (Source: Zeits Energy Analytics, December 2014)
Will There Be A Relief?
As the experience of the past two weeks shows, the Oil & Gas stocks appear to be in an "oversold" condition (judging by spontaneous and sometimes very powerful bounces, similar to the one we saw on December 9).
Unfortunately, it is difficult to expect a major and sustained recovery in Oil & Gas stock prices unless the market's confidence in the stabilization and eventual increase in oil prices is restored. While predicting the exact trajectory of the price of oil is a futile task, I would not rule out a scenario where it may take up to several months for the supply/demand balance in the market to be re-established. In the meantime, oil price may remain depressed and highly volatile. (Seeking Alpha: Is This The End Of The 'Shale Oil Bubble?' Or the beginning?)
While many investors may take a view that the price of oil at its current sub-$60 level is not sustainable in the long term, an important question that would still require an answer is whether we are dealing with a transitory downcycle that will soon correct itself or a change in fundamentals that may leave North American shale plays in a marginal position in terms of cost of supply.
My personal view is that the former is the most likely scenario. Global demand for oil and gas is growing at a steady pace and one might argue that in the absence of the amazing success of the shale oil technology in the U.S. and Canada global producers would be challenged to supply the market at today's level. Even with the explosive growth of North American onshore oil and liquids production, the price of oil averaged ~$110 per barrel in the past four years (OPEC Basket price in today's dollars, as shown on the graph above).
While a recovery in the price of oil from its current level is, in my opinion, almost inevitable, a more difficult question is what average future oil price would be sufficient to stimulate adequate supply. Obviously, E&P stock valuations would differ dramatically if the answer to that question is $75 per barrel or $110 per barrel. If, for illustration, the correct answer is $75 per barrel, many stocks may still see a meaningful recovery from their currently depressed levels, but 2014 peak prices may prove to be unachievable. If, on the other hand, the upcycle proves to be much stronger, 2014 peak prices may be surpassed in many cases.
Given that global demand for oil is characterized by low elasticity, answering this question is challenging. The trajectory of global economic growth in the next two years could easily define the difference between the $75 per barrel and $110 per barrel outcomes.
Correction Scorecards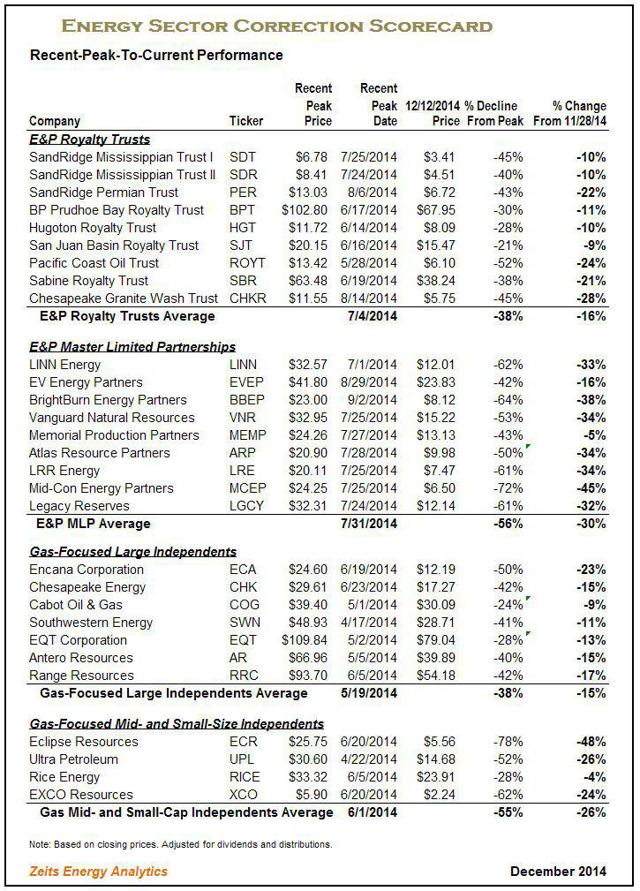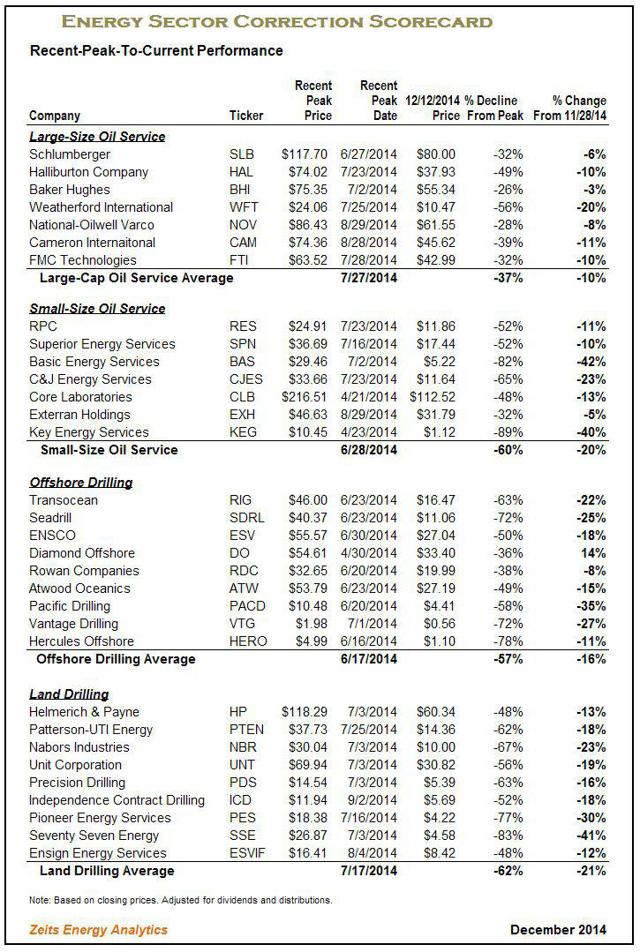 (Source: Zeits Energy Analytics, December 2014)
Disclaimer: Opinions expressed herein by the author are not an investment recommendation and are not meant to be relied upon in investment decisions. The author is not acting in an investment advisor capacity. This is not an investment research report. The author's opinions expressed herein address only select aspects of potential investment in securities of the companies mentioned and cannot be a substitute for comprehensive investment analysis. Any analysis presented herein is illustrative in nature, limited in scope, based on an incomplete set of information, and has limitations to its accuracy. The author recommends that potential and existing investors conduct thorough investment research of their own, including detailed review of the companies' SEC filings, and consult a qualified investment advisor. The information upon which this material is based was obtained from sources believed to be reliable, but has not been independently verified. Therefore, the author cannot guarantee its accuracy. Any opinions or estimates constitute the author's best judgment as of the date of publication, and are subject to change without notice.
Disclosure: The author has no positions in any stocks mentioned, and no plans to initiate any positions within the next 72 hours.
The author wrote this article themselves, and it expresses their own opinions. The author is not receiving compensation for it (other than from Seeking Alpha). The author has no business relationship with any company whose stock is mentioned in this article.