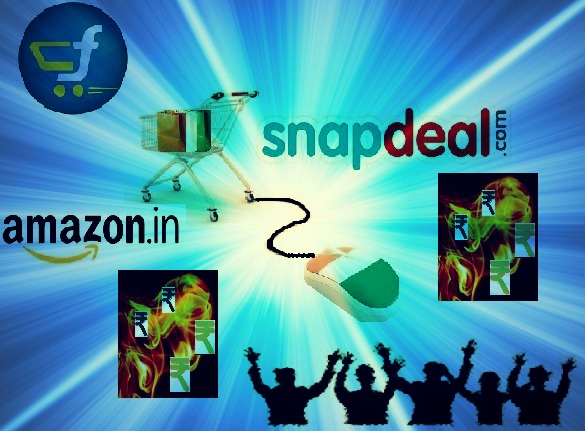 One of the most hotly debated topics in India these days is how to invest in the Indian e-tailing space, especially after Alibaba's (NYSE:BABA) successful listing on the NYSE. The brightest minds are scanning investment opportunities as global investors are looking to get a piece of the Indian e-tailing space. The preferred destination for the smartest money (PE/VC) is confined to the top three players - Flipkart, Amazon (NASDAQ:AMZN) and Snapdeal.
The poster boy of Indian e-tailing, Flipkart, announced investments of $1 billion this July. That roughly values the largest Indian online retailer at $7 billion. Its valuation is multiplying with each passing quarter; as late as May this year, news reports valued Flipkart at around $2.5-3 billion while the latest round of funding in November suggests a $10 billion valuation. Merely a day after Flipkart's official announcement of $1 billion fund raiser, the e-tailing Goliath, Amazon announced a $2 billion investment into its Indian arm. Meanwhile, Snapdeal roped in Japan's Softbank as its largest investor which valued the venture at $2 billion. The investment arm of the government of Singapore, the legendary Ratan Tata & Azim Premji and the world's largest asset manager BlackRock are some of the recent investors that Snapdeal attracted this year. And recently Jack Ma met with Snapdeal's founder during his India visit and speculation grew that Snapdeal had added another feather in its cap, but there was no official announcement from either party.
Update: Flipkart recently raised $700 million at a valuation of around $11-$12 billion. To provide some perspective, at current valuation Flipkart is larger than Dabur India ($6.5b) and Godrej Consumers ($5b) combined together and almost equivalent to Bajaj Auto, Asian Paints and UltraTech Cement. While Bajaj Auto reported total sales of ₹20,800 cr and a net profit of ₹3,240 cr, Flipkart reported a loss of ₹644 cr with total turnover of ₹1,163 cr in 2012-2013 according to documents filed with the Singapore Government, where its holding entity is registered.
The fad of burning cash called 'discounts'
India doesn't permit Foreign Direct Investments in e-commerce companies that sell products directly to consumers, but it allows them to establish marketplaces to connect customers with sellers. Neither of the three players hold inventories on their books and hence, they cannot exercise product pricing strategies on behalf of their sellers, at least not legally. But they circumvent the regulations and indirectly fund the discounts. A news report explained how exactly this works. For a product priced ₹100 when sold for a discount of 40% by a seller on one of these portals, the online retailer will collect ₹60 from the customer and pass it on to the seller after taking its own margin. Then, the online retailer will also give the seller an additional amount to account for the discount offered by the seller, which could be ₹40 or less. At the end of a certain period, sellers will send a debit note to the online retailer titled "promotional funding". This note contains the amount of discount that the seller gave on all products sold on their site.
The so-called "promotional funding" might be a great marketing activity to attract new customers, but how often can one practice it? The discount given directly impacts the bottom line. The never-ending rounds of financing and exponentially growing valuations of their ventures have compelled the founders to believe that this is indeed the best way to burn cash rapidly. Amazon seems to have mastered this art of burning cash. If one looks at the chart below, it highlights the point succinctly. Exponentially growing revenues and an almost flat bottom line not for quarters but for decades. Flipkart, whose founders are ex-Amazon employees, seems to have genetically inherited this trait of burning cash.
In a recent interview in India, one of the earliest investors in Alibaba, Masayoshi Son, said he believed that Snapdeal can become India's Alibaba. But as per media reports, Snapdeal too gave in to peer pressure. During their buy one, get one promotional offer, it paid the sellers for the second product while charging its commission only on one item. Alibaba apparently seems to have charted a different course than Amazon and has grown both revenues and profits exponentially. It might be too early to compare Snapdeal with Alibaba, but the billionaire Masayoshi Son's move of placing industry veteran and the former highest paid Google executive (Nikesh Arora) on Snapdeal's board might be a smart move.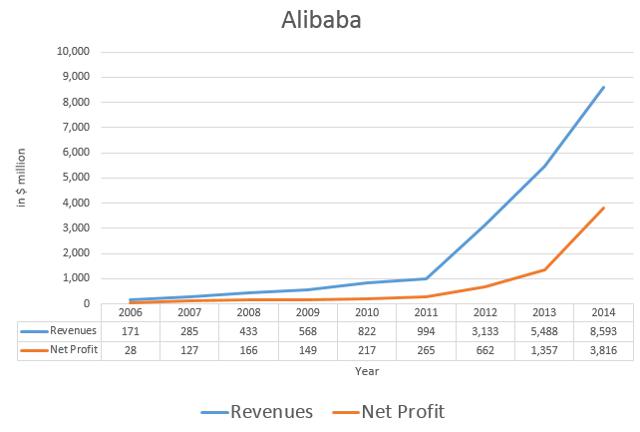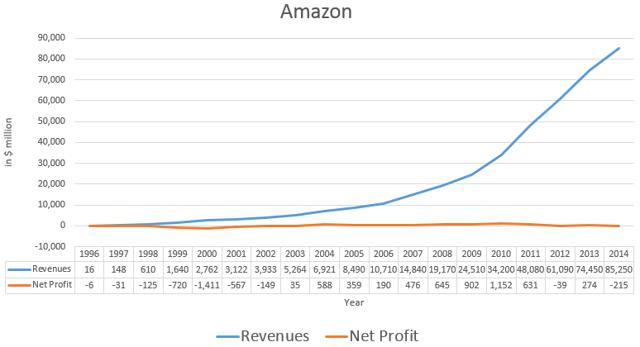 The curious case of Amazon's valuation
Amazon's stock has performed well. In five years from 2008 to 2013, the stock has octupled and handsomely outperformed the markets. Much of the outperformance had been attributed to the stupendous revenue growth that the company witnessed in those years, as highlighted in the graph above. Founder Jeff Bezos's visionary ideas and his ability to put his money where his mouth is has wooed investors. However, substantial profit margins were always elusive for investors and they have to be content only with revenue growth rates.
Amazon reported a loss for the last quarter and its forward P/E is expected to be roughly 370 as per Yahoo Finance. With annual sales of $85 billion, Amazon commands a market capitalization of around $150 billion, while Alibaba, with revenues of $9 billion, had a market capitalization of around $300 billion at a forward P/E of 35. Prof. Damodaran argued that the markets have been extraordinarily forgiving of Amazon's long loss-making history and had given Jeff Bezos enough breaks that very few companies have received through time. However, with moderating revenue growth and a lack of profitability indicators, investors seems to be fleeing Amazon this year at last, if the graph below in any indicator. The stock has underperformed the broad markets by over 35% YTD.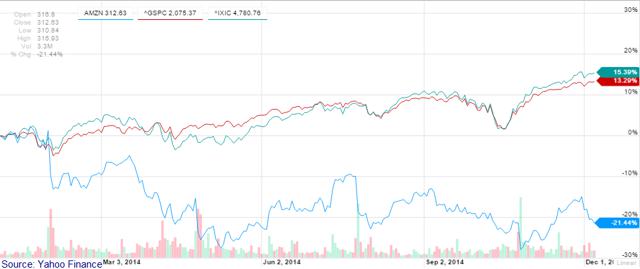 Concluding Remarks
India is still nascent in the e-tailing space and its growth prospects are very promising. But India has its own set of challenges it must face in order for its e-tailing space to foster. A recent PwC report highlights that logistics and infrastructure are the backbone for e-tailing; you need bricks behind those clicks and in India these are the weakest links. Logistics management has always been challenging in India given its geographical diversity, subpar infrastructure and differing taxation regimes across states. Most of the third-party logistics (3PL) providers are either regional players or have limited presence in tier-3 cities. India has over 35,000 pin (postal index number) codes and most of the 3PLs are unable to cover even 10,000 pin codes of the country.
Unfortunately, India's infrastructure will not grow as exponentially as the valuation of Flipkart. Rather, an interesting candidate to look out for is India Post, which is truly pan-India and is also deemed to become a full-fledged bank in the future, an ideal strategic partner for all e-tailers.
A Technopak analysis highlights the share split of ₹100 of revenue earned by an e-tailer in steady state (as below). Similar studies in developed markets have highlighted a single-digit revenue share for e-tailers.
The case for investing in e-tailers shall be put to rest after seeing the value chain for a steady-state e-tailing market. Indeed, India is far from being a steady-state market and hence, the case is even more straightforward. Even to extract 3% of ₹100 revenues, the e-tailers would have to splurge to get noticed and get eyeballs trained on their websites. Why would someone invest in such companies at lofty valuations when investing clearly means sponsoring their splurge to extract a miniscule margin?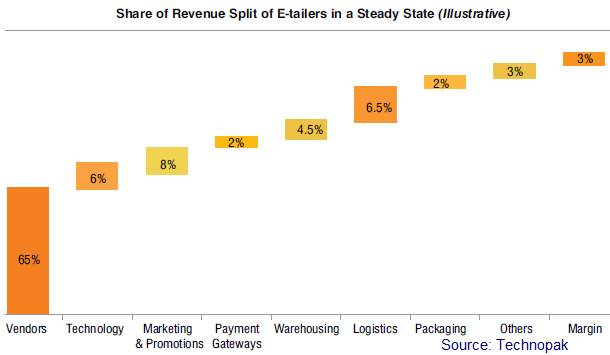 Disclosure: The author has no positions in any stocks mentioned, and no plans to initiate any positions within the next 72 hours.
The author wrote this article themselves, and it expresses their own opinions. The author is not receiving compensation for it (other than from Seeking Alpha). The author has no business relationship with any company whose stock is mentioned in this article.