The U.S. dollar continued its uptrend as consumer confidence increased on low inflation expectations and cheap borrowing rates. PowerShares DB US Dollar Index Bullish (NYSEARCA:UUP) is up over 10% since July as consumers' outlooks have brightened.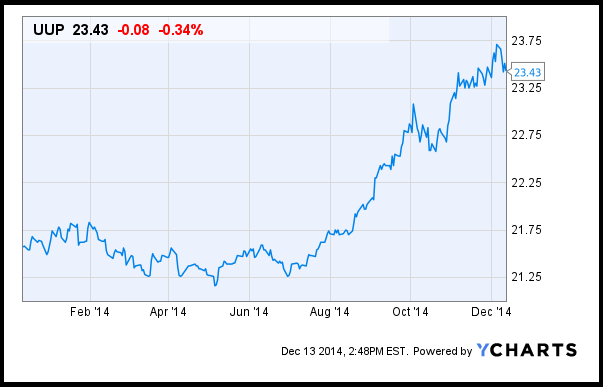 Consumer confidence in December reached five-year highs as the surrounding economy continues to improve. On Friday, the Reuters/Michigan Consumer Sentiment figure came in at 93.8, above the previous month's figure of 88.8, as well as significantly exceeding estimates for 89.5. The figure has accelerated its pace higher during the second half of 2014, as is seen in the chart below. Falling energy costs, alongside a firming labor market, have translated into increased consumer confidence and retail spending.
"U.S. consumers also saw sharp drops in gasoline prices as a shot in the arm, and the survey added heft to strong November retail sales data that has showed Americans getting into the holiday shopping season with gusto.

The data bolsters the view that the U.S. economy is turning a corner and that worker wages could begin to rise more quickly, laying the groundwork for the Federal Reserve to begin hiking its benchmark interest rate to keep inflation from eventually rising above the Fed's 2% target," according to a report by Reuters.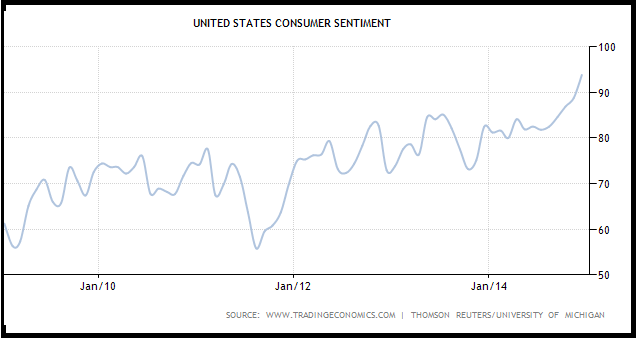 Data provided by Trading Economics
Falling inflation expectations have also been responsible for creating more disposable income for U.S. consumers, pushing up sentiment and spending. In the chart below, the ratio of iShares Barclays TIPS Bond (NYSEARCA:TIP) over iShares Barclays 7-10 Year Treasury (NYSEARCA:IEF) is constructed to convey inflation expectations. When the ratio declines, it signals that consumers are not hedging for higher inflation rates in the future, indicating weaker inflation expectation. As is seen, since late July, the indicator has strongly trended lower. This correlates to the time when energy prices began its drastic decline. For this reason, Fed officials believe that low inflation is due to transitory factors, and doesn't accurately portray the true strength of the economy.
"Fed officials largely view the current low inflation environment as transitory and believe the likelihood of inflation running persistently below the U.S. central bank's 2% target has diminished somewhat since early this year."
The drop in gasoline prices, for example, could prove temporary. Moreover, cheaper gas helps the economy by letting families spend more on other things and early data on retail spending in November has pointed to strengthening consumer demand," according to a report by CNBC.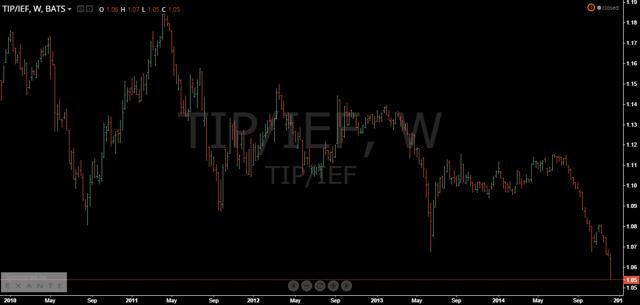 Data provided by Trading View
While inflation has run below central bank expectations, interest rates remained low, providing cheap borrowing rates for consumers. iShares Barclays 20+ Year Treas Bond (NYSEARCA:TLT) has risen over 24% this year, suppressing long-dated interest rates. While interest rates are expected to rise over the next year, or two, the low current levels are aiding purchases of homes, and other large, financed goods.
With falling inflation expectations leading to a higher level of disposable income, and low interest rates allowing for cheap borrowing, consumer sentiment broadly rose the last few months. While low inflation doesn't necessarily convey the true health of the U.S. economy, increasing consumer data could push the dollar higher in coming months.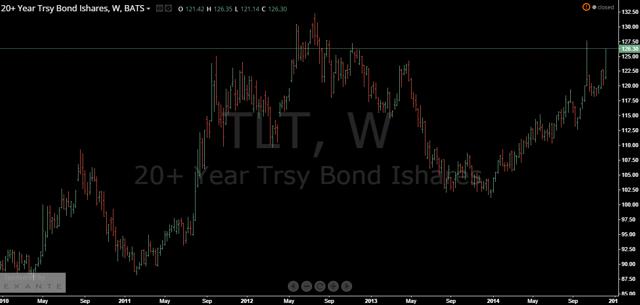 Data provided by Trading View
Disclosure: The author has no positions in any stocks mentioned, and no plans to initiate any positions within the next 72 hours.
The author wrote this article themselves, and it expresses their own opinions. The author is not receiving compensation for it (other than from Seeking Alpha). The author has no business relationship with any company whose stock is mentioned in this article.