By Stuart McPhee
AUD/USD for Monday, December 15, 2014
The Australian dollar has a experienced a bad last month moving from resistance around 0.88 down to multi year lows below 0.8250 in the last few days. Over the last week the Australian dollar was able to halt the strong decline a little allowing it to consolidate and establish a narrow range below 0.83. It is presently receiving some much needed support around 0.8250 as it appears to have its eyes firmly fixed on the 0.80 level. A few weeks ago it enjoyed some temporary support from 0.85, however this eventually gave way to overwhelming supply. To start that week it rallied back above 0.8650 again before falling lower throughout the rest of the week. In the week prior the Australian dollar was able to rally higher and bounce off multi year lows around 0.8550 and in doing so move back within the previously well established trading range between 0.8650 and 0.88 however it all seems some distance away now.
For a couple of months from September through to November, the Australian dollar did well to stop the bleeding and trade within a range between 0.8650 and 0.88 after experiencing a sharp decline throughout September which saw it move from close to 0.94 down to below 0.8650. Back at the beginning of September the Australian dollar showed some positive signs as it surged higher again bouncing off support below 0.93 and reaching a new four week high around 0.94 however that all now seems a distant memory. The Australian dollar reached a three week high just shy of 0.9480 at the end of July after it enjoyed a solid period which saw it surge higher through the resistance level at 0.9425 to the three week around 0.9480, before easing back towards that level. The Australian dollar enjoyed a solid surge higher reaching a new eight month high above 0.95 at the end of June, only to return most of its gains in very quick time to finish out that week. Since the middle of June the Australian dollar has made repeated attempts to break through the resistance level around 0.9425, however despite its best efforts it was rejected every time as the key level continued to stand tall, even though it has allowed the small excursion to above 0.95.
After the Australian dollar had enjoyed a solid surge in the first couple of weeks of June which returned it to the resistance level around 0.9425, it then fell sharply away from this level back to a one week low around 0.9330 before rallying higher yet again. Its recent surge higher to the resistance level around 0.9425 was after spending a couple of weeks at the end of May trading near and finding support at 0.9220. Throughout April and into May the Australian dollar drifted lower from resistance just below 0.95 after reaching a six month high in that area and down to the recent key level at 0.93 before falling lower. During this similar period the 0.93 level has become very significant as it has provided stiff resistance for some time. The Australian dollar appeared to be well settled around 0.93 which has illustrated the strong resurgence it has experienced throughout this year.
Reserve Bank of Australia Governor Glenn Stevens indicated the nation's currency will probably decline further next year and pushed back against calls for near-term interest rate cuts because the economy is performing as the central bank forecast. "I don't think we see many people at all saying 'look, the cost of money is too high, or I can't get money,'" Stevens said in an interview with the Australian Financial Review published today. "I don't think that's really the problem now." Stevens said Australian inflation, economic growth and employment levels are running close to rates the RBA predicted a year ago, according to the paper. He said the central bank has tried to deliver a message of "stability and predictability" in setting monetary policy as a way of underpinning confidence.
(Daily chart / 4 hourly chart below)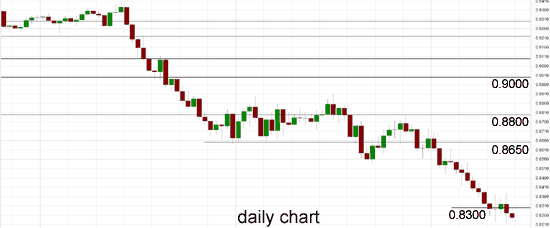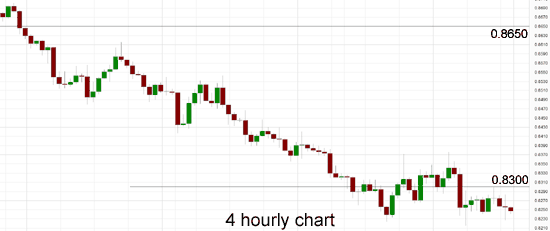 AUD/USD December 14 at 21:50 GMT 0.8247 H: 0.8298 L: 0.8227
AUD/USD Technical
| | | | | | |
| --- | --- | --- | --- | --- | --- |
| S3 | S2 | S1 | R1 | R2 | R3 |
| 0.8250 | — | — | 0.8650 | 0.8800 | 0.9000 |
During the early hours of the Asian trading session on Monday, the AUD/USD is resting on support around 0.8250 after dropping sharply from around 0.8370. Current range: trading right around 0.8250.
Further levels in both directions:
• Below: 0.8250.
• Above: 0.8650, 0.8800, and 0.9000.
OANDA's Open Position Ratios
(Shows the ratio of long vs. short positions held for the AUD/USD among all OANDA clients. The left percentage (blue) shows long positions; the right percentage (orange) shows short positions.)
The long position ratio for the AUD/USD has edged higher again up towards 70% as the Australian dollar has dropped to another multi-year low below 0.8250. The trader sentiment remains in favour of long positions.
Economic Releases
00:01 UK Rightmove House Price Index (Dec)
00:30 AU New motor vehicle sales (Nov)
00:30 AU RBA minutes released
13:30 US Empire State Survey (Dec)
14:15 US Capacity utilisation (Nov)
14:15 US Industrial production (Nov)
15:00 US NAHB Builders survey (Dec)
21:00 US Net Long-term TICS Flows (Oct)
EU EU Foreign Ministers Hold Meeting in Brussels
* All release times are GMT