With oil prices falling recently, the markets have been on edge. The recent pullback has hit a variety of names, including Apple (NASDAQ:AAPL), which is about $10 off its 52-week and all-time high. More money in consumers' pockets would certainly appear to be a good thing for Apple, so this pullback may be one worth considering. In this article, I detail a few key reasons why.
Lower Implied Expectations
Last week, I detailed how I was starting to worry slightly that analyst estimates were rising too much. With revenue estimates reaching the top end of Apple's guidance, it could be hard for Apple to beat, especially if there are iPhone supply constraints. No matter how many people want the new larger screen iPhones, it won't do any good if Apple can't produce enough. If analyst estimates get too high, I'd be really worried going into the January earnings report.
For the moment, analyst estimates have stopped rising, and I think that's a good thing. Additionally, the stock has come well off its all-time highs, and is down almost $5 since my article last week. With a lower stock price, investor expectations will come down a bit. If Apple shares were still near $120, everyone would be demanding the moon from the company. But with shares under $110, as of Friday's close, there's a little more wiggle room. Apple doesn't have to be completely perfect at these levels.
A Rising Dividend Yield
When a dividend paying stock sees its price go down, the annual dividend yield rises. While that seems rather obvious, new investors may be looking at the income potential of Apple shares. In the chart below, you can see Apple's daily closing dividend yield since the end of the third quarter, with some of the days adjusted for the paid dividend during this quarter.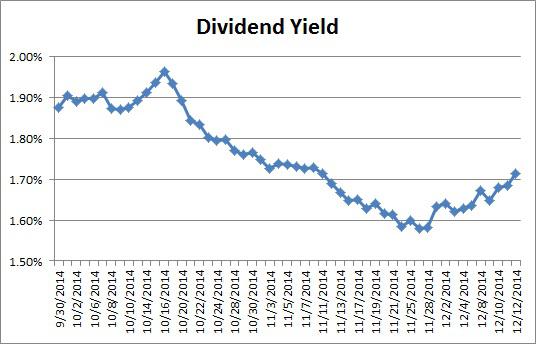 As of Friday's close, Apple's annual yield was a little above 1.71%. While that's not a tremendously high number, it still is about 20 basis points more than a five-year U.S. Treasury at the moment. A couple of weeks ago, Apple's dividend yield bottomed at around 1.58%, so the yield is up 13 basis points since then. A little extra income is always good for investors.
Additionally, the current yield assumes Apple will pay the same dividend rate over the next year. The company has already paid three dividends at a $0.47 quarterly rate, when you adjust the one $3.29 payment that was made before the 7-for-1 split. This means the company is likely to pay that rate once more before possibly raising the dividend. For this argument, let's assume Apple raises its yearly payout from $1.88 to $2.00. That means that over the next 12 months, investors would receive $1.97 in total dividends, meaning the yield based on Friday's close would be 1.80%. That seems a little better, doesn't it?
An Improving Valuation
With Apple shares coming down, and fiscal 2015 estimates rising, the valuation has improved. In the table below, I've compared Apple's current fiscal year to the most comparable fiscal year for other technology names, including Microsoft (NASDAQ:MSFT), Google (NASDAQ:GOOG) (NASDAQ:GOOGL), Intel (NASDAQ:INTC) and Cisco Systems (NASDAQ:CSCO).

*EPS growth and P/E are non-GAAP.
When you convert Cisco's P/E to GAAP, to make it a more meaningful comparison, Apple trades at the lowest price to earnings multiple. That's quite interesting, considering how Apple is projected for quite a bit of growth in the current fiscal year. This makes the stock an intriguing one at the moment, as investors are always looking for growth at a reasonable price. With Apple, you do get a smaller dividend, but the company is also buying back a large amount of stock currently.
Finding Technical Support
With the pullback in shares, Apple is nearing a key technical level - the 50-day moving average. At Friday's close, the stock was still about a dollar above the 50-day, but that gap could be narrowed very quickly. There are a number of investors that consider this moving average to be a level of support. You can see in the chart below how Apple shares have only traded below this line once in the past six months, and it wasn't for very long.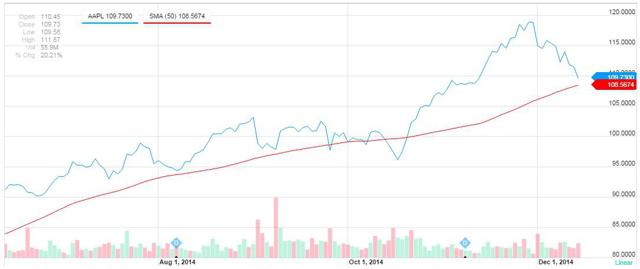 Source: Yahoo! Finance
Final Thoughts
Apple shares have pulled back with the market recently, and that makes the stock one investors should strongly consider. Not only are investors getting a higher dividend yield at this point, but the valuation has improved in recent weeks. Shares are close to finding technical support at the 50-day moving average and a lower price will help keep expectations in check. With Apple expected to produce a monster holiday quarter, this pullback may be just what investors were hoping for.
Disclosure: The author has no positions in any stocks mentioned, and no plans to initiate any positions within the next 72 hours.
The author wrote this article themselves, and it expresses their own opinions. The author is not receiving compensation for it (other than from Seeking Alpha). The author has no business relationship with any company whose stock is mentioned in this article.
Additional disclosure: Investors are always reminded that before making any investment, you should do your own proper due diligence on any name directly or indirectly mentioned in this article. Investors should also consider seeking advice from a broker or financial adviser before making any investment decisions. Any material in this article should be considered general information, and not relied on as a formal investment recommendation.