The North Dakota Industrial Commission ("NDIC") recently published its Bakken Monthly Oil Production Statistics covering the month of October, 2014. As shown below, Bakken production was down 1,598 bpd to 1,118,010 bpd: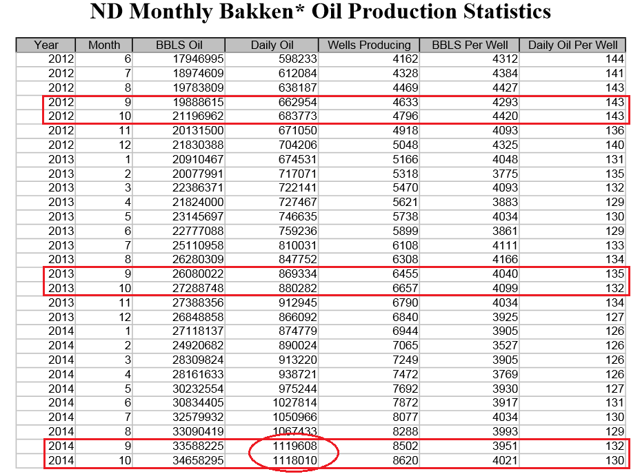 This is not a seasonal or completion timing aberration, it's real. I say this because if we go back and look at the Sept/Oct change for 2012 and 2013 (highlighted in red boxes above) we see:
2012: an increase of 20,819 bpd Sept/Oct
2013: an increase of 10,948 bpd Sept/Oct
So while the rate of Bakken production growth as a percentage of overall production has been slowing for some time now (i.e. the "law of large numbers") the fact that production decreased month-over-month is significant. The reason? Realized prices - and not just low worldwide or WTI oil prices - specifically, much lower Bakken pricing.
Bakken Pricing Tanks
According to the NDIC Department of Mineral Resources Director Lynn Helms' most recent report , Bakken sweet crude (one of the highest quality crude oils on the planet) has dropped from $74.85/bbl in Sept pretty much straight down to a recent wellhead price of only $41.75:

So while many Bakken producers have no doubt taken out insurance by hedging production, this is obviously a big price swoon to deal with, and a huge $16 discount (27%) to WTI's close last Friday of $57.81.
As I described in my article The Eagle Ford Advantage: Location, Transportation, and Low F&D Costs, all shale plays are not created equal and there is more to an IRR equation than simply drilling & completions ("D&C") costs and estimated ultimate recoveries ("EURs"). For the Bakken producers a big part of the equation is transportation costs - much of the capacity being transported now is done by rail as opposed to pipelines. A recent report estimates rail costs are now as much as $5-$10/bbl higher than pipeline costs.
Pipelines
Lack of adequate pipeline transport capacity might last for awhile. Enterprise Products Partners (NYSE:EPD) recently scuttled its plans to build a crude pipeline from North Dakota to the storage hub in Cushing, Oklahoma. Enterprise said it wouldn't build the 1,200-mile, 340,000 bpd pipeline because too few shippers had signed up to support it. Seriously though, does Cushing really need more supply headed its way? Last I knew, there were no refineries in Cushing.
A much better plan was unveiled in October by Energy Transfer Equity (NYSE:ETE), Energy Transfer Partners (NYSE:ETP), and Phillips 66 (NYSE:PSX). These companies announced that they have formed two joint ventures to develop the previously announced Dakota Access Pipeline (DAPL) and Energy Transfer Crude Oil Pipeline (ETCOP) projects. Energy Transfer affiliates will hold a 75% interest in each joint venture and will operate both pipeline systems. Phillips 66 has a 25% stake and will fund its proportionate share of the construction costs. The DAPL and ETCOP projects are expected to begin commercial operations in Q4 of 2016.
Source: Energy Transfer
This is yet another very strategic move by PSX. I'll quote Phillips 66 CEO and Chairman Greg Garland from the Seeking Alpha Q3 conference call transcript:
Collectively, DAPL and ETCOP will have the capacity to move around 450,000 barrels a day of crude from North Dakota to market centers in the Midwest and the Gulf Coast. ETCOP will collect directly to our Beaumont terminal that we recently acquired. We did close on the Beaumont terminal this quarter. We bought this asset for what I can be. It has a great footprint, has a great location, great employees, and in our view, tremendous value creation opportunity. So we are very excited about this asset.
Garland goes on to say that the Beaumont terminal currently has 7 million barrels of storage and PSX sees an opportunity to expand this to 12 million barrels. Beaumont gives PSX deepwater access and the capability to export crude and products of 600,000 bpd - more than doubling the company's current capacity. The terminal integrates very nicely with PSX's midstream growth plans and also provides its Louisiana refineries with increased access to advantaged crudes.
This is another reason why I believe PSX is one of the best ways to invest in "Shale USA" - that is, not so much the producers, but a transporter, processor, and exporter that can use low-cost feedstock and generate higher margin products (see Phillips 66: Making All The Right Moves And A Screaming BUY).
New Stabilization Regulations
On December 9th, the NDIC issued an order for Bakken crude to be stabilized in order to enhance train safety. State officials plan to conduct field inspections to enforce the Order. Violations carry a penalty of up to $12,500 per day. The Order will take effect on April 1. State Mineral Resources Director Lynn Helms said:
This will significantly change the characteristics of [North Dakota] crude oil that's going into market. It will meet the stable crude oil standard.
Yes it will - but there is obviously an additional cost for the stabilization treatment and eventually that will reflect back onto the producers.
Put it all together and you have had a veritable tsunami for Bakken oil producers. Two of the biggest Bakken producers - Whiting Petroleum (NYSE:WLL) and Continental Resources (NYSE:CLR), have taken a pounding over the past 6 months with both down in the neighborhood of 60%: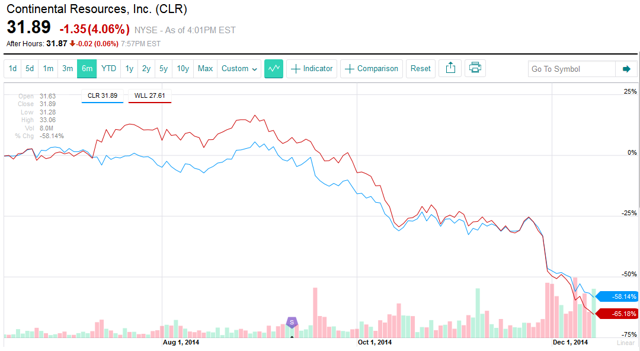 But all that is history. What is it we need to watch out for now? I have written in the past that I believe US shale oil production will prove to be quite elastic and adjust rather quickly to price movements. Considering the data shown above, I think the oil shale play to react the quickest (with downward production) will likely be the Bakken. Indeed, here is some additional data taken from Helms' Director's Cut report to consider:
Nov Permitting: 235 drilling and 1 seismic (down 28% Oct/Nov).
Well completions: 193(final) in September to 134(preliminary) in October (down 30%) - some of that due to meeting new gas flaring targets.
And significantly Helms' report said:
Rig count in the Williston Basin is set to fall rapidly during the first quarter of 2015. Utilization rate for rigs capable of 20,000+ feet is currently about 90%, and for shallow well rigs (7,000 feet or less) about 60%
(I added the italics emphasis).
Continental's Quandary
While the report does say there is a large inventory of wells waiting on completion (650, an increase of 40 month-over-month), the question is who is going to spend the money to complete these wells only to realize a price of $41.75/bbl? The answer is, those who are adequately hedged will likely complete their wells. That said, considering a large number of those wells awaiting completion are likely owned by the Bakken's largest producer, Continental Resources - and that company has monetized all its hedges.
The WSJ reported CLR reaped $433 million by selling the hedges, but the question is - how long will that last at $41.75/bbl when the company's Q3 quarterly production averaged 182,335 bpd of which ~121,000 boe was from the Bakken? Let's see, we'll estimate CLR's Bakken oil production at 110,000 bpd (roughly taking out the gas component from the boe figure, a conservative swag) and at a $16 discount... that's $1.7 million a day it is costing CLR assuming it would have otherwise been hedged evenly to WTI. Divide that into the $433 million and you've got ~250 days. Barring some kind of international conflict that boosts oil prices (soon), CLR's decision to take down the hedges will be seen as a mistake if this low-priced environment lasts longer than ~8.5 months or so. And yes, I realize it was likely hedged much higher than the current WTI price. But this exercise was simply an attempt to put some numbers on the current Bakken discount versus WTI to get a feel for how long the proceeds of taking down the hedges would get CLR to at least parity with WTI.
Meantime, Continental is taking prudent action. In a December presentation (available here), CLR said it is reducing planned 2015 capex by $600 million to remain flat as compared to 2014. That said, the company still sees production growth of 23-20%. But there is a problem: while production may indeed grow, using a slide from CLR's own presentation shows it certainly looks to be unprofitable growth - or perhaps breakeven at best - at the current $41.75 price: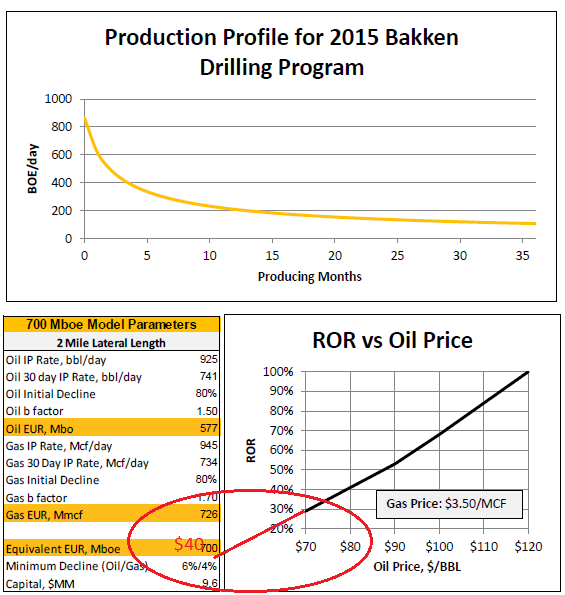 So Continental's quandary is: should they spend the money to complete wells when they know they will be marginally profitable (at best) and burn up perfectly good reserves for no profit? Or, do they hold off, let production drop, and hope for higher prices in the (nearer) future? I suspect the answer lies in a spreadsheet being analyzed at CLR right now that among other things is a very detailed look at currently producing wells, and their (high) depletion rates. It will be very interesting to watch CLR's production. Right now, considering their recent guidance, they apparently are of the frame of mind to keep production growing. I wonder how long that will last if Bakken crude stays around $41.75/bbl.
So, despite the near 60% drop in the stock over the last 6 months, I would not be a buyer of Continental Resources - at least not yet.
Going forward - keep a close eye on the NDIC's monthly production reports. Expect significant reductions in daily production. This may come sooner - and perhaps be larger - than most people expect. But I believe this will be the key factor in overall US shale production stats and prices going forward. A 1-200,000 bpd drop in Bakken production, in combination with marginal producers in the Permian, Eagle Ford, Niobrara, and multiple plays in Oklahoma dropping another 3-400,000 bpd would go a long way to firming up the price of oil. Only when this trend is established would I take a closer look at CLR.
Summary & Conclusion
As my recent article Saudi Arabia: Do The Math implied, there is somewhere around 600,000 bpd of excess global oil supply. That figure could be low as others are saying it is now closer to 1 million bpd. Regardless of the American shale plays, the biggest and quickest reaction to lower prices is likely to come from a significant drop in production from the Bakken for the reasons stated in this article. It will be the key to watch in terms of overall US daily production, and in turn, a likely rebound in prices. So, if you are an energy investor - keep your eyes peeled on the NDIC's monthly reports going forward. If you are a Continental Resources investor, there is likely nothing more important with the possible exception of its quarterly and yearly reserves reports (or any issued production guidance). For me, it's sad to watch what has happened to this leading US shale fracking company. The oil frackers have almost single-handedly pulled the US out of the 2008 recession and knocked OPEC for a loop. And this is the reward. One thing I do know: in the long-run, it makes little sense to grow production if that production is unprofitable.
| | |
| --- | --- |
| Market Cap: | $11.76B |
| P/E ("ttm"): | 11.87 |
| EPS ("ttm"): | $2.69 |
| Div & Yield: | N/A (N/A) |
Source: Yahoo finance.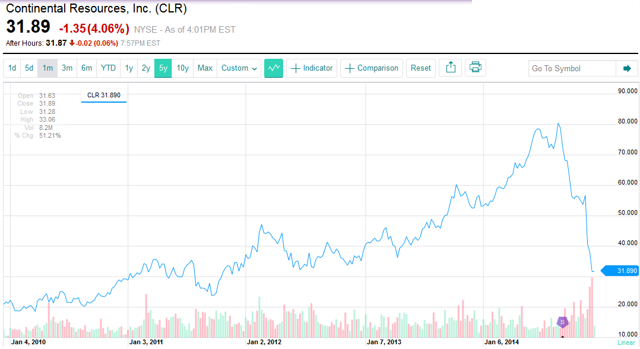 Disclosure: The author is long PSX.
The author wrote this article themselves, and it expresses their own opinions. The author is not receiving compensation for it (other than from Seeking Alpha). The author has no business relationship with any company whose stock is mentioned in this article.
Additional disclosure: I am an engineer, not a CFA. The information and data presented in this article were obtained from company documents and/or sources believed to be reliable, but have not been independently verified. Therefore, the author cannot guarantee their accuracy. Please do your own research and contact a qualified investment advisor. I am not responsible for investment decisions you make. Thanks for reading and good luck!