There are many reasons why the market is not rational all the time.
First, there are investors with different information levels. The different information levels cause different investors to perceive the same security differently. Second, investors are very good at rationalizing events with recency bias and relative valuation. A stock might be historically expensive with a forward PE of 100, but it's still relatively cheap versus competitors with a forward PE of 150. Many analysts play along with the relative paradigm game by adjusting their projected growth rates to justify the current market price of the security. Third and most importantly, the market is made up of investors with different timelines. For investors with short timelines, buying a hot stock, no matter how decrepit the fundamentals may be, is rational.
There are currently a lot of short term traders in Digital Ally (NASDAQ:DGLY). The average daily volume for Digital Ally is 1.2 million, or roughly half of Digital Ally's free float of 2.57 million. The high turnover rate means that there are many short term traders jumping in and out of the stock.
Because the short term traders are all trying to front run each other, Digital Ally is currently trading at an irrational valuation for long term investors. Similarly, because a large part of Digital Ally's investor base has their finger close to the sell button, when Digital Ally's stock fades, it will fade very quickly.
Fundamentals don't justify the euphoria
Shares of Digital Ally rallied over 9% on Friday on the news that Representative Emanuel Cleaver proposed a bill requiring all police officers wear on-body cameras if their departments received a DOJ grant.
Traders quickly bid up shares of Digital Ally on the assumption that the company would benefit if the bill passed.
While the share spike may seem logical on the surface, there are some major problems under the hood:
First, the market is voting that the bill is unlikely to pass.
If the market believed that the bill would pass, both shares of Taser and Digital Ally should rally. While shares of Digital Ally rallied on Friday, shares of Taser did not. (Shares of Taser closed unchanged on Friday.)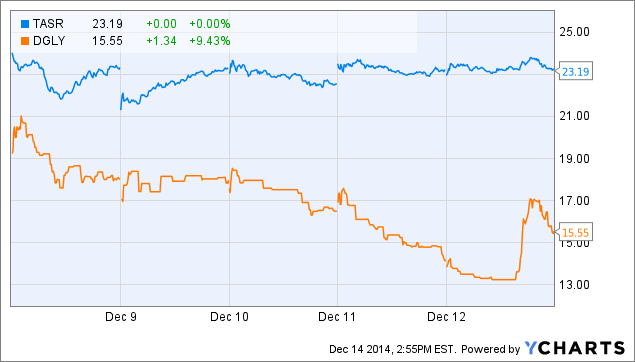 TASR Price data by YCharts
Second, even if the bill did pass, Digital Ally would not benefit very much. As Seeking Alpha Author The Street Sweeper pointed out, Digital Ally does not have a competitive on-body camera offering versus Taser's Axon offering. Versus Axon, Digital Ally's FirstVu HD Body camera has a considerably shorter battery life and less storage capabilities, but sells at twice the price.
Because it has a less competitive product, Taser currently has at least 3X the revenues that Digital Ally has for on-body cameras:
From the third quarter conference call:
Austin Hopper - AWH Capital

Right, I understand you're saying the actual market exists today and how much Taser has of it versus what you have of it?

Stan Ross - Chairman, President & Chief Executive Officer

Do you remember the numbers on the body cameras and stuff?

Tom Heckman - Chief Financial Officer, Vice President, Treasurer & Secretary

They are probably beating us three to one may be. They are probably beating us three to one in regards to it.

Austin Hopper - AWH Capital

Okay, so your body camera revenues in the last quarter with Taser would had kind of 3X, is that what you are saying?

Stan Ross - Chairman, President & Chief Executive Officer

Correct.

Austin Hopper - AWH Capital

Okay, thanks.

Stan Ross - Chairman, President & Chief Executive Officer

Yes. And again, we are talking more of the body camera and not the cameras that they have on their weapons and stuff.
According to the 10-Q, Digital Ally had around $450,000 in on-body camera revenues.
While $450,000 is certainly a sizable amount compared to the $4.5 million Digital Ally had in product revenue in Q3, the revenue is likely a loss leader that Digital Ally cannot afford for much longer.
It is a loss leader because Taser lost $4 million for its Evidence and Axon division when it had segment revenues of $4.3 million. Because Taser is losing so much money on its on-body cameras, Digital Ally cannot be doing much better.
Even worse for Digital Ally, Taser is losing money because it is spending a lot of money on R&D and sales for Axon, something that Digital Ally cannot afford to match. As a consequence, Digital Ally's on-body camera market share will shrink going forward.
Third, while Digital Ally currently has around $2.8 million in unrestricted cash on its balance sheet, the company burned through $3.7 million from operating activities and an additional $1 million in investing activities in the first nine months of the year. Because of the cash burn, Digital Ally will likely have to raise money in the next couple quarters. Raising additional money will mean additional dilution for shareholders.
Disclosure: The author has no positions in any stocks mentioned, and no plans to initiate any positions within the next 72 hours.
The author wrote this article themselves, and it expresses their own opinions. The author is not receiving compensation for it (other than from Seeking Alpha). The author has no business relationship with any company whose stock is mentioned in this article.
Editor's Note: This article covers one or more stocks trading at less than $1 per share and/or with less than a $100 million market cap. Please be aware of the risks associated with these stocks.