The coffee market reached its highest price levels in 14 years in early 2011. And while the price rally was supported both by underlying fundamentals and macroeconomic influences, those very same forces may now be ever so gradually shifting away from the bulls. Nonetheless, there is still plenty of hefty premiums left in the call options. If you are an options seller looking for what could be rapid time decay, you may want to get out your shopping baskets.
Brazilian Harvest Brings Fresh Supplies
June finds the 2011 Brazilian Coffee harvest in full swing. Bulls have touted the expected lower yield of this year's crop as a main justification for higher prices. Yet the crop is only expected to be about 8-10 million bags less than last year's record production (see chart below).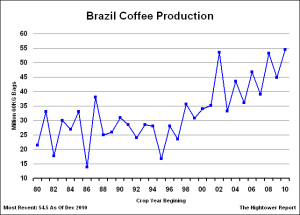 Brazil's 2010 coffee harvest was a new record. The 2011 yield is expected to be 8-10 million bags lower - but still high by historical standards.
The market has spent the better part of the year pricing this anticipated lower 2011 yield, a main reason why prices are so high at this time. However, now that harvest is actually taking place, new supply is working its way into world markets. Regardless of expected yields, fresh supplies have historically had a dampening effect on coffee prices.
Colombia - The "Real" Reason for High Prices?
Of the world's growing appetite for coffee, nowhere has the demand been more voracious than at the upper end. In other words, demand for the higher quality coffee used for espresso and cappuccino has grown at a rate exponentially faster than that of the average drip variety. In most cases, this means Arabica coffee beans. Brazil grows both Arabica and Robusta beans and fills a variety of demand needs. However, high end distributors such as Starbucks (NASDAQ:SBUX) tend to seek out specialty varieties of coffee. These are typically high quality beans grown by smaller Central and South American producers. The largest of these producers is Colombia.
Adverse weather conditions caused production to drop drastically in
Colombia
in 2008 and 2009, hitting a 35 year low of 8.1 million bags at the trough. Many of
Colombia
's coffee trees were destroyed in 2008 and new trees had to be planted. However, it takes about three years for new coffee trees to begin producing beans in an significant amount. Last year saw a slight rebound in production but still left yields substantially below 20 year averages. Most coffee analysts cite this shortage of high quality specialty beans coupled with swelling global demand as the primary driver of coffee's bull market.
This year will be the first year that
Colombia
should begin to see production yields from newly planted coffee trees. As such, production is expected to jump back over 10 million bags of coffee this year. This is still not back to historical averages, but on the road to recovery. While global coffee stocks as a whole will be down in 2011, this influx of higher quality beans could go a long way toward stemming coffee prices this year.
With global stocks to usage ratio projected near historic lows for the 2011/12 crop year, do not expect coffee prices to dive into a tailspin anytime soon. However, it is now our opinion that coffee prices spent the first half of 2011 pricing in a "risk premium" for adverse conditions which have not materialized. What has materialized is the following:
Brazilian yields will be off from 2010's record highs, but only by about 8-10 million bags - close to 2009 levels.

As fresh supplies from Brazil begin working into global markets this month, this has a historical tendency to pressure prices.

Replacement trees from

Colombia

's 2008 weather event will begin yielding their first beans in 2011. This will boost

Colombian

production by approximately 1 million bags of much desired specialty Arabica beans.

Coffee demand tends to be lightest during the northern hemisphere summer months, another factor that can seasonally depress coffee prices.
While we expect global ending stocks to help support coffee prices on breaks, it is our opinion that coffee prices could have very well put in a high for the year in May. For that reason, we advise investors taking advantage of the inflated premiums still available in deep out of the money coffee call options.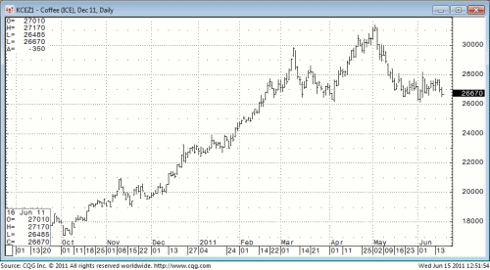 Consider the December contract for maximum distance out of the money. Without a sudden and extreme surge higher, these options should decay fairly quickly.
With frost season in Brazil still six months away, such a surge would seem unlikely.
Disclosure: I have no positions in any stocks mentioned, and no plans to initiate any positions within the next 72 hours.