With Denny's Corporation (NASDAQ:DENN) at multi-year highs, you may think you already missed the boat. I say the fireworks are just getting started. In my previous DENN article entitled Forget 2015: The Denny's Grand Slam Starts Now Instead, I made a case that DENN will have a fantastic surprise fourth quarter. The main reason cited was an early reopening of its flagship Las Vegas location which historically had been a huge contributor to earnings yet analysts didn't budge their fourth quarter EPS numbers despite the key development. Now I am presenting two other items to consider.
First, Denny's as you know refers to itself as "America's Diner" and doesn't have much in the way of close public comparisons that give us insight into the fourth quarter. However, there is the private market that may give us a hint. Take a look at the Black Bear diner chain which may give us a clue. Bruce Dean is co-founder of the 63 restaurant chain which is admittedly much smaller than DENN but should still give us a decent enough sample size. He stated, "When gas prices are low like this, we get a kick up in volume. When they get sky-high, we notice people stop coming in as much."
It's hard to imagine DENN is much different. According to Dean, same-store sales in October popped 6% thanks simply to cheap gas prices. He mentions that its guests are typical, average working Americans on a tight budget and with gas prices down 30% it acts as a "nice raise" for this demographic. Again, this doesn't automatically mean DENN will excel too, but the success at Black Bear does suggest the market environment is favorable and the opportunity is there with a nice cheap gas tailwind. Often you hear on the news that cheap gas should help restaurants that cater to middle class workers but it's nicer to see real evidence somewhere rather than just theory.
Second, you have the easy comp coming up for December. Last year much of the country was covered in terrible snowstorms which forced many restaurants to close and others just kept people indoors and away from restaurants like DENN. According to Nations Restaurant News, last December same-store sales for the industry were down 2.6% and was the second-worse month in over two years. For DENN specifically, during the fourth quarter conference call CEO John Miller responded to a question about the snow storms, "What affects other brands and what you see would Denny's in the same way." Miller has never been one that is big on excuses and seems to prefer just to execute, deliver, and move forward. However, if you take a look at Google maps you can clearly see that DENN must have been negatively affected in a big way with such a large concentration of restaurants in the snow-hit Northeast.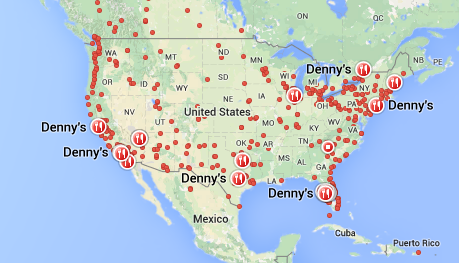 I continue to be bullish on DENN, accumulate shares, and believe analysts are underestimating the fourth quarter and probably beyond. Even so, DENN trades with a P/E of 25 based on next year analyst estimates. With the average restaurant P/E of 23, it's a bit higher of course but I continue to believe DENN has the opportunity to grow same-store sales, with its Vegas location, and internationally as mentioned in my previous articles and DENN therefore deserves a premium P/E, especially since the estimated earnings in that P/E may be higher than analysts currently think.
Disclosure: The author is long DENN.
The author wrote this article themselves, and it expresses their own opinions. The author is not receiving compensation for it (other than from Seeking Alpha). The author has no business relationship with any company whose stock is mentioned in this article.