A couple of weeks ago, I provided a 2015 preview article for cigarette giant Philip Morris (NYSE:PM). At the end of that article, I stated that it was my preference that investors wait to see if we got a pullback in the market into year end. I believed that Philip Morris shares were a much better buy in the low to mid $80s. Well, we've gotten that decline recently. Shares of the company closed Friday at $84.42, a two-month low. Today, I'll detail why that makes this name a much better buy.
Getting a higher yield:
When a stock price heads lower, the dividend yield goes higher. Philip Morris shares have lost a couple of bucks since my prior article, and the dividend yield has risen by 16 basis points since then (on an annual basis). In the chart below, you can see how Philip Morris is the high yielder in this space, when compared to Altria (NYSE:MO), Lorillard (NYSE:LO), and Reynolds American (NYSE:RAI).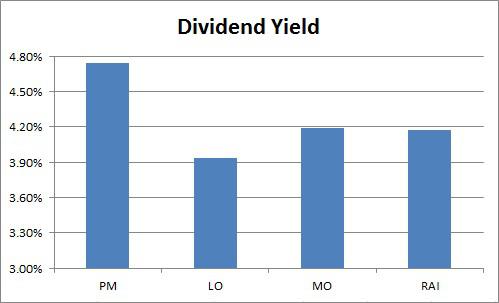 Not only does Philip Morris offer the highest yield, but that 16 basis point increase in the annual yield is the most of these four names. The other three companies have seen their yields rise by 6-10 basis points each since my last article. Philip Morris' yield now leads Altria's yield by 55 basis points, Reynolds' by 57 basis points, and Lorillard's by a whopping 81 basis points.
Additionally, one must consider where else you can get this kind of income from. Right now, the answer is not in fixed income. In the chart below, you can see how the 30-Year US Treasury bond has seen its annual yield drop over the last six months. Right now, the 30-Year offers you about 2.75%, roughly 200 basis points less than Philip Morris. That is a huge income difference, and one that investors must take notice of.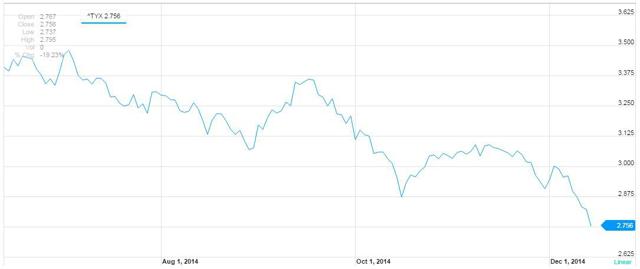 (Source: Yahoo! Finance)
Estimates lower, but valuation is as well:
When it comes to Philip Morris, we have seen a decline in analyst estimates since my previous article. In the table below, you can see how 2015 average estimates are now at a new low.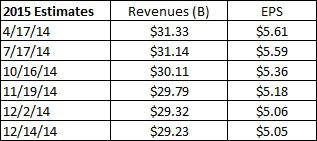 Declining estimates are not something investors like to see, but it does make it easier for the company to beat. Additionally, since we've seen the stock come down a bit, it helps to improve the company's valuation. Philip Morris is not the only name to see estimate cuts in the last few weeks. Lorillard has also seen a cut to its revenue and earnings per share forecast, while Reynolds American has seen a slight increase in its EPS estimate average. In the table below, you can see where these four names stand in terms of growth and valuation for 2015, based on Friday's close and current estimates for each.

The estimate cut for Philip Morris does make the name look a little less impressive on the growth front. However, investors might be okay with that loss thanks to the added yield that they are receiving. Additionally, Philip Morris' valuation has improved a bit, by 0.14 on a price to sales basis, and 0.55 on a price to earnings basis. The other three names have also gotten a little cheaper, but not to the extent we've seen with Philip Morris. Altogether, less growth, more income, and a lower valuation (especially compared to peers) makes the stock look a bit better in my opinion.
Final thoughts:
We've gotten the market pullback I was looking for, and that makes cigarette giant Philip Morris look a bit more attractive. The annual dividend yield is nearly 4.75%, not only tops in the space but well above US Treasury yields. While we've seen a slight cut in analyst estimates, the valuation of this stock has improved as well. Investors should certainly start looking at Philip Morris again, and should this pullback continue, it will definitely be time to buy.
Disclosure: The author has no positions in any stocks mentioned, and no plans to initiate any positions within the next 72 hours.
The author wrote this article themselves, and it expresses their own opinions. The author is not receiving compensation for it (other than from Seeking Alpha). The author has no business relationship with any company whose stock is mentioned in this article.
Additional disclosure: Investors are always reminded that before making any investment, you should do your own proper due diligence on any name directly or indirectly mentioned in this article. Investors should also consider seeking advice from a broker or financial adviser before making any investment decisions. Any material in this article should be considered general information, and not relied on as a formal investment recommendation.