It is not really an exaggeration to say that VeriSign (NASDAQ:VRSN) more or less runs the internet. The company operates domain name registry services (.com, .net, .org, .edu, .gov, etc) so that people can find websites such as SeekingAlpha.com. While the corporation itself is not well known, its operations are critical to every internet user. The stock has achieved steady gains over the past several years as you can see from the chart below. This article focuses on VeriSign's fundamental attributes to determine whether more upside potential exists for shareholders or whether the stock has become overvalued at its current price.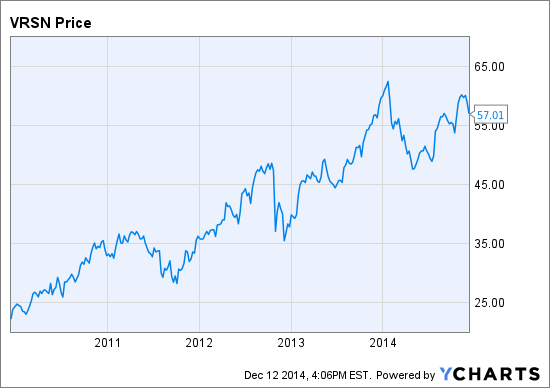 Please click here to read my article which outlines the DRAG analysis framework in more detail.
To summarize, the four variables used in a DRAG (dividend and risk adjusted growth) analysis are as follows (each company is ranked from 0 to 3 in each category):
1) How cyclical is the industry in which VeriSign operates?
2) How strong is VeriSign's competitive position within this industry?
3) How risky is VeriSign's balance sheet?
4) What is VeriSign's dividend yield and dividend growth history?
The premise is that a company that operates in a non-cyclical industry, with a strong competitive position and a clean balance sheet that pays an attractive dividend should trade at a higher earnings multiple than a company without these attributes, even if the lower quality company has higher projected future earnings growth. After adjusting for these variables, it becomes easier to compare companies in different sectors with different levels of future growth potential.
VeriSign DRAG Analysis:
VeriSign Industry Analysis

Industry Beta

1.05

Stock Beta

0.92

10 Year EPS Std Dev

153.3%

Industry Score

1.5/3
VeriSign is challenging to analyze from an industry perspective because it basically possesses a monopoly within its sub-sector. This academic research website suggests that the average internet software and services stock has slightly above average volatility, but VeriSign's share price has been consistently less volatile than the broader market over the last five years: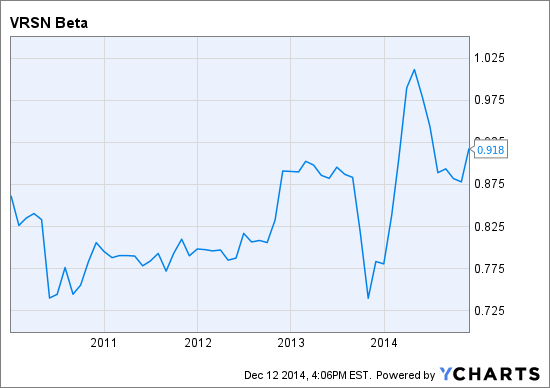 In addition, while VeriSign's reported earnings have been surprisingly volatile over the last decade, much of this variation is the result of one time items caused by the firm's restructuring that included several large divestitures. For example, its 2010 earnings "benefited from a net gain of $726 million...on the sale of the Authentication Services business". This chart (which uses normalized earnings to exclude one time items) gives a better demonstration of the firm's earnings consistency: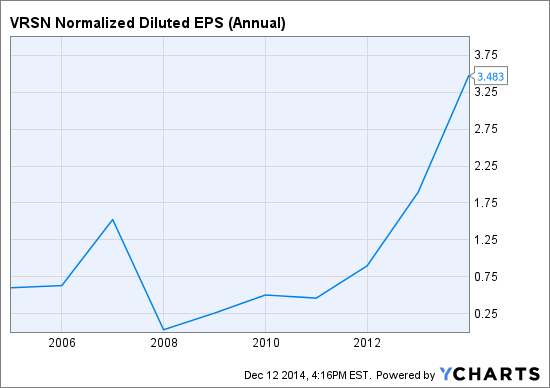 Based on this information, it appears that VeriSign exhibits a moderate amount economic sensitivity and deserves an average score for its level of industry cyclicality.
VeriSign Competitive Position Analysis

Gross Margin

81.2%

Operating Margin

55.3%

Return on Assets

25.7%

Return on Invested Capital

71.0%

Competitive Position Score

3/3
VeriSign has a virtual monopoly in this area of internet infrastructure and the data reflects this completely. The company's margins are stellar and its efficiency ratios are some of the highest I have ever come across. Its business model is light on assets and its position as the operator of the domain name registry means that anyone who wants to build a website will be indirectly providing revenue to this firm. Barriers to entry in this section of the industry are nearly insurmountable. Possessing one of the most significant and sustainable competitive advantages of any public company in the United States, VeriSign earns a well deserved perfect score in this section of the analysis.
VeriSign Balance Sheet Analysis

Debt to Equity Ratio

N/A

Current Ratio

0.82

Interest Coverage

6.6

Balance Sheet Score

1.5/3
VeriSign is a rare example of a company with a negative book value and it is therefore impossible to calculate a meaningful debt to equity ratio. This was caused, at least in part, but years of share buybacks and (as mentioned above), a business model that is particularly light on long term assets. While the company's low current ratio is troubling, it does have nearly $1.5 billion cash and short term investments on hand, which compares favorably to its $1.4 billion in total debt outstanding. Taken as a whole, while VeriSign's balance sheet should not be viewed as particularly concerning, potential investors need to remember the unique financial position of the firm.
VeriSign Dividend Analysis

Current Yield

0.0%

Payout Ratio

0.0%

1 Year Dividend Growth

N/A

3 Year Dividend Growth

N/A

Dividend Score

0/3
VeriSign does not pay a regular dividend, although it paid significant special dividends of $3 and $2.75 in 2010 and 2011 respectively. The company generates impressive levels of free cash flow, but has used these funds solely to repurchase shares in recent years. It is impossible to predict when or if management will decide to implement a regular dividend, but until such an announcement is made, the stock is not appropriate for any investor seeking income in their portfolio.
VeriSign DRAG Analysis

Total DRAG Score

6

/4 = Average DRAG Score

1.5

x Projected LT EPS Growth Rate

x Projected 2015 EPS

= VeriSign Target Price

$56.52
The positive news is that the DRAG framework seems to work well in this instance, suggesting that VeriSign's shares are exactly fairly valued, trading at between $56 and $57. However, this result makes it more difficult to argue a bullish or bearish case. Analysts expect the firm to continue generating double digit earnings growth over each of the next several years: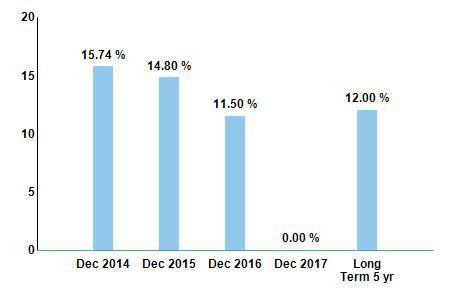 This decelerating earnings trend is somewhat concerning, but as long as the internet continues to use domain names, VeriSign's long term growth outlook will likely remain strong. The company's balance sheet and lack of consistent dividends are problematic for me and for these reasons (and its lack of obvious upside potential over the next 12 months), investors should remain on the sidelines for now, despite its monopolistic position in a growing industry.
Disclosure: The author has no positions in any stocks mentioned, and no plans to initiate any positions within the next 72 hours.
The author wrote this article themselves, and it expresses their own opinions. The author is not receiving compensation for it (other than from Seeking Alpha). The author has no business relationship with any company whose stock is mentioned in this article.