I received an email from Google (NASDAQ:GOOG) the other day. For some geeky reason, I felt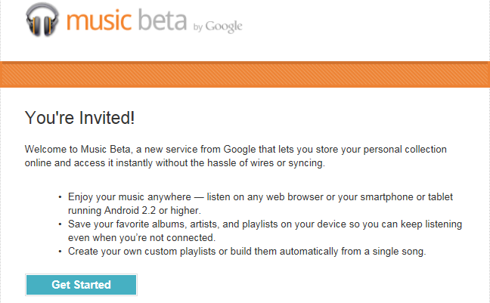 special upon opening it. Google invited me to test out the Beta version of its new cloud music service. I had heard of other Google account holders getting the call already, so I thought I missed the guest list.

Truth be told, I do not have much use for a service like this, which is similar to the one Amazon.com (NASDAQ:AMZN) offers. I tend to listen to music and other audio entertainment all day at my desk or via Apple's (NASDAQ:AAPL) iPod, typically when I go for bike rides. Because the cloud allows access to my collection across devices, I can just fire up Google's music beta website on either of my two laptops. That's the cool part -- the songs are just there. But that perk likely represents the extent of my use, if I can ever actually get there. If I was a big smart phone or tablet user, I could download the app and access my music on my mobile device. That's where the value lays, I guess.

Of course, I can only access my music collection across devices once it uploads to the Google server. And herein lays part of the problem. Google and Amazon require that you upload your collection. I have about 13.3 gigabytes of music - 2,626 items. I assume that pales in comparison to the collections many folks have. I'm not sure how long it will take Google to upload my tunes, but it's longer than I care to invest in the process.

Not only does it take a while, but it slows my entire system down in the process. All of a sudden, with Google's "Music Manager" running the background, everything else I was doing slowed noticeably. It slowed so much that it was unacceptable. I don't think my network or setup stinks. I've run other intense operations alongside other activities before and never had this problem. The reason doesn't really matter. The point is that I will not allow the Google upload to resume while I am working. I'm not sure how long it will take to get all of my music to the cloud. I let it run for hours on Thursday and, so far, Google only holds 380 of my songs. At that rate, it will take days, if not weeks.

As I have argued, Amazon and Google have not entered the cloud to compete with Apple. Given the key differences between the services - you do not have to go through the cumbersome upload process with Apple's iCloud - it's best for Amazon's and Google's sake that I'm right. At day's end, Amazon and Google will use the cloud as a side business to drive new and current customers to their respective e-commerce and advertising cores.

The real competition exists between the "radio" players - Sirius XM (NASDAQ:SIRI), terrestrial radio, Internet radio such as Pandora (NYSE:P) and Apple. I lump each together as "radio." And that's because they're not only the audio entertainment delivery systems you're most likely to encounter in the car, but in your day-to-day life outside of the car.

Of course it comes down to content. At present, Pandora and Apple do the best job of allowing the user to control and personalize content, but Sirius XM and terrestrial radio - through efforts such as the upcoming SatRad 2.0, Clear Channel's (CCMO.PK) iHeartRadio and CBS (NYSE:CBS) Radio's Radio.com - are not far behind. Beyond content, ease of use matters most.

With Amazon and Google, you get limited functionality. They know this, thus my lonely opinion that they're not in the space to actually compete. Supremacy, particularly in-vehicle supremacy, gets decided by ease of use.

Having worked in terrestrial talk radio, I can tell you that people repsect consultant Walter Sabo. He stated it well in a recent Radio-Info.com newsletter I received:
We are just lousy at selling the fact that when the customer turns on a radio it ... works! It works in the shower. The car. The office. It just works. It works so well that you forget that it just works until guys like me stand in front of a room and remind people that it just works. When we do, it sounds profound.
The "we" Sabo refers to is terrestrial radio. While it has been lousy at more than "selling the fact" that a radio "works" when turned on, Sabo makes an excellent point. I do not quite understand why the major players have not gone the route of touting ease of use with aggressive advertising campaigns. Terrestrial radio wastes its time with feeble competitive salvos. And Sirius XM has done virtually no meaningful marketing as of late. Maybe it's just been too early in the battle, but I think this approach will take shape in the coming months.

If Sirius XM and the forces that run and promote terrestrial radio are smart, they will produce an ad campaign that shows a driver fumbling with wires and cords in an attempt to hook his iPod or smart phone up to his vehicle's dashboard. They might even go the somewhat disingenuous route and play the outrageous charges for data use angle. Show a ticking clock and day turning to night several times over, as a Google or Amazon cloud user waits (and waits) for his/her vast music library to upload. Heck, Coke (NYSE:KO) and Pepsi (NYSE:PEP) as well as McDonald's (NYSE:MCD) and Burger King did worse to one another back in the day.

It might even be wise for Sirius XM and terrestrial to join forces on these ads. It's not unprecedented for competitors to come together against a common cause before they continue to beat the snot out of one another.

Not that it needs to, but Apple could show an iPod user easily and calmly plugging his device into his digital dashboard. The next frame could show a frustrated Pandora user failing to stream Internet radio in his vehicle with dollar signs coming out of his ears.

Whether or not Sirius XM, terrestrial and/or Apple plays the above-mentioned route, here's how I would play the future as an investor. I am on record as long SIRI. Despite the recent knocks it has taken, I still advocate being long the stock as well as being long call options with any strike price up to $2.50 ahead of the company's August 1st earnings report.

Expect SIRI and P to trend in opposite directions. BTIG's price target of $5.50 for P might be too generous. Between now and the end of the year, I would not be shocked to see SIRI cross $3.00, while P breaches that level on the downside. For as great of a service as Pandora might be, the numbers simply do not add up.

I wish I could offer up terrestrial radio stocks beyond indirect plays like CBS, but the underlying financial problems as well as the industry's penchant to choose not to compete prevents me from doing so despite a generally bullish outlook on the industry. As for AAPL, Netflix (NASDAQ:NFLX) and Research in Motion (RIMM) prove that valuation means little in the face of other key variables such as momentum, short-term noise and investor emotion. I would not chide anybody for picking up AAPL at these depressed levels, but I would also proceed with caution.

Simply put, Google and Amazon do not even deserve a mention in what I guess we'll just call the audio entertainment wars. They're not equipped to compete as presently structured. Today, listening to satellite or terrestrial radio requires the simple push of a button. Internet radio could be headed that way. If Sirius XM, Clear Channel and others can stave off Pandora's ease-of-use evolution - with aggression - they can return the battle to its most recent roots of one between satellite, terrestrial, and, of course, the ubiquitous Apple.

Disclosure: I am long SIRI.