Bullish Cross
rarely initiates buy ratings on companies, and chooses to be extremely selective as to the timing of its recommendations. We tend to initiate buy recommendations only when a stock and the equity markets have seen a substantial correction. The financial research publication has only ever initiated four buy ratings on Apple (NASDAQ:
AAPL
) and all came after a period of very prolonged weakness in the stock. We have never missed a solitary long-term price target, and our timing has been impeccable.
July 2006 Buy Recommendation at $50-$54: 6-Month $100 Price Target
Our first recommendation came in July 2006 after Apple experienced a significant six-month correction of 37.5% between the months of January and early July. Ahead of Apple fiscal Q3 2006 results, Bullish Cross initiated a strong buy rating for anything between $50 and $54 and held set a six6-month price target of $100. The basis of our recommendation was centered on highly depressed valuation, far over-extended and unfounded selling pressure and on mounting rumors of a game changing device called the iPhone. The chart below outlines where we first initiated coverage on Apple with a buy-rating and six-month $100 price target.
Click to enlarge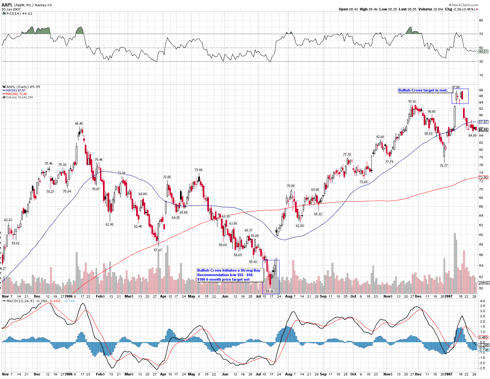 November 16, 2008 Buy Recommendation at $88.14: 24-month $230 Price Target
Bullish Cross'
second buy recommendation
came on November 16, 2008, after Apple felt the full force of the financial crisis. The recommendation was initiated when Apple was trading at $88.14. Bullish Cross put a buy recommendation for any price in the $90-$100 a share range and a strong buy rating for any price in the $80-$90 a share range. The firm set a two-year price target of $230. This came at a time when the majority of Wall Street held sub-$120 price targets.
Click to enlarge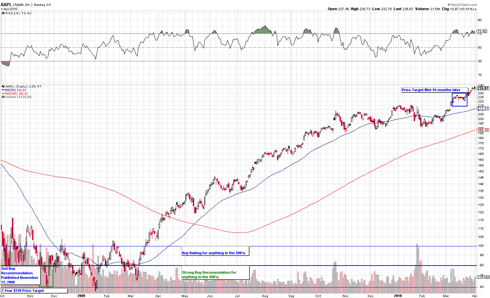 Instead of playing catch-up with the market, Bullish Cross is very forward looking. We don't care that the market is undergoing a correction this summer or was in a financial crisis in 2008. The research group is unaffected by current sentiment. What gives Bullish Cross a distinct edge over other research groups is our ability to remain impervious to emotional short-term market sentiment. We don't care about what's going to happen tomorrow. We're only focused on what we know will be the case 6, 12 and 24 months from the recommendation date.
August 11, 2010 Buy Recommendation at $250.19: 18-month $400 Price Target
Bullish Cross initiated its
third buy recommendation
at $250.19 on August 11, 2010. We were one of the first firms to put an 18-month $400 price-target on Apple - that will be 60% higher than the August 11, 2010, closing price. Apple still has six months to reach our $400 price target, and we still stand very firmly behind this target as we expect the stock to rally significantly off-of the iPhone 5 momentum expected to be released this fall.
In a follow-up to the August 11, 2010, recommendation, we set two other price targets on our buy recommendation on
September 7
. First, we set a one-month price target of $300 when Apple was trading at $250. In the same piece, we also set a four-month price target of $350 by January 2011. Apple met both of our target prices. The stock reached a closing high of $318.00 on October 18, 2010 - surpassing our target range by $18.00 (6.0%). On January 14, 2011, Apple had a closing high of $348.48 hitting close to our target range.
June 17, 2011 Buy Recommendation at $320.00: 18-month $500 Price Target
Today we are initiating our fourth ever buy recommendation for Apple. We have a history of making these recommendations ahead of big moves in the stock price given the amount of price and time depreciation we require before putting out a recommendation.
Bullish Cross buy recommendations differ from the average Wall Street firm in one major way. We do not simply maintain a buy recommendation on an ongoing basis. We put out a buying-range for the stock price where we find the valuation to be so depressed that there is a high likelihood that the stock will easily meet our targets. Note that our November 2008 price target was surpassed by over 54%.
While our price targets are maintained, the buy rating only applies to a particular price range. Under the current recommendation, we recommend Apple as a buy for any price between $300 and $330 and recommend the stock as a strong buy for anything between $280 and $300. Also, please note that we've only initiated a strong buy rating on two other occasions. Both of those occasions were within a few percentage points of the actual bottom. We held a strong buy rating for $50-$54 in July 2006 and a strong buy rating for any price between $80-$90 in November 2008. The bottom for Apple in 2009 was $78 - $2 below our strong buy price. The bottom in 2006 was in July and it was at $50 which was within our strong buy range.
Click to enlarge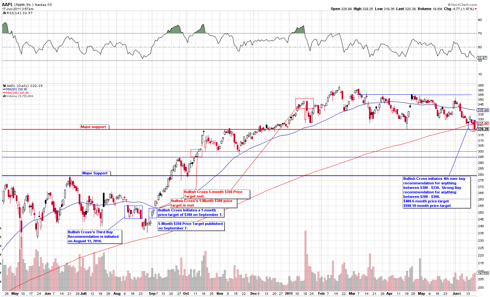 At $325 a share, Apple currently trades at 8.13 times our 2012 earnings estimates - note Bullish Cross has outperformed every Wall Street firm in accurately predicting Apple's earnings every single quarter for over 40 quarters straight. Last quarter, we held
the second best estimate out of 48 analysts polled
having a combined revenue and earnings pre share forecast accuracy of 98.26%. The current Wall Street consensus is showing Apple trading at 11 times next year's earnings. The consensus is wrong, we're right and therein lies our advantage over the market.
Along with only trading at 8.13 times our 2012 earnings estimates, the stock is currently only trading at 11.8 times our October estimates. This means that if Apple continues to trade here at $325 a share, it will trade at only 11.8 times its trailing 12-months of earnings come October. At $280 a share, the stock would trade at a ridiculous 7x our 2012 EPS forecast and 10.3 times our October 2011 earnings forecast.
It would basically be valued in the same way as Research in Motion (RIMM) is today. Because of the market's short-term blindness to this obvious reality, we find it prudent to put a strong-buy rating on the stock if it so happens to trade under $300 during a potential brutal summer correction. During the financial crisis, the lowest P/E Apple saw was in the 10-range and we all know how that turned out.
For those who are holding the stock here at $320 and have a long-term horizon, don't fall victim to the market's volatility. As Art Cashin would say, "the market wants to make fools of as many people as it possibly can." Those buying the stock today with a two-year horizon will make 56.3% on their money. The market will do what it can to shake everyone out of their positions. Keeping a level head during this obvious shakeout attempt will be met with significant rewards in 2012.
At the current price level, there are
several strategies
that can be employed to capitalize on a future move in the stock price. Right now, there is an
easy 500% gainer sitting in Apple
. It is all a matter of how and when you capitalize on the investment.
Disclosure: I am long AAPL.