Originally published on Oct. 14, 2014
Dick's Sporting Goods (NYSE:DKS) is the largest sporting goods retailer in the United States, but despite that, the stock price is down over 25% YTD. Based on my analysis of future trends and the company's financial position, I believe Dick's Sporting Goods is a good value stock pick, and over the past 6 months there have been 5 insider buys and no insider sells, so it would appear that insiders agree with my analysis.
External Factors to Help Growth
The growing awareness of obesity, especially among children, should benefit Dick's longer term goals. Long term, there is a growing push among many, including the first lady Michelle Obama, to get kids to play outside more and exercise. This trend should cause increases in many parents buying sporting and camping equipment for themselves and their children, potentially increasing revenues for Dick's Sporting Goods. Dicks is the largest sporting goods retailer in the United States, with revenue of $6.5 billion, more than 80% higher than its closest competitor Cabela's (NYSE:CAB). Therefore, I expect Dick's to benefit from this trend much more than its competitors.
Furthermore, Dick's gains about 15% of its revenue from golfing apparel. Although this is expected to drop to around 10% in the next few years according to Dick's, I expect this to be a strength for Dicks's because I believe golf leisure and similar activities will reverse their current decline in the future, as Federal Reserve policies have induced greater income inequality, and have put more money at the top of the income ladder. This trend will continue, and most growth in income will continue to benefit the highest earners. With more money, these high earners will invest in not only other financial instruments, but also leisure activities for the wealthy, such as boating and golf.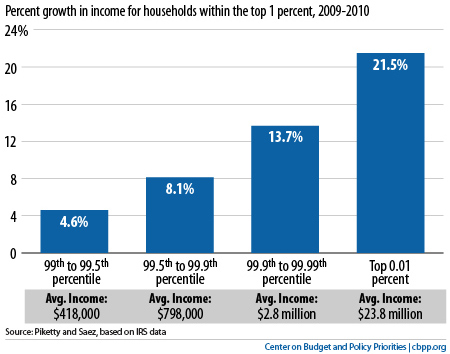 Baby boomers continuing to retire will also increase the time spent in golfing and other leisure activities, as baby boomers have the most income as compared to other generations, and they will also have significantly more time to spend on leisure. Dick's is poised to benefit from this continuing trend.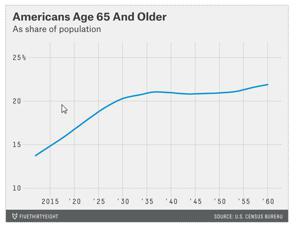 Furthermore, with the continuing fall of oil and gas prices, Dick's should expect to do well this holiday season with more money in the pockets of consumers and a greater willingness to go out and shop.
Company Strengths
Dick's has already been increasing revenues and profits, with revenues and profits increasing every year since 2009, and net income rising 16% from 2012 to 2013. Dick's has also been steadily increasing the number of stores it operates, currently at 593, up from 558 in February of this year. Considering that Dick's has under $7 million in debt with a net income of $337 million, Dick's seems to have no problem financing these operations. Its main competitors, on the other hand, have much more significant levels of debt and may not be able to capitalize as well as Dick's on the growing sporting trends I see in the near future. Cabela's, Dick's largest competitor, has debt of over $3.2 billion.
Dick's can also continue to benefit from its growing e-commerce division, which has a much higher profit margin than in-store sales. E-commerce revenues grew 65% from 2012 to 2013, and this should continue into the future. More than half of Dick's sales growth came from online sales last year.
Dick's financial position is very stable, and I expect to see a dividend increase in the near future. Currently, Dick's pays out only $.50 in dividends per year, with an EPS of $2.66. This means under 20% of profit is given back as dividends.
Why Dick's Should be Bought Now
Dick's is trading near its 52-week low, which also looks to be a strong level of support.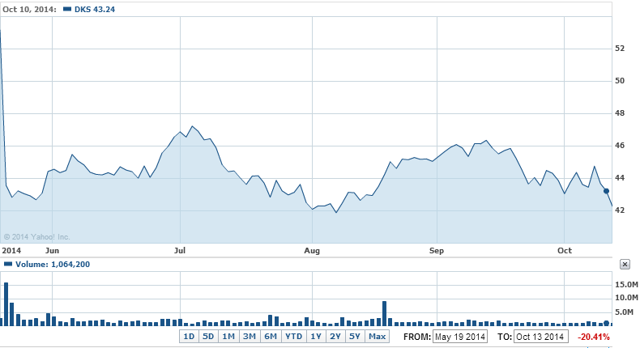 Dick's has a lot of potential upside, and with a dividend increase, expect Dick's to look even more attractive for investors. Dick's also authorized a stock repurchase program of up to $1 billion dollars last March. In 2013, the company purchased 4.8 million shares for about $255 million dollars. With the amount of money that the company has left and already authorized to buyback shares, I expect the support level to hold and for there to be a price appreciation greater than the market average.
Disclosure: The author has no positions in any stocks mentioned, and no plans to initiate any positions within the next 72 hours.
The author wrote this article themselves, and it expresses their own opinions. The author is not receiving compensation for it (other than from Seeking Alpha). The author has no business relationship with any company whose stock is mentioned in this article.