In addition to my own scans and watch lists, I use two main sources to follow options-related news: Daily Seeking Alpha columns by Frederic Ruffy and Andrew Wilkinson. While I get great use out of these sources and have even made money thanks to them, you have to be careful not to chase the stocks or options they mention. Often, by the time you receive an alert or summary, contracts have already had too much volatility and upside priced into the premium. Nevertheless, occasionally, you can find examples to capitalize on. Below I detail options brought to my attention by these sources and how investors might consider playing them - or the underlying security - if at all, during the trading week.

This week's recap and analysis includes contributions from two other sources of options information: Frequent Seeking Alpha contributor optionMONSTER and Briefing.com's InPlay service. Both provide alerts on notable options activity throughout the day.

My coverage spans most of Friday's trading day, including early in the session, so some information may change. As with all of my articles, use my suggestions and analysis as the impetus for future research.

Because Friday marked options expiration day for June contracts, we'll do things a bit differently this week, looking at where some big-name stocks ended the week in relation to their max pain price, courtesy of OptionPain.com.
| | | | |
| --- | --- | --- | --- |
| Company (Ticker Symbol) | Maximum Pain Price | Closing Price, Friday, 6/17/2011 | Thursday's Close |
| Apple (NASDAQ:AAPL) | $330 | $320.26 | $325.16 |
| Google (NASDAQ:GOOG) | $525 | $485.02 | $500.37 |
| Microsoft (NASDAQ:MSFT) | $24 | $24.26 | $24.00 |
| JP Morgan Chase (NYSE:JPM) | $43 | $40.80 | $40.36 |
| Netflix (NASDAQ:NFLX) | $250 | $245.67 | $249.30 |
I'll let the chart speak for itself. Sometimes max pain works itself out, sometimes it does not. Certainly, news (as is the case with Google) and volatile markets can throw max pain out of whack. It's not always the most reliable predictor of where a stock will end at options expiration. More so, a chart like that one shows "manipulation" does not always come into play either.

Speaking of Apple, Frederic Ruffy made an interesting mention of call selling in AAPL June $325 option contracts early in the day Friday:





In hindsight, that looks like an obvious trade given AAPL's Friday decline. I have been in the situation that the option sellers were in on Friday. It takes guts to pull the trigger on that play. Take a look at AAPL's intraday chart, courtesy of FreeStockCharts.com:

Click to enlarge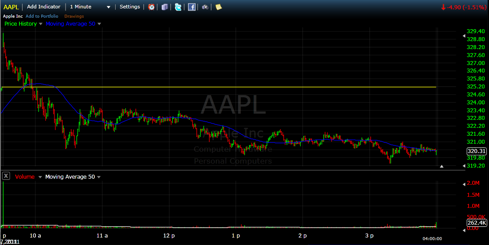 I have often considered similar plays (credit spreads) in AAPL and other stocks on OpEx day. In the morning, it's a risky proposition. If AAPL does not drop, the June $325 call sellers could have been in a bad way. Of course, the stock did and they pocketed "easy" money, but, at least for me, nerves play a role when contemplating whether to place the bet or hold off. And, remember, it's a zero sum game. Somebody bought those calls before AAPL nose-dived.

Research in Motion (RIMM): In addition to the slew of downgrades and bearish "notes" from Johnny-come-lately Wall Street analysts, optionMONSTER provides something that's actually useful in relation to the RIMM debacle:





If this trader plans on staying in those RIMM January $30 puts, we're in agreement. The long-term outlook RIMM management professes as strong keeps getting longer. I cannot see future quarterly earnings calls doing anything but exerting further downward pressure on the shares.

Level 3 Communications (NASDAQ:LVLT): optionMONSTER also highlighted option activity in LVLT on Friday, particularly the purchase of "4,000 January 1.50 puts... for $0.13[Friday] morning." optionMONSTER noted that LVLT traded as high as $2.46 in May, but could fill a gap that opened in April. If it does, LVLT will flirt with the $1.50 mark, making the trade a winner.

Fellow Seeking Alpha contributor Cameron Kaine provided a solid warning on LVLT after it hit the aforementioned $2.46. Kaine's analysis and this sizable bearish bet lead me to stay away from falling into the trap of buying a lotto ticket on a low-priced stock that has had a millionaire-making run.

Nokia (NYSE:NOK): Briefing.com released the following options-related note on the struggling mobile phone maker today:

Click to enlarge




Volume in the referenced NOK January $6 puts increased just a bit after the Briefing note, to 7,410, at about 12:52 p.m., West Coast time. The only other around-the-money puts that saw significant action are the NOK July $6s with volume of nearly 1,600.
I tend toward staying away from a strong directional play in NOK. Because volume was pretty much scant in most NOK puts on Friday, I have to think the volume Briefing highlighted represents the work of one trader. You need to take this into account, just as you do with the LVLT action. Volume in options is different than volume in heavily-traded stocks. If you make a bearish option play on NOK after reading a note like that, realize you might be siding with some random trader woffing down a fast food lunch in an options put somewhere.

Harbin Electric (NASDAQ:HRBN): Early in the day, Ruffy noted the following regarding HRBN options activity:
11,000 calls and 15,000 puts traded in the name so far. July 5 puts, which are 36.5 percent OTM and expiring in four weeks, are the most actives. 5,123 traded (58 percent Ask) vs. 3,208 in open interest. Soon-to-expire Jun 5 puts, Jun 7.5 puts, and Jun 7.5 calls are busy as well.
By day's end, volume in the HRBN July $5 puts swelled to 7,833. It's difficult to do much more than sigh. Another potential Chinese fraud exposed by Citron Research. HRBN might be another one of those stocks you could ride all the way to zero. Because it's likely difficult to get shares from your broker to short, you might consider using puts. In any case, proceed wiith caution and call your broker before you enter a trade to make sure you understand its policies on automatic exercising of in-the-money options, particularly in relation to a stock that gets halted, which HRBN might.

Speaking of China-based stocks that might head to zero, here's a note Briefing.com posted about Sino Clean Energy (SCEI):

Click to enlarge




I find it curious how - even in the case of a mega-corporation like RIMM - companies can profess rapid growth one day and then note that business conditions beyond their control snuck up on them the next. And, in the process, they use share buybacks as window dressing for blatant ineptitude.

I am not sure who is telling the truth in the whole SCEI fiasco. Somebody is playing with the truth - either the company or Alfred Little. I know two things though - I saw some red flags back in April and if you bought SCEI puts any time in the recent past, you're sitting pretty today. Have a look at this chart, courtesy of FreeStockCharts.com, that even Lindsey Vonn could not master.

Click to enlarge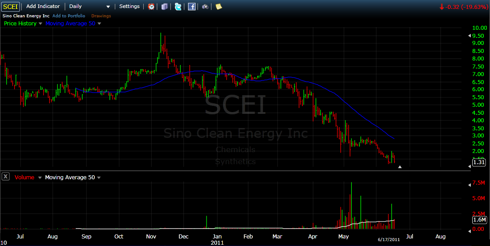 Disclosure: I have no positions in any stocks mentioned, and no plans to initiate any positions within the next 72 hours.