The snap elections in Japan turned out how many expected, with Prime Minister Shinzo Abe's coalition maintaining its super majority. Overall, his coalition did not pick up any seats, nor did it lose any, but the DJP, which is the opposition party, managed to add 11 seats in the lower house. The results should ensure that Prime Minister Abe has the necessary time to see his economic reforms through and hopefully turn Japan's economy around.
Markets are higher today in pre-market trading, even though there appears to be a terrorist situation in Australia which involves hostages. We would not put this event on the same scale as the recent Canadian shooting, as this is not taking place at a secure government location, but instead in a cafe in Sydney. While this appears to be linked to Islamic terrorists, nothing has been confirmed except for the flag that the gunmen have hung in one of the cafe's windows.
Chart of the Day:
The Russian ruble is falling even further, amid reports that further sanctions could be handed down from the US. The Russian Central Bank has had to step in to support the currency in recent weeks, even after officially stating that they would no longer be fighting the move. Billions have been spent by Russia trying to support the currency, and it appears that the economic sanctions and the fall in oil prices have tamed Putin for the time being.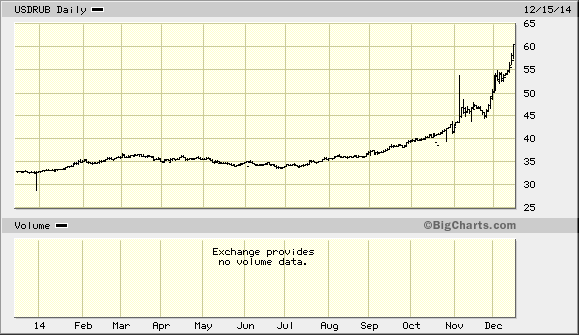 Source: BigCharts
We have economic news today, and it is as follows:
Empire Manufacturing (8:30 a.m. EST): Est.: 14.0
Industrial Production (9:15 a.m. EST): Est.: 0.7%
Capacity Utilization (9:15 a.m. EST): Est.: 79.3%
NAHB Housing Market Index (10:00 a.m. EST): Est.: 58
Net Long-Term TIC Flows (4:00 p.m. EST): Est.: N/A
The Asian markets are lower today:
All Ordinaries - down 0.64%
Shanghai Composite - up 0.53%
Nikkei 225 - down 1.57%
NZSE 50 - down 0.29%
Seoul Composite - down 0.07%
In Europe, the markets are higher this morning:
CAC 40 - up 0.53%
DAX - up 0.44%
FTSE 100 - up 0.26%
OSE - up 0.23%
Retailer Finds Buyer Before Christmas
Jana Partners has been successful once again, this time successfully forcing PetSmart (NASDAQ:PETM) to put itself up for sale after establishing a large position in the retailer. BC Partners will pay $83/share to take the pet supply retailer private, for a total deal value of $8.3 billion. There was a lot of interest in PetSmart, with numerous big name buyout firms submitting bids, including KKR and Apollo Global Management, but ultimately BC Partners prevailed.
This is another case of a company which should not have found itself in the position to have an activist investor force a sale or put management on notice. We question Peltz's constant meddling with PepsiCo (NYSE:PEP) and Icahn's with Apple (NASDAQ:AAPL), and really thought that the retailer most likely to attract activists' attention was Bed Bath & Beyond (NASDAQ:BBBY). Sure, PetSmart had some issues, as do Apple and Pepsico, but this never really qualified as a company needing activists to right the ship, in our book. With the activists moving to target healthier companies these days, we wonder whether we have entered a period of lazy activism.
More Trouble For Sony
The hackers who attacked Sony (NYSE:SNE) continue to release information which embarrasses the company and weakens its business, either via the release of negotiating tactics or copies of movie scripts and/or the films themselves. The latest news coming out of Hollywood is that an early script of Sony's latest installment of James Bond has leaked. The script leak will most likely not keep Bond fans out of theaters, but could keep momentum from building before the release date due to fans and some in the media knowing key plot twists ahead of the release.
What we found even more interesting this weekend were the reports that Sony's lawyer has apparently asked major media outlets to stop using documents from the hack in their reporting. It is a strange move, but if it works, it might make life a bit easier for the company moving forward. It would certainly end further embarrassment from Sony executives' emails.
German Union Strikes
Amazon.com's (NASDAQ:AMZN) German workforce issues continue as the union ver.di has called for workers at five of the company's distribution locations to go on strike this week. According to reports, workers have been asked to not report to work at the five locations until after Wednesday. This is just the latest in a long-running dispute between Amazon and its workers, who believe that they should be better compensated for the type of work they do. The company indicated that the strikes would not impact deliveries during the holiday shopping season.
Disclosure: The author has no positions in any stocks mentioned, and no plans to initiate any positions within the next 72 hours.
The author wrote this article themselves, and it expresses their own opinions. The author is not receiving compensation for it (other than from Seeking Alpha). The author has no business relationship with any company whose stock is mentioned in this article.